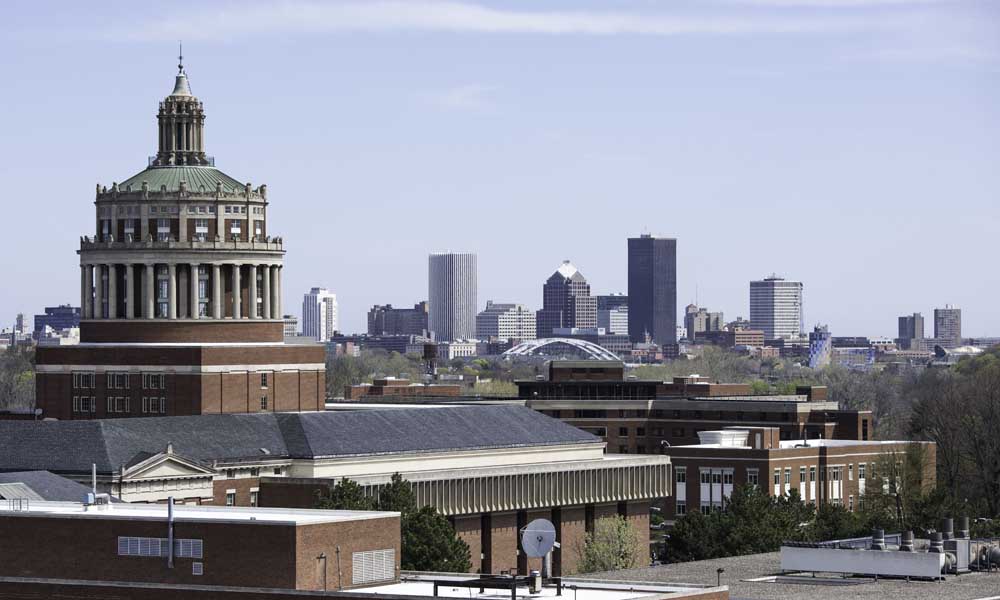 The City of Rochester has what it takes to become a major driver of national economic growth. That's according to Jon Gruber, the Ford Professor of Economics at the Massachusetts Institute of Technology and co-author of the new book Jump-Starting America: How Breakthrough Science Can Revive Economic Growth and the American Dream (Hachette Book Group, 2019).
The MIT economist will be at the University of Rochester on April 17 to speak about Rochester's potential.
"Gruber's latest book details all the 'ingredients' necessary to drive economic growth based upon cities ripe to become technology hubs. Of the factors that he considered, Rochester came out on top among more than 100 cities," says University Provost Robert Clark. "We are pleased to have Jon launch his book here in Rochester."
Right now the US economy is growing slowly, and economic opportunities are concentrated in a few cities on the country's coasts. But that could change, says Gruber:
"Rochester has a large and highly educated workforce, a fantastic University base, and a high quality of life, making it an ideal candidate to become a next-generation technology hub."
Gruber, an expert on the economics of health care, served as a technical consultant for the Patient Protection and Affordable Care Act—commonly referred to as Obamacare—and was a key architect of Massachusetts' health reform effort under then-Governor Mitt Romney.
Jump-Starting Rochester
A panel discussion with MIT professor Jon Gruber
April 17
Hawkins-Carlson Room at the University's Rush Rhees Library on the River Campus
6:30 p.m. to 7:30 pm
Followed by a book signing by Gruber.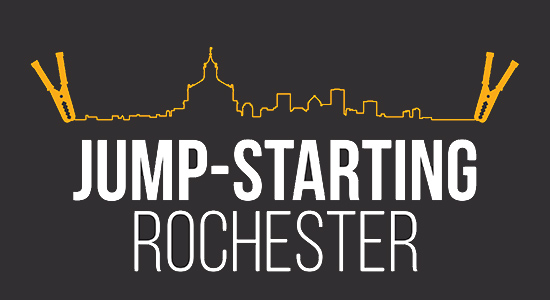 Gruber will first speak and then participate in a panel discussion about Rochester's economic potential. He is joined by Staci Henning, the executive vice president and chief marketing officer of the Greater Rochester Enterprise, Robert Duffy, the president of the Greater Rochester Chamber of Commerce, and James Senall, president of Nextcorps.
Once a beacon of optical manufacturing with world-renown companies such as Eastman Kodak, Xerox, and Bausch + Lomb, Rochester has seen a sharp economic decline since the late 1980s and nineties when these companies shed thousands of jobs.
Kodak, which at the height of its economic prowess employed 62,000 people in the area—accounting for half of the area's economic activity—had become a way of life, heavily involved in all aspects of the City—from sponsoring sports leagues to being Rochester's main patron of the arts. In 2012, Kodak declared bankruptcy. Today, just a shell of its former self, Kodak has around 1,500 employees in the area.
Instead, the University has become Rochester's largest employer (with the substantial financial support of Kodak's late founder George Eastman) with its network of local hospitals in addition to its three academic campuses—the Eastman School of Music, the School of Medicine and Dentistry, and the River Campus.
In the new book, Gruber and his coauthor, Simon Johnson, the Kurtz Professor of Entrepreneurship at MIT and a former chief economist to the International Monetary Fund (IMF), argue that a return to broader prosperity in the US should begin with a lesson from the past. Over the two decades after World War II, the federal government invested massively in science and technology, resulting not only in the inventions that changed Americans' lives, but a broad and highly paid middle class, they note. Without this kind of significant public investment, private enterprise will not build the scientific foundation needed for the cutting edge industries and good jobs of tomorrow.
Together the authors lay out a plan for developing a new American growth engine, identifying 102 urban communities that are plausible next generation tech hubs, all with large populations, highly educated workforces, and a low cost of living. Rochester tops that list.
Category: Society & Culture