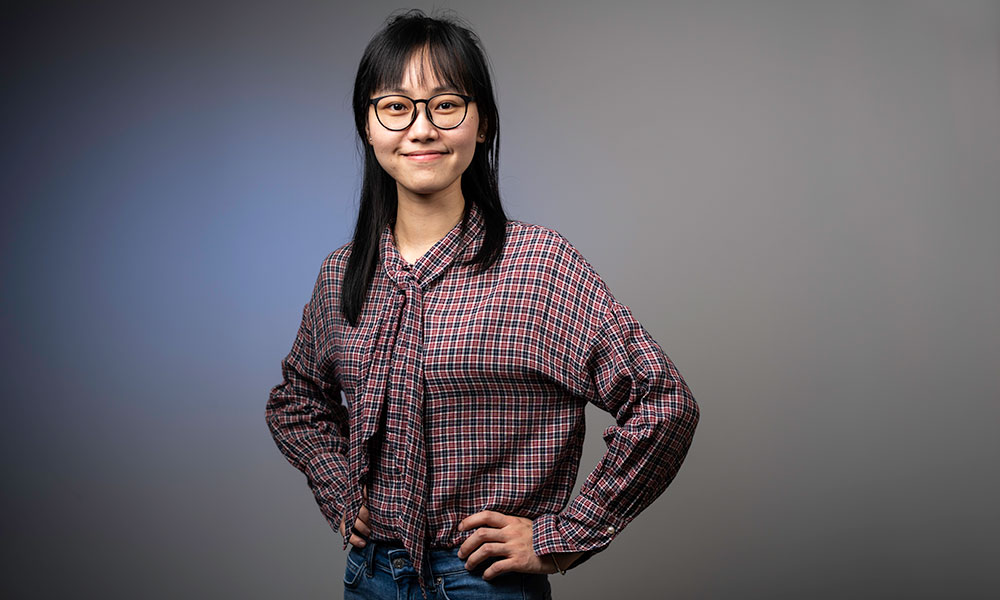 University of Rochester graduate student Beixi Li has been named a 2019-20 Schwarzman Scholar, one of about 140 selected worldwide for this prestigious graduate fellowship. She'll develop leadership skills and professional networks in a one-year master's program at China's elite Tsinghua University in Beijing, beginning next August.
"I'm really excited," the Shanghai, China, native says. "After going through the application process and long interview sessions, it was great to know that everything I did was worth the effort. I'm thrilled to be part of this program."
The international fellowship was established in 2016 with a $100 million donation by philanthropist Stephen Schwarzman, whose goal was to prepare the next generation of global leaders by providing an unparalleled opportunity to gain some understanding of China through an immersive experience. Students pursue a master's degree in global affairs, with concentrations in public policy, economics and business, or international studies. They spend a year in an international community of thinkers, innovators, and leaders in business, politics, and society.
Nearly 2,900 candidates from around the world applied.
Li is currently pursuing a master of public health degree at Rochester's School of Medicine and Dentistry and expects to graduate in May. Her thesis examines the potential impact of maternal dental amalgams (fillings) on offspring neurodevelopment.
As a Schwarzman Scholar, Li intends to concentrate in public policy. She plans a career in preventive medicine, with a focus on children, in the fields of environmental hazards, tobacco control, or infectious diseases.
"The world today is facing various public health issues, like environmental pollution, the Ebola viruses in Africa, the opioid epidemic in the United States, and smoking abuse among teens and adults," Li says. "I've always believed that preventive medicine and public health are the most effective ways to save the lives of millions in the world."
Li is the first Rochester recipient since Jintian (Jay) Li '12 (no relation) was selected to the inaugural class. Suman Kumar '19, a mechanical engineering major from Lalitpur, Nepal, was a Schwarzman Scholar semifinalist and one of around 400 who reached the interview stage of the competition.
"We are delighted and proud to have another Rochester student join the ranks of Schwarzman Scholars and hope that Beixi's selection will inspire more students, including those in graduate and professional degree programs, to consider applying in the future," says Belinda Redden, director of the Fellowships Office.
Li earned her undergraduate degree in preventive medicine from Xiangya School of Medicine at Central South University in Changsha, China, and is a licensed medical doctor in her native country. She began her Rochester graduate study program in fall 2017.
Category: Student Life