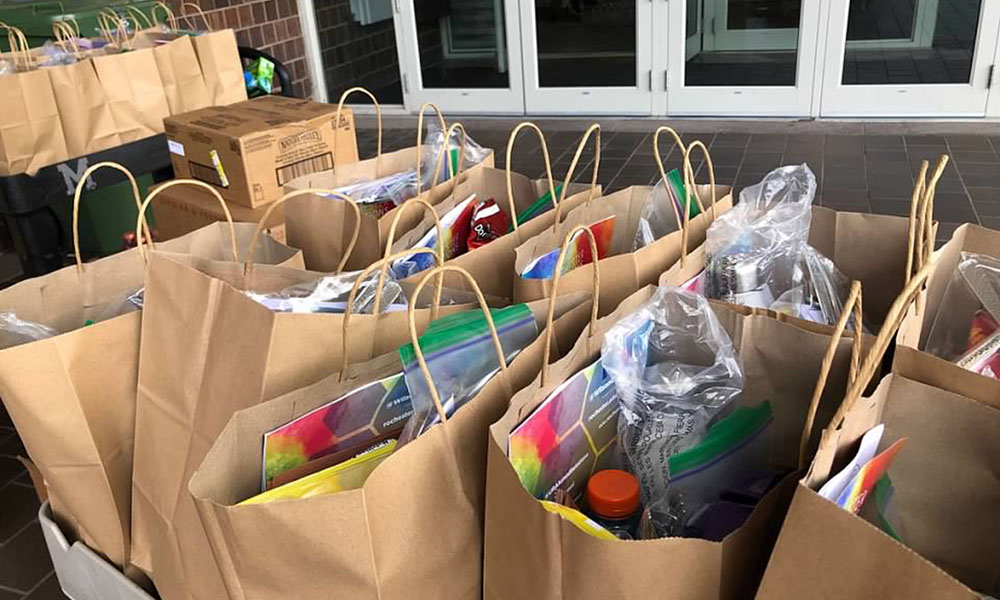 Welcome bags, peer support, and food delivery will help aid those in isolation.
With many students returning for the start of the spring semester on February 1, the University of Rochester has continued to build on its quarantine and isolation plan to ensure that every student who needs to enter into quarantine or isolation space is cared for and comfortable. 
"We want to make sure that you're well and have what you need," says Rebecca Orton, coordinator of the off-campus living program and supervisor of the quarantine and isolation staff desk. "The safety of the students and the University community is our top priority."
Quarantine Checklist
University students in quarantine or isolation should bring what they need for up to 10 days. Once a student moves into a quarantine and isolation room, they will be unable to leave, but friends can drop off needed items.
Essentials such as clothing, medications, phone and phone charger
Towel, pillow, and extra blanket (sheets and blanket provided)
Basic toiletries such as shampoo, soap, toothbrush/toothpaste, and deodorant
Academic materials such as laptop and charger, notebooks, pens/pencils, books
Items for entertainment, such as books, magazines, handheld games, headphones
 Snacks, drinks, and comfort food items (Someone will reach out to you separately to help you with the processes for ordering meals.)
Students need to quarantine for up to 10 days if they've tested positive for COVID-19, are awaiting a test result, or have been exposed to someone with the virus.
River Campus and Eastman School of Music undergraduates who test positive for COVID-19 must go into isolation at Whipple Park, a complex of apartments and town houses ordinarily serving graduate students and their families and located about a mile from the River Campus. Whipple Park and, in some cases, local hotels (through an arrangement with the University) are also used for quarantine space.
Moving and settling in
With the exception of students who arrive in their own vehicles, the Department of Transportation and Parking Management schedules a time to pick students up outside their residence halls, deliver them in a van to the quarantine or isolation space, and make sure they have safely entered the building. The students are then met by front desk staff who help make sure all their needs are met.
Students are also greeted with a letter of support, which includes resource contacts, from the University's Climate & Care committee. Peer health advocate interns working with University Health Service make one-on-one outreach calls to all students who are in isolation and quarantine for exposure-related reasons to check on their well-being and connect them to any resources they may need. UHS program assistant Zoe Black has put together a wellness newsletter that will be emailed to all quarantined students and offers healthy tips, recipes, exercises, and suggestions to support mental health.
"We've been listening to students' feedback about their quarantine and isolation experience and are doing what we can to make it more comfortable," says Amy McDonald, associate director of UHS health promotion.
Quarantine "welcome bags" were filled by members of Kappa Delta sorority and the Students' Association and include microwaveable plates, mugs, soap, silverware, Gatorade, water bottles, a snack (pretzels or granola bars), a coloring book featuring Rochester traditions, and notes of encouragement written by the sorority and SA members. The Office of the President funded the supplies.
"The students never fail to amaze me with their caring and communal attitude toward fellow students," says Anne-Marie Algier, associate dean of students and director of Wilson Commons Student Activities. "When we put out the call for groups to pack supply bags, they immediately stepped up and wrote notes and poems to their fellow Yellowjackets to let them know they are with them in spirit."
What's included in the quarantine spaces?
Each quarantine space includes a refrigerator and a microwave. Additional supplies and essential items, including over-the-counter medicines, extra blankets, silverware, feminine products, and personal hygiene items such as deodorant, shampoo, conditioner, toothpaste, toothbrush, and dental floss can be requested.
Dave Bujak, the University's emergency preparedness manager, notes that 50 Whipple Park apartments have been outfitted to meet this need, and there are 80 beds available there. 
Orton says different departments throughout the University have worked to make students' stay painless, and enhancements have been made from the fall semester quarantine plan.
"Wi-fi has been upgraded and is fast and reliable," she says. "Dining services contacts the student by email and phone to arrange food deliveries to their door, and can accommodate dietary restrictions and preferences. And University Health Service contacts students regularly and tracks their case until they are cleared to leave."
When students have completed their quarantine and UHS has confirmed they may leave, they are able to choose a transportation option to return to campus: self-arranged, University shuttle bus, or van service.
Category: Campus Life