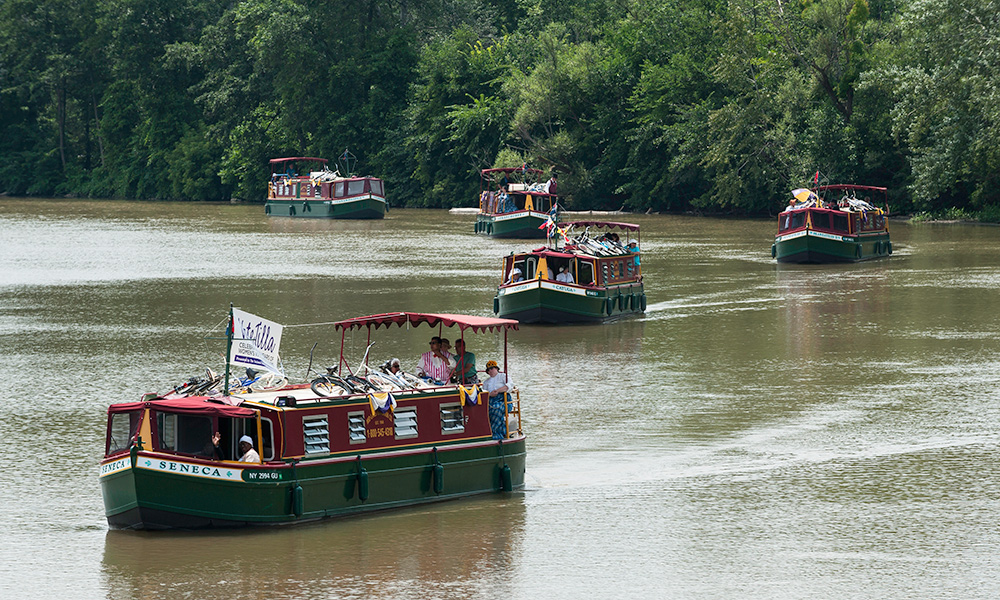 Women in the New York state have been able to vote for 100 years. To celebrate that milestone and with it the most famous woman ever to make Rochester her home, the National Susan B. Anthony Museum and House initiated the "Votetilla"—a weeklong boat trip down the Erie Canal, from Seneca Falls to Rochester, which took place this past summer.
The University's Susan B. Anthony Center (SBAC) partnered with the museum, along with a number of community agencies and volunteers, to create a floating theater including reenactments of key suffragists such as Anthony and Elizabeth Cady Stanton on a parade of canal boats that made frequent stops at ports along the way.
When it came time for the SBAC to pick its recipient of the inaugural Susan B. Anthony Center's Community Champion Award, the answer was obvious: the community volunteers and staff from the Susan B. Anthony House who made up the Votetilla team.
"The Votetilla was an amazing experience," says Catherine Cerulli, director of the SBAC. "To see people lined up against the shoreline of the Erie Canal to wave the boats in and sit through presentation speaks to the need for such living history events."
Cerulli says it was remarkable how many people volunteered their efforts to make the event happen—from the ships' captains, to the crews driving resources to each port, to the videographers that followed along. "The reenactors were incredible, and to see history come alive on the shores of the canal was both memorable and a reminder of the work left undone for equality to be achieved," she says.
The newly minted Community Champion Award seeks to honor a local organization for work on an event or program that educates the community on social justice and women's issues in the Greater Rochester area. The award will be presented at the annual Legacy Awards Ceremony and Brunch on Saturday, February 10, from 11 a.m. to 1:30 p.m. at the Feldman Ballroom at the University's Douglass Commons. While the Champion Award is new, the Legacy Awards boast a 60-year tradition of honoring exceptional women in the University of Rochester community.
Motivational speaker and communications coach Andrea Holland will deliver the keynote address.
The event is open to the public and tickets can be purchased until January 31 by emailing the Susan B. Anthony Center at sbac@ur.rochester.edu
Category: Society & Culture