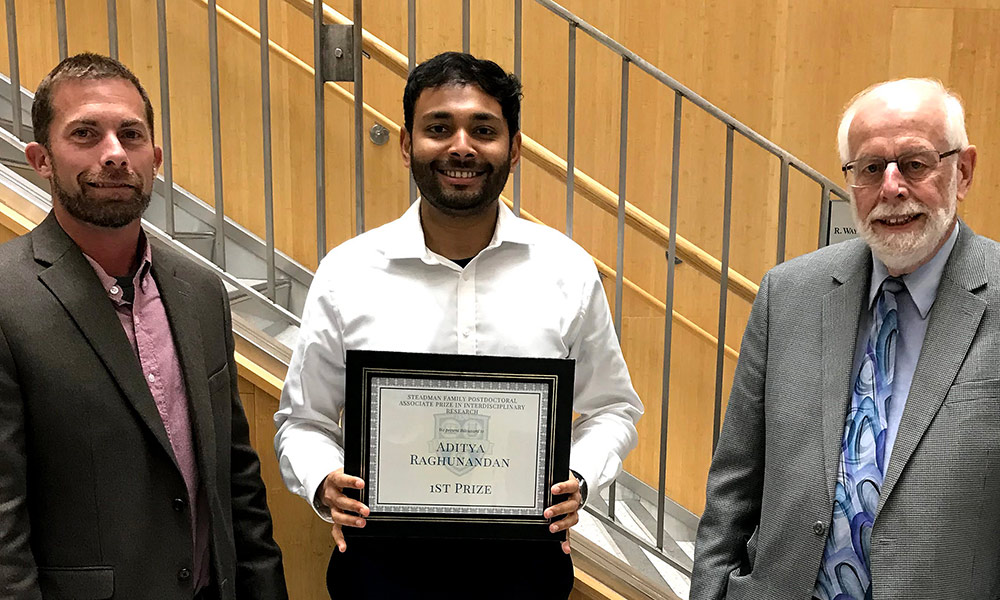 Aditya Raghunandan wins the University's 2021 Steadman Prize—with an assist from Eddie Murphy.
What do car engines and human brains have in common?
Using that intriguing question as a starting point—and with a visual assist from Eddie Murphy stuffing bananas up a tailpipe—Aditya Raghunandan won first place and $1,000 at this year's competition for the Steadman Family Postdoctoral Associate Prize in Interdisciplinary Research.
The competition, typically held during Meliora Weekend, was part of the schedule of events for Meliora 2021, a reimagined version of the University of Rochester's traditional fall event. Postdoctoral associates whose research takes a cross-disciplinary approach toward examining a high-impact question of science are invited to participate. They are given three minutes and two slides to explain their research in ways a general audience can understand.
Raghunandan, a postdoctoral research associate in the Mixing Lab of Douglas Kelley, associate professor of mechanical engineering, investigates how the brain cleanses itself of waste material by pumping it through a complex glymphatic network—much as a car engine removes spent fuel and fumes through an advanced exhaust system.
In the 1984 movie Beverly Hills Cop, Eddie Murphy famously eludes a police stakeout by sticking bananas up the tailpipe of a patrol car, causing the engine to stall. In collaboration with Medical Center researchers in Maiken Nedergaard's lab, Raghunandan has used particle tracking velocimetry to demonstrate how the brain's "tailpipe"—cervical lymph vessels in the neck—become less elastic with age in mice, effectively creating a similar "banana up a tailpipe" bottleneck for the brain's removal of waste.
Through their work, Raghunandan and his collaborators have identified a target for the development of drugs that might eventually restore elasticity in aging human cervical lymph nodes. Such treatments might keep the brain's entire glymphatic system free of accumulating wastes that may be associated with Alzheimer's disease.
"We are extremely fortunate to have the support from Dr. Stephen Steadman for our postdocs.  This year's presenters were excellent and the breadth of research pursued was astounding," says Nick Vamivakas, dean of graduate education and postdoctoral affairs for Arts, Sciences & Engineering. "Dr. Raghunandan did a fantastic job of making his groundbreaking work accessible to the diverse audience in attendance for the event."
2021 Steadman Prize runners-up included:
2nd place ($750): Sara Patterson, a postdoctoral fellow studying the structure and function of foveal ganglion cells with adaptive optics and calcium imaging, in the lab of David Williams, the William G. Allyn Professor of Medical Optics at the Center for Vision Science.
3rd place ($500): Ricardo Millhouse, a postdoctoral fellow at the Frederick Douglass Institute for African and African-American Studies, who studies spatial design in support of Black LGBTQ people's health and well-being.
Audience choice ($250): Lindsay Rathbun, a postdoctoral research associate, who uses mathematical modeling to study how cells work together to create branches, in the lab of Daniel Bergstralh, assistant professor of biology.
The award is made possible by an endowment from the Steadman family, whose strong academic ties to the University of Rochester span multiple generations and disciplines.
Category: For graduate students