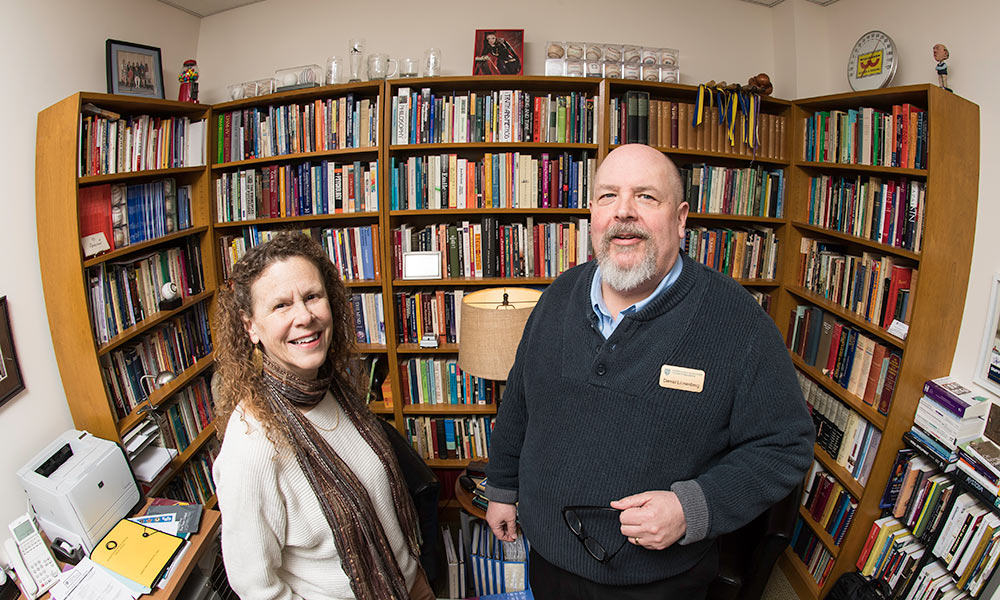 For more than two decades, Dan Linnenberg and Ginny Skinner-Linnenberg have visited 35 states and three Canadian provinces to watch minor-league baseball games in 173 ballparks.
"It's not just our hobby, it's our passion," says Dan, an assistant professor in counseling and human development at the University of Rochester's Warner Graduate School of Education.
Dan is also an Episcopal minister and his wife, Ginny, is a professor of English at nearby Nazareth College. They both grew up in Cincinnati, met at Bowling Green University, and have been married 41 years.
Through their journeys, they've seen LumberKings, JetHawks, Muckdogs, Sand Gnats, and Lugnuts. They've visited a coondogs cemetery in Tuscumbia, Alabama, and a tattoo museum in Baltimore. And they've witnessed the good, the bad, and the ugly in America—from Civil War battlefields and famous geographic sites to small towns struggling to stay alive in the back roads of the Deep South.
They've discussed their adventures at the National Baseball Hall of Fame in Cooperstown, New York, and will speak at the Genrich-Rusling Room in LeChase Hall on Wednesday, April 12 from noon to 12:50 p.m. "Finding America Again: Minor League Baseball Trips as Education" is free and open to the University community. Lunch will be served.
"One thing has stood out to us," Dan says. "American culture is diverse, but at the same time very much the same. Baseball threads its way through America, tying small towns, large cities, and all the suburbs in between."
How did this adventure get started?
Dan: We were living in Maumee, Ohio, a suburb of Toledo, in 1992. I was a youth minister and took a group to a Toledo Mud Hens game. Ginny came along, and we had a great time. We just started going to games. A couple of years later, we were living in Michigan and driving through Grand Rapids. We saw a ballfield and found out the West Michigan Whitecaps were playing. So we went to some their games, and one time I said to Ginny, "Why don't we follow the Whitecaps on a road trip?" That's where it all began. And then we started going all over.
Ginny: We went to a lot of towns in the Midwest League at first: Lansing, Michigan. Fort Wayne, Indiana. Rockford, Illinois. Clinton, Iowa. We weren't good planners, though. One night, we drove for hours at night after a game looking for a hotel. I said, "I'm not doing this again unless we have reservations." Ever since we've really planned out all of our trips.
Any other misadventures?
Dan: Last summer, we traveled through an independent league (not affiliated with Major League Baseball) in San Francisco. One team, the Vallejo Admirals, didn't even know when their games were. We saw on their schedule they had a game. We went, and there was a Little League game going on. The Admirals team president came out to talk to us and was very nice. We went to Montana the year before and reserved a hotel to see a team in Whitefish. By the time I called for tickets, the team had folded.
Ginny: So we went to Glacier National Park instead.
Do you plan your trips around other events?
Dan: Usually academic conferences and weddings. Our furthest trip was from Rochester to Vancouver. We went there for Ginny's brother's wedding and ended up going to games in Yakima (Washington), Portland (Oregon), and Salem (Oregon).
What are the rules of the road?
Ginny: Dan picks the games, and I spend three days researching places to stay, and museums and historic sites to visit. We get the cheapest flights, or we drive. We always sit behind home plate. We try not to eat too much, but that's not always possible. In Montana, the breakfasts are amazing. They bring out cinnamon rolls the size of your head, and I'm not joking.
Dan: They know how to do bacon.
Ginny: We try not to take interstate highways. We stay on the back roads. You get to see more of the country. We're going to see baseball, but we're seeing America.
The battlefields of the Civil War had to be emotional.
Dan: We've been to Gettysburg, Vicksburg, Antietam, Fredericksburg, and Corinth. Gettysburg is absolutely fascinating. You can never spend enough time there. Walking the fields and going to these locations where battles occurred, and seeing where things went wrong and where they went right.
Ginny: You have to understand, Dan has seen the movie Gettysburg about 150 times.
Dan: You sense the loss of life that took place there. So much loss. We were in a part of Jackson, Mississippi, where the mayor's home was the only building left from the Civil War. This woman kept talking about how proud she was of General Lee. She kept apologizing for it, but she kept talking.
What were your general impressions of the Deep South?
Dan: It was very nice and clean, and people were friendly. With Ginny being an English professor, we visited every author's house on the face of the earth. We went to William Faulkner's home in Oxford, Mississippi, and got into his office. He wrote on the wall an outline for all of his books. When he finished a book, he'd paint over it. But the outline for his last book was still there on the wall.
What city made the deepest impression on you?
Dan: Memphis, but not in a good way. We went to Graceland in the morning. There were 3,000 people lining up to get on buses for the drive over. That afternoon, we went to the Lorraine Motel, where Martin Luther King Jr. was assassinated. It's now the National Civil Rights Museum. There were maybe 12 people there, including us. The signs for Graceland are huge. The signs for the museum are small. To this day, I get very sad thinking about it.
Ginny: A national shame is what it is.
Favorite ballpark?  
Dan: Ashford University Field in Clinton, Iowa, home of the Clinton LumberKings. It was one of the first parks we went to, built in 1937 as a Works Progress Administration project. It was just the ideal old-time riverfront park. It was also the first time we ever had wait staff bring us hot dogs and beer.
Which park has the best food?
Dan: Believe it or not, Frontier Field right here in Rochester, home of the Red Wings. They have everything you can dream of.
Favorite nickname?
Ginny: The Batavia (New York) Muckdogs, not far from here.
Favorite mascot?
Dan: The Montgomery (Alabama) Biscuits' mascot is a buttermilk biscuit, with a tab of butter for a tongue.  And the team serves biscuits with syrup, the best-tasting specialty food in any ballpark.
What towns are still on your bucket list?
Dan: High on the list are New Mexico, Utah, Idaho, South Carolina, the Dakotas, and the Eastern Shore of Florida. Really, any town we haven't been to that has a minor league team.
Category: Society & Culture