How do you summarize who you are as a junior or senior in high school and communicate what makes you special to a university admissions officer? Members of the College Class of 2005 share excerpts from their application essays.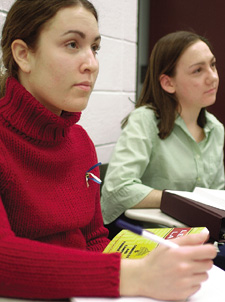 The Write Dean
by Jenny Leonard
Combining the roles of the dean of freshmen and director of the writing program, the College takes an innovative approach to helping first-year students make successful transitions to university life.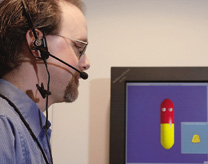 House Calls
by Jeffrey Marsh

"Our vision is that our home will be something we can talk to," say researchers behind the University's "Smart Medical Home." The walls do not talk (yet), but the multidisciplinary project is providing plenty of new ideas for a healthier future.



The Force of a New Discovery
by Scott Hauser

Setting out to test a textbook definition of the way some subatomic particles interact, assistant physics professor Kevin McFarland and his colleagues may, instead, end up helping to write a new definition.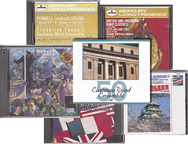 Golden Harmony
by Jeffrey Marsh

For the past 50 years, the Eastman Wind Ensemble has defined an entire genre in classical music. Current and alumni players - along with past, current, and future conductors - celebrate the ensemble's golden anniversary.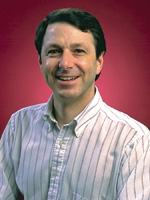 C:\MICROSOFT\Pioneers\Rashid
by Jeffrey Marsh

As director of the research division of Microsoft for the past decade, Richard (Rick) Rashid '80 (PhD) has a unique window on future trends when it comes to computing.
---



Rochester Review for the Web
Editor: Scott Hauser
Associate editor: Jeffrey Marsh
Design supervisor: Stephen Reynolds
Graphic artist: Jeannine Papelino
Copy coordinator: Joyce Farrell

Editorial office: 147 Wallis Hall, University of Rochester, Rochester, NY 14627-0033
(585) 275-4119 | Fax: (585) 275-0359 | E-mail: rochrev@admin.rochester. edu


Published three times a year for alumni, students, their parents, and other friends of the University, Rochester Review is produced by the Office of University Public Relations, Robert Kraus, associate vice president for public relations.

Opinions expressed are those of the authors, the editors, or their subjects and do not necessarily represent official positions of the University of Rochester.

Join Currents Digest
Click here to subscribe to Currents Digest and receive a daily electronic summary of news and events with links to the latest press releases from the University's public relations units and a rundown of daily events featured in the campuswide online calendar.

Maintained by University Public Relations
Please send your comments and suggestions to:
Rochester Review.