"Katalin Street" by Magda Szabó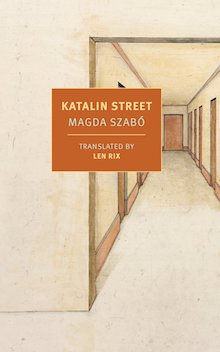 Katalin Street by Magda Szabó
translated from the Hungarian by Len Rix
248 pgs. | pb | 9781681371528 | $15.95 
NYRB Classics
Reviewed by Jason Newport
What is a woman, or her ghost, to do for herself?
This is the question that haunts Hungarian author Magda Szabó in her three novels published by NYRB Classics: Iza's Ballad (2016), Katalin Street (2017), and The Door (2015).
Born in the eastern Hungarian city of Debrecen in 1917, Szabó died there shortly after her ninetieth birthday in 2007, at four in the afternoon, sitting in her favorite armchair with her hand upon an open book in her lap, the course of her long life having encompassed all the major events of modern Hungarian history—including the divisive Treaty of Trianon, reducing the nation to a shadow of its former self after the First World War; the torments of the Second World War, when Hungarian fascists purged Hungarian Jewish citizens by the tens of thousands; the installation of, and doomed uprising against, the Soviet Communist government; decades of authoritarianism behind the Iron Curtain; the meltdown of glasnost and perestroika propelling the country into NATO and the European Union; and, in Szabó's final years, the rise to power of Prime Minister Viktor Orbán on the shoulders of the ardently nationalist Fidesz party. One of Hungary's most lauded and widely translated authors by the time of her death, Szabó was a girls' boarding school teacher and a civil servant in the Ministry of Religion and Public Education before publishing two well-received books of poetry beginning in 1947, at the age of thirty. Those two volumes earned her both the prestigious Baumgarten prize (placing her among literary luminaries such as Antal Szerb and Miklós Szentkuthy) and the designation "class alien" by the new Communist regime (who deemed her writing dangerously bourgeois, denied her the honor of the award, and dismissed her from her job). Forbidden from publishing for nearly a decade, Szabó shifted her literary focus to prose and, after the selective loosening of restrictions in the bloody wake of the 1956 Uprising, brought out the domestic, socially conscious novels Fresco (1958) and The Faun (1959) as well as the children's verse book Lawrence the Lamb and young-adult novel Tell Young Sophie. In an about-face, the government twice presented her its top literary award, the Attila József prize, in 1959 and 1972, officially encouraging her to continue her career as a trenchant novelist, short-story writer, historical playwright, and radio screenwriter, as well as a beloved children's and young-adult author—whose Lala the Fairy is a children's classic and whose teen novel Abigail (1970) became a hit Hungarian television series and remains a staple of school reading lists. As Szabó aged, the veil of fiction grew progressively thinner over the course of her six novels for adults, until it dissolved entirely with her final major work, 2002's Für Elise, a bestselling memoir of her early life.
Again and again, whether writing for teenage girls in books such as Masked Ball (1961) and Birthday (1962), or creating more complex narratives such as Katalin Street and The Door, Szabó plumbs the question of how a woman is to be. The Door, which in French translation won the Prix Femina Étranger for women's writing in 2003, tells the story of an aged housekeeper, Emerence, and her complicated relationship to the narrator, a writer named Magda whose early literary success was choked off by years of official blacklisting. As Magda's career begins to revive, she and her husband hire the imposing Emerence, whose impassive and unfailing generosity toward all and sundry ends at the door of her modest home, which she opens to no one. Obsessed with understanding the hidden self of this determinedly solitary woman, Magda gradually becomes like a surrogate daughter to Emerence, earning her trust yet tragically failing the gravely ill old woman in her hour of need, by going away to accept "The Prize," a national literary honor, a failure that wakes Magda screaming from nightmares for the rest of her life.
Likewise in Iza's Ballad the failure of an adult daughter to understand and care for the actual needs of an elderly mother leads to tragedy. Dr. Izabella "Iza" Szőcs, an accomplished clinician and hospital founder, has from a young age forcefully severed her village roots and invented herself as a self-sufficient woman. The death of her adored father, Vince, prompts the practical Iza to swiftly dispose of the quaint family home and move her widowed mother, Ettie, into Iza's modern Budapest apartment where a housekeeper does the work, stranding the purposeless Ettie without even her old dog for comfort. "Maybe she was already dead and hadn't noticed?" Ettie wonders about herself as ennui and enervation take hold, leaving her blankly riding crosstown buses all day. "Could a person die without being aware of it?"
Unlike the nuanced interior perspective of the flawed Magda in The Door, through whom we witness the mystery and heartbreaking stoicism of Emerence, the view in Iza's Ballad is a cool, ironic third-person suited to the early sixties. The hardest thing for a contemporary reader to accept is how unsympathetic Szabó is toward her protagonists, especially Iza, who, after all, just wants to sustain herself with a career and support her parents, and refuses to stay married to a man she no longer respects. Although the nurses who work for her idolize Iza, other observers, including Iza's own lovers, pity and fear her drive and lack of sentiment, and Szabó stacks the social deck in their favor. It's not the fact that female agency provokes an outsized response that most surprises or disappoints, but that the author actively undermines the qualities of character that Iza relies on as an independent woman, consistently casting them in the worst light and, eventually, no light at all, asserting that a woman who tries to go it alone can only end up in limbo, foreclosing her own life, as the despairing, elderly Ettie finds walking the girders of a construction site late one fogbound night. In childhood, Iza could never bear to hear the end of a sad ballad that her father eventually gave up trying to sing to her "because she would burst into tears and plead for the dead character to be brought to life again." As an adult, Iza has renounced special pleading. "They weren't modern people," Iza testifies, not without regret, at her mother's inquest. "Neither my father nor my mother, poor thing, was a modern person." As the translator, George Szirtes, notes, the novel's original title in Hungarian, Pilátus, goes so far as to equate Iza with Pilate, allowing duty to justify washing one's hands of the concerns of others. And yet Iza is not insensible to her losses. When in the end she finds herself alone, the predictions of her impending solitude borne out, the book's last line renders her spiritual isolation complete: "The dead did not answer."
In Katalin Street, however, the perspective of the dead is foregrounded, and it's the living who avoid giving the answers, naming the names that would matter in the end. Structured as a series of "Moments and Episodes" spanning four decades in the intertwined lives of three families—the Elekeses, the Helds, and the Birós, once neighbors on a short stretch of Katalin Street fronting the Danube in prewar Budapest—what seems at first to be a realist novel of class displacement and family dysfunction quickly turns out to have an unexpected but crucial presence binding the narrative shifts in place and time: the ghost of sixteen-year-old Henriette Held. Shot dead in 1944 by one of the soldiers occupying her Jewish family's house after her parents' arrest, Henriette literally continues to dwell among the preserved images of her family and friends in an otherworldly vision of the Katalin Street homes painstakingly reconstructed from memory, a place of comfort from which she ventures over the years, drawn to witness the ongoing lives of the Elekes sisters, sensible Irén and bohemian Blanka; their parents, Mr. and Mrs. Elekes; and Bálint Biró, the neighbor boy loved by all the girls. The ultimate failure of the neighbors to keep Henriette safely hidden in the Biró house undermines their stability ever after, leaving each in his or her own way with a yearning for lost time that, in the spirit of Henriette, stays closer than any of them would imagine.
Memory being key to ghost stories, there is a sense in which the Hungarian part of the Holocaust lurks in the shadows of many of Szabó's houses: Iza's father conceals escaping Jews during the war, at no small risk to his family; and a Jew named Eva Grossman figures in Emerence's past as well. In Katalin Street, the crime is brought home in the most fearful way, where hurt feelings and petty blunders can turn fatal in trying to save Henriette. Yet even though Henriette's doom is foretold, when the moment arrives it is nonetheless utterly gripping, a breathtaking scene showcasing all of Szabó's skills as a writer, perfectly textured, colored, and paced.
Dramatic as the pressures of history are, though, Szabó's focus remains the personal conflicts and sorrows of women, and Katalin Street affords her a larger ensemble to portray, women whose pointedly different approaches to life prove impossible either to disentangle or reconcile. To emphasize that difference, Szabó turns the screw another notch by shifting periodically to the first-person point of view of Irén Elekes, the dark-haired elder sister whose severe practicality and ambition contrast starkly with the free-spirited blond Blanka and their hopelessly flighty mother. As the voice of her own episodes, Irén adds another, more intimate layer of perspective on moments that Szabó revisits with subtle differences in third person. The driven woman of this story and the mainstay of her family, Irén suffers, as Iza does, even when her ambitions are fulfilled, from a love of feckless men and a rage for order. People depend on chilly, accomplished Irén, but it is Blanka, the passionate caregiver, whom they long for; though jealousy may drive the sisters far apart, nothing can ever dispel their inherent bond or their reactions to one another's feelings, like particles twinned by quantum forces. And with the disembodied Henriette, they form a female trinity of cynical mind, tender heart, and perennially innocent soul.
Before the church at the end of the street bearing her name stands a statue of teenage Katalin, or Catherine, saint and woman, martyred for rebuking man's cruelty, whose wheel of torture fell to pieces rather than breaking her. In Katalin Street, "the difference between the living and the dead is merely qualitative," Szabó asserts, and "doesn't count for much." What does matter is a rebuke to the silence of forgetting, and to the denial, conscious or not, of a woman's true desires. If The Door remains Szabó's most poignant realization of those themes, and Iza's Ballad the most scathing, the superbly supernatural Katalin Street shows Szabó at her innovative best, inviting contemplation of how we remember and whether we know when to recognize what we—and especially women—want.