Adam's Sexy Post [BTBA 2019]
This week's Best Translated Book Post is from Adam Hetherington, a reader from Tulsa who also served on last year's jury.
"Do you want to do it again?" he asks. Shit. He is my friend, P.T. Smith. We were both BTBA judges last year; this year he's invented some sort of easy supervisory role for himself, and invited me to do the hard work. Very cool. I want to tell him no, it's too much work. I don't have time. I text my wife, hoping she'll tell me it's too much work and that I don't have time, but before she responds I tell P.T. that of course I want to do it again. Who wouldn't? Skip ahead to 4 months (and about 13,000 read pages) later, and I can confirm: it's too much work and I don't have time. No one does. But despite that fact, here's how it's done.
It starts with the spreadsheet, which looks like this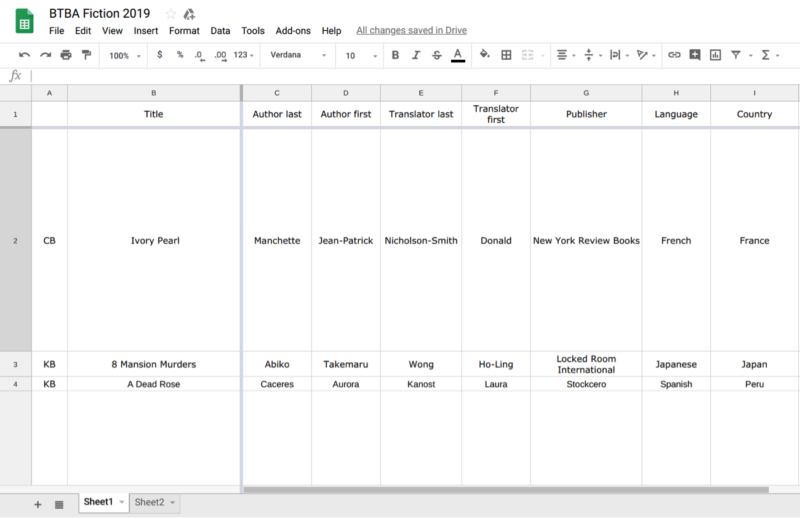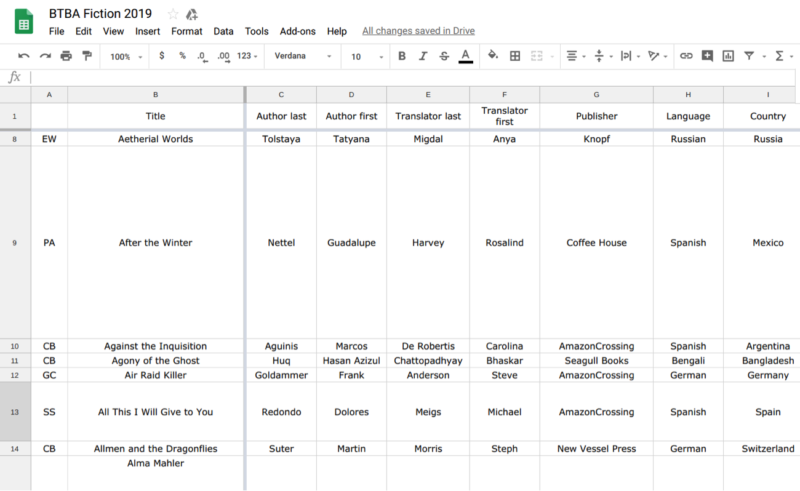 This is supposed to be sorted alphabetically by title, but for some reason Ivory Pearl (written by Jean-Patrick Manchette, translated by Donald Nicholson-Smith, and published by NYRB) is first? Congratulations to Google on another great product! Any typographical or formatting irregularities are one of the other judges'—or possibly even P.T.'s? who knows how high the conspiracy goes—fault. All I can say for sure is that it's not me accidentally changing the font at 4 in the morning after chugging a skid of beers, so please don't feel weird if your book looks out of place. Anyway, column A is the judge assigned to the book, which means that if the publisher sends the book, that judge will read the book. Other judges will probably read it too, but that specific judge has to read it. Reviews are to the right of the screenshot, in columns j–r, but for obvious reasons I can't show you those. The rows with expanded cells already have reviews—for example the aforementioned Ivory Pearl was loved by a judge whose beans I won't spill here, and l myself liked Abrupt Mutations (which was written by Enrique Luis Revol, translated by Priscilla Hunter, and published by Dalkey Archive). Five (!) judges have already read Guadalupe Nettel's After the Winter (GORGEOUSLY translated by Rosalind Harvey and published by perennial personal favorites Coffee House), and so on and so forth, on down the list.

At the time of this writing I have received, purchased, or borrowed 165 of the 374 eligible books. Words don't wholly convey the scale, so here's what a pile of 165 books looks like . . .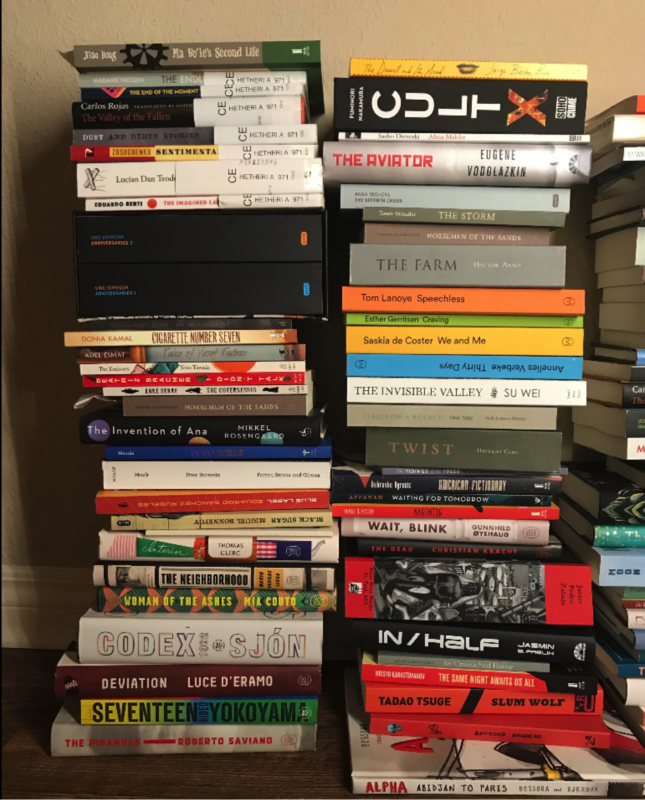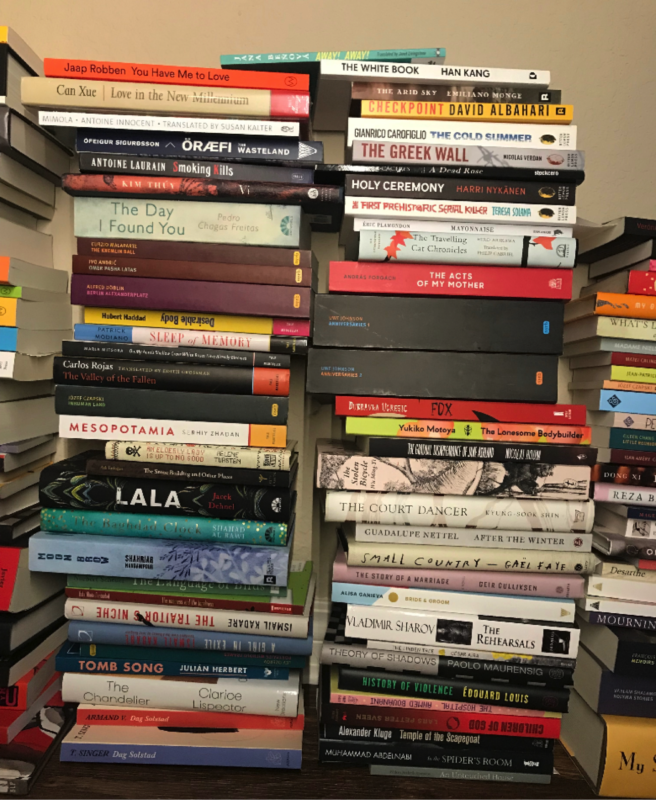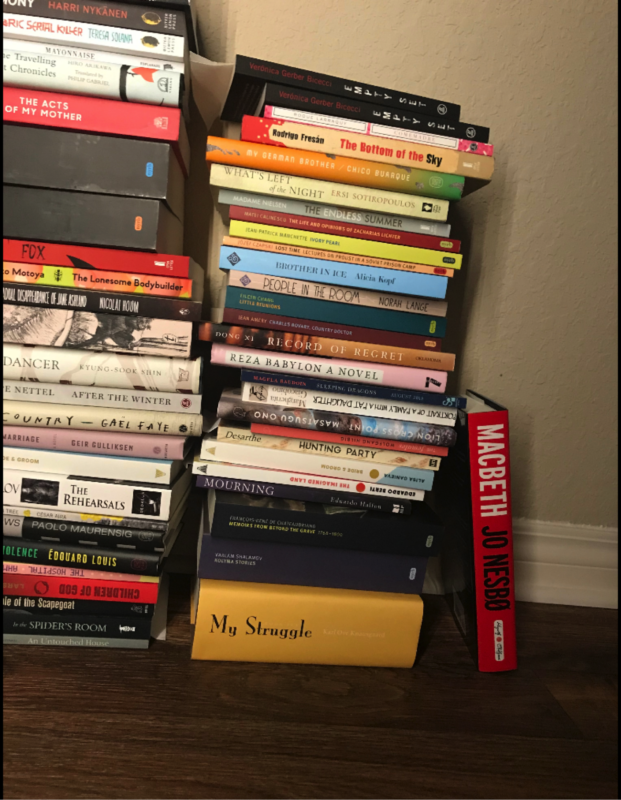 . . . plus my library history, a few ebooks, and copies of both Kim Sagwa's Mina (translated by Bruce Fulton and published by Two Lines) and Maria Gabriela Llansol's Geography of Rebels Trilogy (translated by Audrey Young and published by Deep Vellum), which are in my locker at work. Anyone examining the photos will see I have a few doubles (which happens when you buy books), and a dozen or so ineligible books, which I'll get to later.

Of these, I've read 51, and written some kind of "review" about 36. The reviews can be anything—actual reviews, emojis, essays, personal anecdotes. Right now mine range from a good chunk about Cemens Meyer's incredible Bricks and Mortar, (translated from the German by Katy Derbyshire, published by Fitzcarraldo, purchased by me) to a simple "no" (which has been my response to 3 books that I will not name here—1 purchased, 1 borrowed from the library, and 1 officially submitted), to declaring that it's criminal to kill trees in order to print Paulo Coehlo's dog-shit fiction. I feel ok saying that publicly because Coehlo himself is a bad writer who is insanely rich, and the big five have made approximately one hundred zillion dollars publishing him. Congrats! But I'm getting off topic; reviews are really informal, and this far out from the longlist, their function is mostly record-keeping. By that I mean at this point another judge's negative review isn't going to stop me from reading a book. I still have time to read maybe another 15,000 or 20,000 pages, so bring it on. Of those 36 books I've reviewed, only 12 were assigned to me, which means I started this post complaining about how much work this is, and now I've discovered that I'm doing 3x as much work as I thought, but it turns out I'm doing it of my own accord, so ¯\_(ツ)_/¯. Is it proper to use punctuation after emoticons? It looks awful, but feels necessary.
I started the last paragraph with "at the time of this writing" because the spreadsheet grows. New presses, new translators, totally unknown books, zero marketing budget, etc.—plenty ways for no one to know about a book. When a judge hears about a possibly eligible book, she adds it to "sheet 2" which looks like this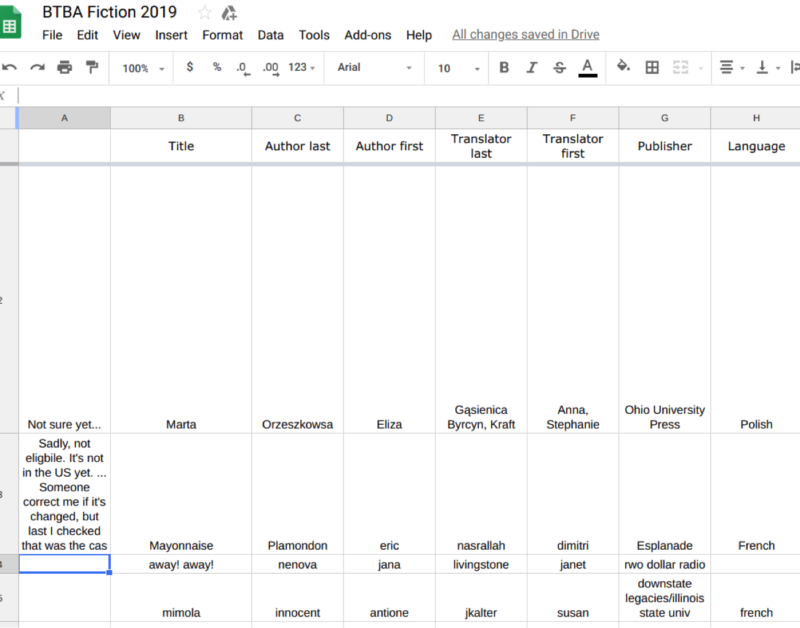 I added Nenova's Away! Away! (translated by Janet Livingstone, published by Two Dollar Radio) and Innocent's Mimola (translated by Susan Kalter, published by Downstate Legacies/Illinois State University) just this morning. Column A on sheet 2 is reserved for comments on eligibility, which can be a bummer if it's a book you like. For example, Wakefield Press has put out 3 great (I do mean great: were it eligible, I believe The Children's Crusade [translated by Kit Schulter] would make the longlist) Marcel Schwob books in the last 2 years. You might know Schwob's name from your collected Borges nonfiction, that anecdote in Bolano's 2666, or a dozen other places. He's a well-loved writer by writers we all already love. In a startling display of her literary bonafides, judge Caitlin Baker already had a copy (!) of Schwob's The Children's Crusade that was published in Boston in 1898, in an edition of 500, which means a great book is ineligible because of a small print run 120 years ago. So, like I said, ineligibility can be a bummer. Although if you're still reading this, you care about literature, so you can still buy the Schwob books from Wakefield, or ask your library to buy them.
There's also a groupchat for judges, which is where we post pictures of dogs and complain about our lives.
That's basically how it goes. We read constantly. We read what we want, we read our assignments, and we try to stay up on reading the books the other judges love. Last year due to extenuating personal circumstances, I ended up having to read about half the longlist in the 10 days before the shortlist was due, which sucked a ton of ass. That's what's hard about being a judge—reading Enard's beautiful Compass for the opposite of fun. Speaking of the lists: I'll quickly explain those. For the short list, we judges each privately submit a top 10, in order. So each #1 gets 10 points, #2 gets 9, and #10 only gets 1 point. From this, our fearless leader builds a shortlist 16 books long, which we may have to re-vote on, if there's a tie for 16th place. We can argue a little bit if we need to at this point. We vote to approve the list. After it eventually passes by some majority I can't remember, each judge gets a wild card pick, which brings the total number up to 25, which is made public. A month later we argue and vote until we have a shortlist, then we crown a winner, which in 2019 very well may be Paulo Coehlo's Hippie.  
I don't think these posts are supposed to be this long, so I'll stop here. If you have any questions about the process or literally anything else, hit us up. I'll personally tell you anything I'm allowed to tell you. I promise I'll actually write about books in my next post, but as a preview let me say that if we had to vote today, I think my top pick would be a very good book written by a person with depression.
I would like to end with this final thought: it's total bullshit that the reading period for this award 98% coincides with the NBA season.
2 responses to "Adam's Sexy Post [BTBA 2019]"