Books from Spain [By the Numbers]
I alluded to this in an earlier post (or two?), but one of the things I'd like to do on Three Percent this year is highlight a different group of books every month. It could be a particular country—like this month—or a set of publishers, or a single publisher, or single author. Regardless of the specifics of a particular month's theme, that theme will drive a number of posts throughout the month: book reviews, rambling Chad columns, interviews with translators/authors/publishers, and, always and forever, some sort of statistical column to kick things off and provide a sort of data-driven framework for the rest of the month.
And in case you didn't see the title above, this month's focus is going to be on books from Spain. You'll find more specifics on what I have in mind below, but to start, here's a chart of the number of Spanish w0rks of fiction and poetry translated into English and published in the U.S. between 2008 and 2018.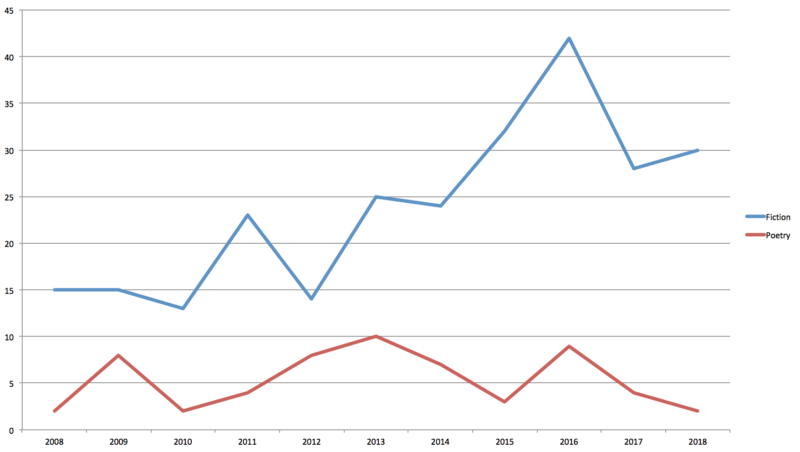 Although there are some ups-and-downs (and might be more to come if Hispabooks is truly out of the game), that's a pretty decent trend line. The significant jump in 2016 is mostly due to Hispabooks (11 titles) and Small Stations (9), who accounted for almost half of the books from Spain coming out that year.
Naming those two publishers points to one of the interesting aspects of Spanish literature—the multiple languages spoken throughout the country. I broke down the stats above into the four main ones—Basque, Castilian, Catalan, and Galician—and came up with this pie chart: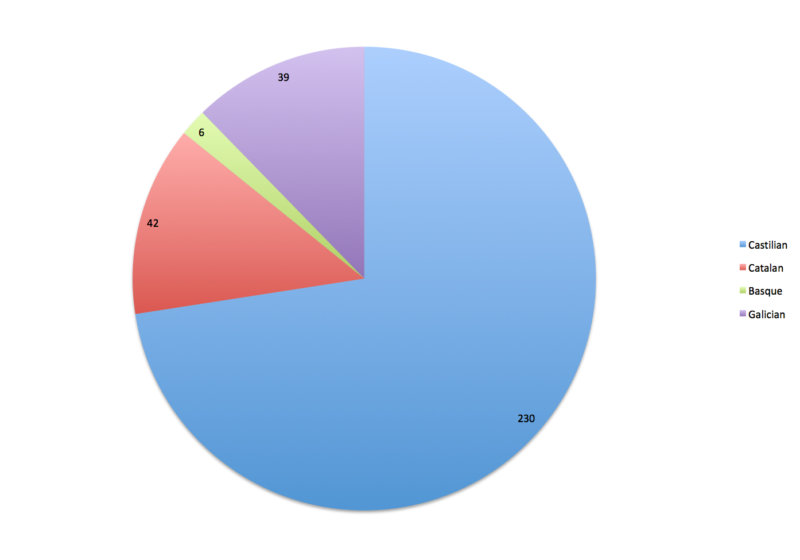 This is a bit off, since most of Basque author Bernardo Atxaga's books have technically been translated from Spanish/Castilian, but even if you break this down by authors writing in particular languages rather than total number of titles, in terms of percentages and proportional ratios, you get almost the exact same breakdown.
Which, to be honest, probably isn't all that surprising given that Catalan was outlawed for so long, and Basque and Galician are spoken by much smaller parts of the Spanish population. In a way, that makes that Galician number seem all the more incredible . . . Not to overpromise, but my plans for the month include a post a week about a book or two from each of these different languages. And with Galician, I'm hoping to talk to Jonathan Dunne, the founder of Small Stations, and one of the most prolific translators from the Galician.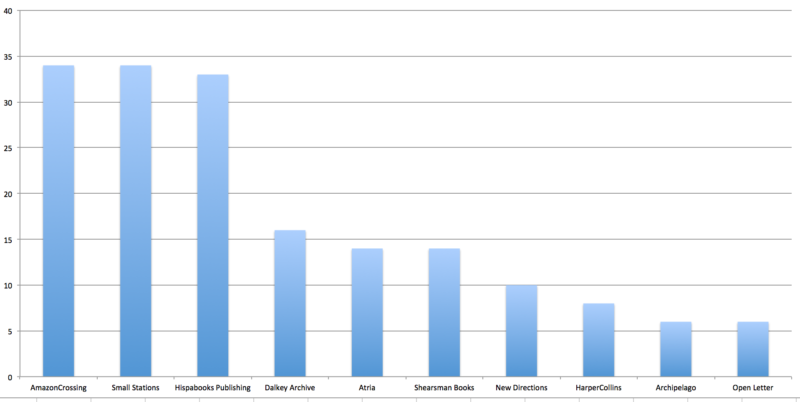 This chart really surprised me. AmazonCrossing is to be expected, but Small Stations and Hispabooks are numbers 2 and 3?, both having published more than twice as many Spanish titles over the last decade than Dalkey Archive? That's not to discount how interesting it is to see Atria and Shearsman Books on this list—ahead of New Directions, Archipelago, and Open Letter.
I might dig into these more as the month goes on, but this seems like a good enough overview for now. Assuming all goes according to plan, there will be three different interviews this month, an excerpt from Sara Mesa's Four by Four (forthcoming from Open Letter), articles about Mesa + Jesús Carrasco, Miquel Bauçà, Suso de Toro, and Harkaitz Cano, and more. (And yes, those posts will be more serious than last year's—at least in terms of actually discussing the books in question—but will also retain some of the flippancy and random that I can't possibly escape from.)
Tune in Thursday for an interview with Katie Whittemore, an emerging translator living in Valencia (SO JEALOUS) and working on Sara Mesa's Four by Four for us. I'm biased, but I think the interview went really well, and has a lot of interesting bits about contemporary Spanish women writers. (Several of whom Katie has prepared samples of.)
5 responses to "Books from Spain [By the Numbers]"