QC Fiction [Canada Redux]
I think I might have mentioned this in an earlier post, but now that we've put Spain to bed with a week dedicated to each of the four major languages—Castilian, Catalan, Galician, and Basque—we're turning our attention to the North. As in the Great White. Canada: home of poutine, reasonable political leaders (now that Rob Ford is dead), civil discourse about gun control, Prince Edward Island, ketchup chips, and a year-round polar vortex.
Not to mention, Canada is the inspiration behind one of the best sketches on the Kroll Show. 
Canada is also home to a number of great small presses, many of which get little to no play here in the U.S. So over the next month, we're going to be running a few different things: Every week I'll be highlighting one or more books from a different Canadian press, P.T. Smith will be writing about his favorite Quebecois titles, there will be interviews with a number of indie press publishers, and excerpts of forthcoming books.
As per usual, the goal is to highlight more obscure gems, bring attention to presses and writers you might not have heard of already, and have a bit of fun along the way. By no means will this be a comprehensive overview of Canadian publishing (for something along those lines, check out Ed Nawokta's piece in PW), but it should provide a few different pathways for curious readers to explore.
*
Let's get started with the featured press of this week: QC Fiction, started and run by Peter McCambridge, who is also a translator, and is based in Quebec City. There's an interview going up on Wednesday with Peter that covers a lot of ground regarding QC Fiction's origin and whatnot, so I'll skip over all that for now and just focus on their books.
Along the same lines, since I published a post in December with a lot of infographics on Quebec translations, I'm going to skip the nerdy stat stuff for a second week running. (When is baseball coming back? IN 53 DAYS.)
In prepping the post for Thursday with Peter, two things jumped out at me: 1) his interest in working with "new translators," and 2) that it must be really fun to design a website when you only have ten titles in print. Look at this thing! So clean, so easy to use. All the information is right there. Click on "Books," and you can see all their books right there. We're about to undertake another redesign of the Open Letter website, and god damn does it seem like a nightmare. We have to copy over data from over 110 different books and figure out a logical organization for all the info on our website. Maybe we should just KonMari it all. ONLY 30 BOOKS GIVE US JOY!
Anyway, given how reasonable the QC Fiction list is, I decided that this week I would just go through all of their titles in hopes that you'll all find one worth reading and go buy it. (If there's one aspiration I have for this year of Three Percent, it's that by the end of the year, everyone reading these posts will buy a book a month from whichever presses/countries are being featured. It's hard to overstate what a huge impact that would have for most of these books/presses. A thousand extra sales is quite significant for anyone smaller than PRH.)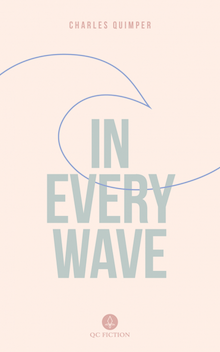 In Every Wave by Charles Quimper, translated from the French by Guil Lefebrve
When I put together the schedule for February's posts, I knew I was going to start with QC, so I grabbed two of the shortest books of theirs we had in the office and read them both on consecutive days. In Every Wave—a 78-page novella—is a heart-wrenching book. It's not the sort of book that the parent of a young child should be reading . . .
Basic plot: While camping, a young father's daughter wanders away. He loses track of her for a second, think she's with his wife, sees her in the water drowning. They never find the body. His marriage breaks down, his mind breaks down. He comes to believe that fragments of her body can be found in various bodies of water and sets sail for the open seas, hoping to be reunited with her.
On behalf of all other parents, fuck me for posting this, but this is the paragraph that got to me. The book is much more powerful as a whole than in any given section, but this one bit hits so close to the bone that I couldn't help but inwardly cringe as I read it.
If I had known you'd be with us for such a short time, I would have kept you awake every moment of it. I would have fought sleep with everything I had. If we had to sleep, it would be together in your little bed. I should have watched when you jumped off the highest diving board at the swimming pool or when you went down the big slide at the park. If I'd known, I would really have watched, instead of pretending to.
(I slightly edited that, because I think it's more powerful this way. Sorry, Peter.)
Although it's different in style, if you like The Private Lives of Trees, I would recommend this book.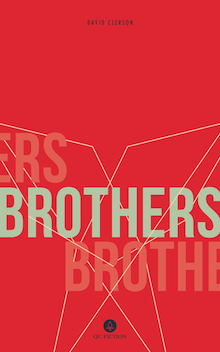 Brothers by David Clerson, translated from the French by Katia Grubisic
This is the other QC Fiction book I read this week. Longer and more surreal than In Every Wave, but also quite interesting. It's the story of two brothers—and older one missing an arm, and a younger one who was created from that missing arm—and their quest for their "dog father."
It's a book that has no clear location, and shifts between realism and something other over and again. Mostly in the "A Dog's Life" section in which the older brother becomes a dog. And then SPOILER ALERT murders the fuck out of the family that has taken him in. In some ways, it feels like a grand fairy tale, or maybe allegory, although one whose meaning is not immediately transparent.
To give you a sense of the weirdness of this book, here's a paragraph from where the brothers' mother is explaining to the older brother how, when he was a newborn, she created his younger brother:
"[. . .] You were lying on the stone. You looked at me with your big black eyes and I was crying and singing. I took a knife with a sharp blade, I held your left arm, and I cut it off, my eyes closed, still singing. I will never forget your screams, but I knew what I was doing, I knew the ritual: it gives life, erases solitude, and I told myself it was for the best, it was the best thing a mother could do. I covered the wound with a paste of herbs and clay to help you heal, and I kissed your forehead again, still singing for you as you cried and screamed in pain. You don't hold it against me, do you? Tell me you could never hold it against me. (The older brother looked at her with his dark eyes, his gaze telling her that he didn't blame her, that he could never hold it against her.) I don't think I could regret what I did . . ."

She had told him that his brother had been shaped from his severed limb, and born with two stumpy arms, imperfect but attached to a body that was intact, the body of his brother, with whom he loved to run along the shore and in the hills, and who like him had deep, dark eyes, the same eyes they both shared, the same look of brothers.
For fans of Can Xue and Mercè Rodoreda.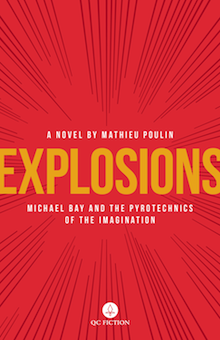 Explosions: Michael Bay and the Pyrotechnics of the Imagination by Mathieu Poulin, translated from the French by Alesha Jensen
Initially, I was going to read this book for this post. The premise—that this is a mockumentary treating all of Michael Bay's movies as if they were academic art—is really intriguing. But then I looked up Michael Bay movies on IMDB. Out of the thirteen full-length movies he's directed, I've seen a grand total of ZERO. @ me. @ me all you want. These movies look and sound like garbage. I'm proud of myself for avoiding Transformers: Age of Extinction. Isn't Michael Bay responsible for Shia LeBouf thinking MK Ultra was infiltrating his life?
Main point: I don't think I would get all the jokes in this book because I don't know the source material.
Here are a couple chapter headings to entertain you:
On the Dangers of Driving a Tanker Truck Through Rush Hour Traffic

On Abduction

On the Evocative Power of Orange Trees

On Confusion
I have a feeling this book is a lot of fun.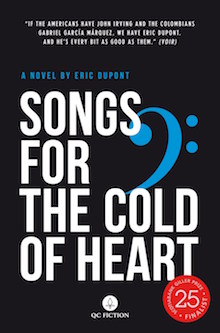 Songs for the Cold of Heart and Life in the Court of Matane by Eric Dupont, translated by Peter McCambridge
This comes up in Thursday's interview, but Songs for the Cold of Heart really shored up QC Fiction's reputation in the minds of readers, booksellers, and critics. Shortlisted for the Giller Award (Canada's version of the National Book Awards, but way way way more indie-press friendly), it sold more copies than any Open Letter title has to date. Which is great! This book is 608 pages long, and exactly the sort of title that could cripple a small press.
Aside from the note that "this novel warms the heart," it totally sounds up my alley. Long; stories within stories; Garcia Marquez + John Irving (two authors I read a lot of in college, and who I think of when I'm feeling nostalgic); ambitious in scope and structure . . . What's best though is this quote from the Giller judges:
As magnificent a work of irony and magic as the boldest works of Gabriel García Márquez, but with a wholly original sensibility that captures the marvelous obsessions of the Québécois zeitgeist of the 20th century. It is, without a doubt, a tour de force. And the translation is as exquisite as a snowflake.
Amazing blurb, but also SNOWFLAKE.
Life in the Court of Matane was the first book QC ever published. It was a book Peter fell in love with that inspired him to start the imprint. My copy is buried somewhere in my daughter's room. I gave it to her to read, since she LOVES LOVES LOVES Nadia Comăneci, whose gold medal performance sets this novel in motion. I can't find it right now, although I suspect it's hidden behind the Philip K. Dick, David Mitchell, and Haruki Murakami books she's taken from the main bookshelves into her room.
It's really nice to live with a teenager who reads. The other day her friend was asking her about the "worst book she ever read" and the "worst movie adaptation of a book." I forget the worst book answer (is The Snow Child a thing? Like, a book that Rochester Reads All One Book And Only One might have featured?), but she was MEGA-PISSED at the Ready Player One movie for eliminating all the LGBT aspects that exist in the book. The kids are alright, yo.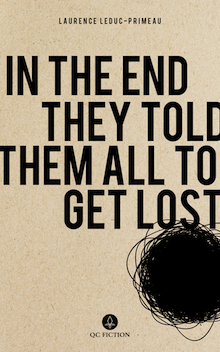 In the End They Told Them All to Get Lost by Laurence Leduc-Primeau, translated from the French by Natalia Hero
I know next to nothing about this book, yet will definitely read it when we get a galley because a) the main character is Chloë (my daughter's name), b) it's "biting and sarcastic," and c) I like the name "Natalia Hero." It's like judging a book by its cover, but more idiosyncratically.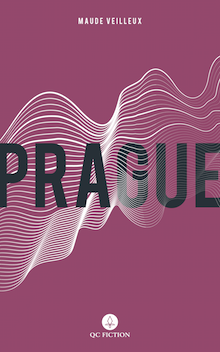 Prague by Maude Veilleux, translated from the French by Alesha Jensen & Aimee Wall
Not going to say anything about this book here, except "open marriage" and "excerpted on Three Percent this Wednesday." TUNE IN.
(All my lingo for teasers comes from the radio era. It's weird how these terms have evolved over time and become more and more distant and asynchronous. "Must See Thursday." "Visit again next Tuesday." "Click on my Medium article." "Episodes post every Thursday and are available at Stitcher." "Plz rt." I can't wait till all this falls apart and we have to talk to one another again in real time.)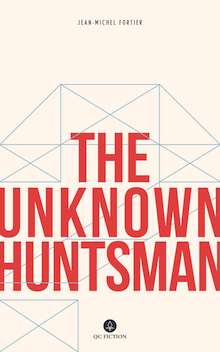 The Unknown Huntsman by Jean-Michel Fortier, translated from the French by Katherine Hastings
One of the problems with reading copy from a press you already like is that every book sounds like something worth reading.
There's no shortage of intrigue in this offbeat debut novel by Jean-Michel Fortier: an unnamed village, a strange and anonymous narrator, an unsolved murder, a mysterious huntsman, and a wisdom tooth extraction gone terribly wrong.
I MUST KNOW MORE.
Two quick observations: 1) aside from Katia and Peter, I have never met or corresponded with any of these other translators, reinforcing Peter's statement that they want to work with new translators, which I find incredibly admirable and cool, and 2) Publishers Weekly has reviewed most, if not all, of the books listed so far. That's fantastic. I wonder how many indie bookstores in America are stocking these books. If any of you have these books, let me know and I'll feature you here and tweet about you to all the Open Letter followers. Better yet—send us a photo of QC Fiction titles in your stores and we'll spread the love as far and wide as we can.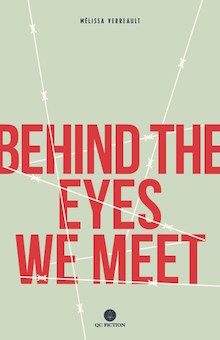 Behind the Eyes We Meet by Melissa Verreault, translated from the French by Arielle Aaronson
If you're betting over/under on when this post goes off the rails, the specific moment is word number 2267.
(I really want to run a crazy ass book and publishing gambling empire. Not just annual bets on who is going to win the Nobel, but daily betting on sales volume, ebook percentages of overall sales, etc. It would be incredible—and incredibly nerdy—to have some sort of "Fantasy Publishing" league in which scouts and editors and booksellers compete with one another, drafting young writers, new manuscripts, stalwarts of the Patterson variety, all in hopes of out-earning their competitors. Let's go all moneyball on this shit.)
Rails. Off.
Way back in the day. Like, maybe the first April I was living in Rochester, I was invited to the Bleu Metropolis festival in Montreal. It was a really interesting experience—I got lost because I had no international cell service and drove around randomly for an hour listening to Banco de Gaia—and turned me on to one of the best literary festivals in the hemisphere. Anyway, anyway, my personal interpreter for the French stuff was a student in the Concordia University program in Translation Studies. I can't remember her name, but reading Arielle Aaronson's bio (she graduated from that program) reminded me of how funny and entertaining this interpreter was. I remember leaving that festival thinking about how my sense of humor is super Canadian. (My family is part Canadian. But I think it goes beyond blood into some weird mental space of self-deprecating + slightly schizophrenic joke modes.)
It would be hilarious and charming and all that if Arielle had been my interpreter. Also, Concordia is a great word.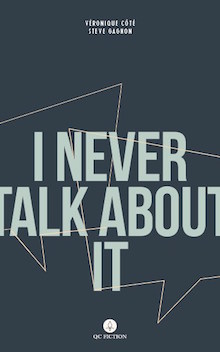 I Never Talk about It by Veronique Cote and Steve Gagnon, and translated from languages by HOLYSHITTHATISALOTOFNAMES
Again, I'm good for about 2,000 words. So this is what this book is:
The local and the universal come together in these 37 short stories, brought into English by 37 different translators from all over the world.

The result gives readers a flavour of the fresh new writing coming out of Quebec—and a reminder that there are at least 37 different ways to translate an author's voice.
I'm probably misremembering (this book is sitting on my desk at work), but it's the same couple stories translated over and over by a bunch of different translators. (I need to incorporate this into my "World Literature & Translation" class . . . ) Here's one more bit from the QC Fiction website:
This project aims to show there are all kinds of ways to bring across an author's voice in translation . . . at least 37 of them! Translators include literary translation students, first-time and up-and-coming literary translators, world-renowned translators who have won major international prizes, some of Montreal's best writers and translators, a retired high-school French teacher in Ireland, and francophone authors translating into their second language. There are even people in there who (armed only with a dictionary and the priceless ability to write a beautiful sentence) barely speak French.
Yes! This is so perfect for teaching . . .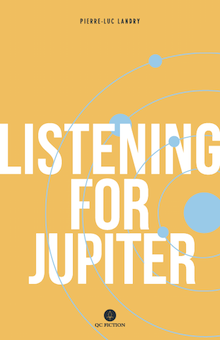 Listening for Jupiter by Pierre-Luc Landry, translated from the French by Arielle Aaronson and Madeleine Stratford
In addition to PW, the other person who reviews a lot of these books is Tony's Reading List. Which reminds me: That article about the death of literary blogs from the other week? Ouch. It's not wrong—the literary "conversation" is now all IG and LitHub—but it doesn't have to be. The death of GoogleReader fucked over so many websites, and the new web strategy of exclusive content from content providers (aka publishers) plus daily newsletters that cherry pick the rest of the internet in a way that make it seem like selection is creation is all unfortunate, but we can rise again. The vast majority of popular book websites are commercial AF. They don't cover interesting books, have no interesting opinions, try to elevate using strategies that are so Amazon. And pay no one. This is unsustainable, and after all those sites fade away—see all the recent reductions in staff at HuffPo, BuzzFeed, Vice—it will be back to all of us indie voices to remind readers we still exist. That our words aren't sponsored, aren't cute tweets, are more than a photo with a paragraph of gush . . . Blogs still have value, even if the trend right now is to ignore things that are long and/or thoughtful. Time is a tight spiral that repeats over and over. Jeremy Bearimy, baby.