"Aphelia" by Mikella Nicol [Excerpt]
Following on this morning's interview with Dimitri Nasrallah, below you'll find an excerpt from Aphelia by Mikella Nicol, translated from the French by Lesley Trites, and forthcoming from Véhicule Press/Esplanade Books.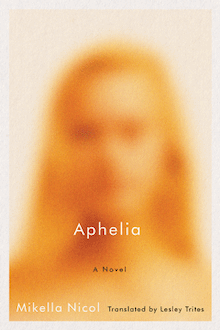 The night I met Mia, I was drinking with Louis at the bar. We were joking with the bartender, who was serving me discounted beer along with the occasional penetrating stare. I was waiting to see if he would try to kiss me, and whether this time I'd let it happen. Louis was fanning himself with a menu. He wiped away the pearl of sweat forming on his upper lip and signalled to the bartender that we'd take two more beers. The night was unfolding in its usual way. The guys and I talked loudly and clinked our glasses together in a toast, happy to have left another week behind. I reached up to free my face from my hair, which was soaked to the roots. The alcohol quickly went to my head.
The onslaught of hot summer days had made me feverish. We were bogged down in an unnaturally infernal May. The humidity in the air would blur your vision and veil the horizon in haze. I didn't remember the springs of my childhood being so harsh. They were already talking about humidex records on the news, and I would wake up each morning to sheets slick with sweat. It was a summer that would become legendary, syncopated by the buzz of fans and the familiar moan of fire truck sirens.
Louis and I were in the habit of frequenting this bar on Fridays. We called it our bar, like we said our park, a way of legitimizing our loitering, of appropriating some territory to forget all that we didn't dare conquer. We would sit at the counter, on the same stools, under the glow of the hanging lamps. The swivelling seats allowed us to see who was coming and going. Old regulars mixed with young people in search of cheap booze in this tavern tucked in an alleyway. When we went outside to stretch our legs, the bartender took the opportunity for a break and joined us. We would pass through a dark corridor with several rooms reserved for employees. Through a half-open door, we could catch a glimpse of the owner reprimanding an employee or a couple kissing before we emerged into the alley. The bartender would wink at me, no doubt hoping that Louis wouldn't follow us. He never talked about his girlfriend, and he shot me these perfect smiles that caught the light of the street lamps. The guys would light their cigarettes while leaning against the wall.
I took a long swig of my beer while spinning around on my stool and found myself facing Mia, who appeared out of the darkness. I had never seen her before. She looked straight into my eyes and smiled before passing, dispensing her perfume behind her as though handing flowers out to beggars. The scent would rival that of the overly ripe buds that had bloomed so vigorously on fluorescent lawns that week, of the white lilacs and rose clover covering the grass in front of low-rent apartment buildings. She sat down at her table without bothering to cross her legs. The bottle I had wedged between my thighs cooled my crotch and dampened my skirt. Louis and the bartender's voices were unsuccessfully trying to reach me; meanwhile, I managed to contain myself, as though I hadn't just weathered a storm.
A fresh beer slid down the counter behind my back. I became vaguely conscious of an exchange of money between the two guys, and then peals of laughter broke me out of my stupor. When I turned around, the bartender was pouring more liquor into the almost-full glass of a girl who was already too drunk. Everyone was clapping.
I watched Mia on the sly and tried to find something to say to her. Maybe I could compliment her pretty shirt. After a few beers, it didn't seem impossible. I examined the three people she was with. I didn't recognize them. New people would sometimes show up at the bar—it did happen—but they never came back. The guy and the brunette looked like a couple. The other girl was leaning nonchalantly back in her chair, her legs stretched out in front of her. She wasn't talking much and yawned occasionally. Mia was sitting up straight and smiled when our eyes met. The lighting was creating an auburn halo around her hair. She drank often, taking small sips and refilling her glass. I smiled back at her. Her movements were causing butterflies in my stomach. Louis understood what was happening to me, at least in part, and he didn't like it.
"I'm going to the bathroom," I told him. He sighed and shook his head.
"This time, you've seriously outdone yourself," he replied, but I ignored him.
I stopped at Mia's table, putting my hand on the back of her chair and leaning toward her to murmur something—my name. My fluid gestures and the ease with which I made witty remarks disgusted and fascinated me at once. She'd known I would come over. Our bodies both tensed when I sat down near her. Conversations were floating all around us, but I was incapable of focusing on any of them. They didn't interest me. Everyone else was only distracting me from Mia. I wanted to talk to her until the night disappeared.
Translation by Lesley Trites. To be published April 2019 by Esplanade Fiction Originally published as Aphélie in 2017 by Cheval d'août.
One response to ""Aphelia" by Mikella Nicol [Excerpt]"