Releasing Today: THE TRANSLATOR'S BRIDE by João Reis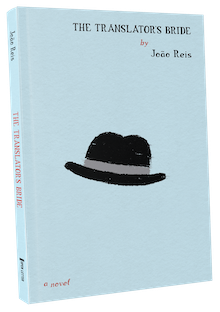 "A neurotic little gem: fast, fun, frenzied, and feisty."
—Jeremy Garber, Powell's
A humorous attempt to get one's life back in order that's part Thomas Bernhard, part Max Frisch
At the start of 
The Translator's Bride
, the Translator's bride has left him. But if he can only find a way to buy a small house, maybe he can win her back . . . These are the obsessive thoughts that pervade the Translator's mind as he walks around an unnamed city in 1920, trying to figure out how to put his life back together. His employers aren't paying him, he's trying to survive a woman's unwanted advances, and he's trying to make the best of his desperate living conditions. All while he struggles with his own mind and angry and psychotic ideas, filled with longing and melancholy. Darkly funny, filled with acidic observations and told with a frenetic pace, 
The Translator's Bride
 is an incredible ride—whether you're a translator or not!
Watch João Reis talk about The Translator's Bride and the process of translating his own work on this episode of the Two Month Review.
Praise for The Translator's Bride
"Both surprising and hilarious."
—Publishers Weekly

"The circuitous absorption of The Translator's Bride is sustained by its novella-like structure and dark, gleaming humor. . . . [Its] language is beautiful, mordant, and tragic."
—Meg Nola, Foreword Reviews


"
João Reis' great success in The Translator's Bride is to convince his audience that they are reading a work written at modernism's mid-twentieth-century zenith . . . pulling us out of our own times and holding us in the era of Ulysses and Mrs Dalloway."
—West Camel, European Literature Network  "The Translator's Bride is a great little book that brings a breath of fresh air to today's moment in Portuguese literature, asserting itself as an excellent novel not to be forgotten."

—Jorge Navarro, O Tempo Entre Os Meus Livros

"João Reis . . . is a great connoisseur of literary comedy, in a subtle way in which everything is so natural, but simultaneously rude, with the cruel ways in which various characters are depicted, thus creating a blackly comic web that weaves together the world of the book."
—Nelson Zagalo, Virtual Illusion
João Reis, born in 1985, is a Portuguese writer and a literary translator of Scandinavian languages (Swedish, Danish, Norwegian, and Icelandic). He studied philosophy and has lived in Portugal, Norway, Sweden, and the UK. Reis's work has already been compared to that of Hamsun and Kafka, and represents a literary style unseen in contemporary Portuguese writing. His latest novel, A Devastação do Silêncio, is longlisted for the Prémio Oceanos.