The Best Book Might Be The First Book You Read [BTBA 2020]
Today's Best Translated Book Award post comes from Christopher Phipps, who has been a Bay Area bookseller for years. He worked with DIESEL and East Bay Booksellers in Oakland and can be found slinging tomes these days at City Lights in San Francisco.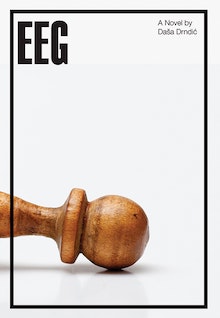 EEG by Daša Drndić, translated from the Croatian by Celia Hawkesworth (New Directions)
What do you do when the very first book you read is a book you're convinced deserves to win the Best Translate Book Award for 2020? I started my reading assignments with a book that wasn't actually assigned to me specifically, and I was completely awestruck. I know that not every book is going to measure up, and, on the other hand, I know there are going to be some true gems. Yet is it possible, I wonder, that I have indeed read the winning book already? Considering this, I began to sculpt a post about why this book should win, and later, once the longlist has been announced, perhaps there will be opportunity for that post, should the book similarly impress my fellow judges. In the meantime, I mulled on potential titles for the post because I have found that coming up with a title can often help me uncover the content. So here are fifteen working titles for a post about Daša Drndić's impressive EEG, translated by Celia Hawkesworth and published in April 2019 by New Directions.
Daša Drndić's posthumously translated novel EEG may be the best thing I've ever read
The statistical improbability of reading the winning book first
EEG? G.G., G.T.F.O., T.T.Y.L.
How high is too high when a book sets the bar so high?
On encountering what Bolaño would have called one of the "great, imperfect, torrential works . . . when the great masters struggle against that something that cows us and spurs us on, amid blood and mortal wounds and stench"
The power of the posthumous novel
Can I give them two? On the dilemma and excitement of loving a novel and seeing the author has another book in contention for the same award
EEG: A Croatian wabi-sabi novel
EEG is neither happy nor fun, which makes it Literature, right?
You can't spell electroencephalogram without EEG: On the title of Drndić's final novel
A running count of the number of times I wondered, "Is this very specific fact actually factual?" while reading EEG.
How do you pronounce Drndić? Can this be classified as a chess novel? And other questions I had while reading EEG.
When you know, you know: On the challenge and pleasure and futility of reading incredible literature from around the world, written in many languages, under a host of different contexts, with varying ambitions, intentions, and skillfulness, and trying to judge them one against another in a There-can-be-only-one-best contest.
That darned Drndić.
Tips & Tricks to reach a word count.
For the record, the list of BTBA books is filled with amazing writers, some I have read, some I have long intended to, and undoubtedly many who will surprise me. While this post is intended only in the spirit of jest, I did read and absolutely love E.E.G. by Daša Drndic and do wholeheartedly recommend you buy a copy from your local independent bookseller.