"The Teacher" by Michal Ben-Naftali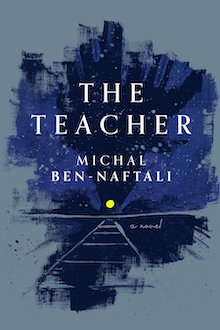 The Teacher by Michal Ben-Naftali
Translated from the Hebrew by Daniella Zamir
138 pgs. | pb | 9781948830072  | $14.95
Open Letter Books
Review by Kira Baran
Michal Ben-Naftali's background in philosophy shines through in her debut novel, The Teacher. Originally published in Hebrew in 2015, the work was awarded the 2016 Sapir Prize and is set to be published in several other languages, and is forthcoming from Open Letter Books (tr. Daniella Zamir) in January 2020.
Packing a philosophical journey into a modest 135 pages, The Teacher is not told from the perspective of Elsa Weiss—"the teacher"—but from that of one of Weiss's former students. This student sets out to pen an engaging, albeit fictionalized, conglomeration of scenes that strive to piece together the story of Weiss's actual life—and death.
Grounded in the universally relatable context of the teacher-student relationship, the author rises above this to address topics of not only interpersonal conflict, but the ongoing impact of the Holocaust generations later on people's everyday lives. In doing so, Ben-Naftali challenges the equally relatable idea which every student seems to share at some point: that history, the classroom, and one's personal life are parallel realms that never actually intersect. She disproves this notion through her soul-searching account of one teacher's impact on one student's life—and vice versa.
Like navigating a maze of mirrors, perspectives get distorted and turned upside-down as we learn more about Elsa Weiss. And, like a mirror, the novel forces us to reflect—not just on the characters, but on ourselves in relation to them. As the characters drift in and out of focus, strangers become familiar, while those we think we know best become unfamiliar. Like the narrator, we find ourselves looking behind us to see and clearly understand our present selves.
At its heart, The Teacher is a tender tale that delves into the significant way in which our seemingly insignificant acquaintances impact our lives and legacies.