What Did We Have to Talk About, Now That He Was Dead? [CONTEXT]
As part of a larger series of initiatives involving Open Letter and Dalkey Archive Press, over the next few months, we'll be running a number of articles from CONTEXT magazine, a tabloid-style magazine started by John O'Brien and Dalkey Archive in 2000 as a way of introducing booksellers and readers to innovative writers from around the world. You can find PDFs of all twenty-five issues here, and stay tuned for additional highlights from the CONTEXT archives.
Stig Sæterbakken (1966–2012), one of Norway's most acclaimed and controversial novelists and critics, whose latest novel Through the Night Dalkey Archive Press released in 2013, took his own life last year. A translator and a champion of literature, he translated Nikanor Teratologen's Assisted Living from Swedish into Norwegian. Here, Teratologen (aka Niclas Lundkvist) shares his insights into the man and his remarkable oeuvre.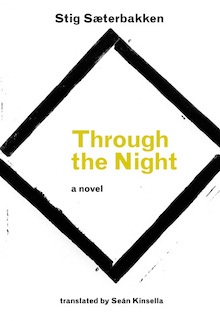 The title of this article is taken from one of the first pages of Stig's Through the Night. The father of the family, the book's ill-fated protagonist, speaks these words after his son takes his own life. And it is now that I truly appreciate their import. Because I don't know. What do we have to talk about? What is there to say when sorrow cuts through your entire being and all you want to do is fall silent, lie down, and draw a blanket over your head in the vain hope that the thoughts of what's been lost won't grind down your own inborn lust for life? Should one say what the suicide's teenage sister says in Through the Night when she finally breaks her torturous silence? "HELVETES JÄVLA SKIT" (HELL FUCKING SHIT).
The news, which came on the afternoon of January 25, that Stig had taken his own life, was a heavy blow for his friends, and an even heavier one for his wife and daughters. Stig was a good-hearted, sharp-witted man, a celebrated author, a gifted translator, an excellent literary critic, and a loyal, magnanimous friend, whose sudden disappearance has made me very sad, and reminded me how extremely grateful I am for all that he's done for my writing; gratitude that, of course, I've already expressed to him. His essays and articles about my work are probably the best that have been written on the subject. He's produced masterful translations of two of my books, Att hata allt mänskligt liv (To Hate All Human Life) and Äldreomsorgen i Övre Kågedalen. It was largely thanks to him that Dalkey Archive Press has now published the latter in Kerri Pierce's excellent translation under the title Assisted Living.
Today I re-read Stig's Umuligheten av å leve (The Impossibility of Living, 2010), a text of only fifteen pages that was published in a very limited edition, and remembered the strong impression it made on me when I first read it, and how I'd told Stig via mail about that impression. On the title page, there's a black and white picture of Stig as a little boy, standing outdoors, looking into the camera. Stig writes:
Most unfortunate: that the boy looks so anxious as he's standing there. As if he's looking right at something terrifying, so terrifying that it's impossible to look away. Is it his own future into which he's staring? Everything that lies before him, literally speaking, continuity's unbearable repast, existence's inedible banquet—

Or, in reality, is it an old man standing there? One who's looking not forward, but backward, one who knows that life's already over, that what could've happened has already happened, and that it wasn't pleasant, all that happened, and that all that's left is to relive the whole thing one more time (see Kierkegaard)? And that the one thought that's buzzing around in his skull is: This won't work! Fucking hell, this won't work!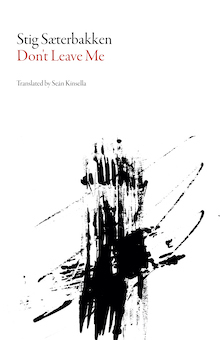 At 22:34 the evening before he died, Stig sent me a few words in answer to my question about whether he was feeling better now compared to earlier in the month: "Not much. As you'll soon understand. Glad our death-condemned paths crossed each other, Niclas, and thankful for the chance to work with your incomparable prose. It's only too bad we never met and got to live it up together. Heilige/Stig"
I didn't see his parting salutation until the news of his death reached me twelve hours later. When the protagonist in Through the Night confronts the most horrible and grievous things he can imagine in the Slovakian nightmare house, he says:
There's nothing here. Apart from me. Everything is dead, I'm the only thing alive. I can do what I want, but that's about it. Everything I've believed in and taken part in, they've only been my own illusions, created in order to conceal the emptiness I've lived with, where there's nothing to be found, where there's never been anything to be found, other than what I've been forced to imagine in order to endure it. [. . .] We live apart. We convince ourselves that we share our life with someone, but we don't, we live alone, surrounded by others, who also live alone. None of what's inside me will ever be a part of them. What they have will never be mine.
In the most insightful text I've read concerning Stig's life and death, Stig is cited in an interview as saying the following:
To lift us out of our isolation, that's perhaps what the greatest books do for us—the fact that they introduce us into an otherwise unattainable fellowship, into a greater connection, where our individuality, and therefore our isolation, is destroyed for the sake of something greater. And where we lose ourselves, more than we find ourselves. That's the great thing about it.
That's how it is with Stig's texts, including the darkest of them. "The Impossibility of Living" circles in its naked pain and deep sorrow around the theme of suicide as liberation, and alcohol as a surrogate for the self-chosen death:
The need to become intoxicated bears a close affinity to the desire for death. Which itself is in the same family with an incurable Unfähigkeit [inability], [. . .] vis-à-vis the realities of adult life.

For who should it be, if not the child in me, who constantly awakens the thought in me that suicide is always a possible way out, if things get too bad?

Having been a child is the greatest sorrow of our lives. We go around and carry with us a dead child, and so it is until we die. In that sense it's already too late to commit suicide, because when someone goes so far as to wish for his own death, he's already dead."

Just hold the course as you steer down Absurdity's Way, which ends in Suicide sooner or later. Let chaos reign, Parnasses rage. The cosmos collapse. Ambition wither away. Time flow backward. Petals fold up, flower buds implode and go to seed again.
Despite the fact that it was impossible to go on living, just as it has been for so many other sensitive and intelligent people who have died by their own hand, Stig lived for forty-five years. He gave people happiness and warmth, and despite everything, experienced much happiness—many of his books, such as Siamese and Sauermugg Redux, are cheerful amidst the blackness. He'll live on, in an ocean of tenderness, through his work and also in our memories of him.
"And then it shines: we're all dust. Wait for me at Niemandswasser." "The rest is silence."
Translations from Through the Night by Seán Kinsella, other translations by Kerri Pierce.
*
Titles Available in English Translation:
Don't Leave Me (translated by Seán Kinsella)
Invisible Hands (translated by Seán Kinsella)
Self-Control (translated by Seán Kinsella)
Siamese (translated Stokes Schwartz)
Through the Night (translated by Seán Kinsella)