New Spanish Literature: 10 of 30 [#WITMonth]
As part of the buildup to being Guest of Honor at the Frankfurt Book Fair 2021, the Spanish government launched a program last year under the (possibly confusing) name of "10 of 30." The plan is that each year, a new anthology featuring ten authors in their 30s will be released—all of which are translated by Katie Whittemore (Four by Four). Prefacing each sample is a short interview with the author and (at least in the 2020 edition), a description of the book itself.
In addition to having a female translator for all of these selections, the AECID has been really good about including female Spanish writers in these prestigious lists. In the 2019 edition, 7 of the 10 authors were women; and in 2020, 6 were women, bringing the two-year total to 13, or 65% of the promoted authors. That's a solid benchmark.
Below, you'll find excerpts from all thirteen of those books, and interested publishers can contact Katie for more information about rights holders, etc. It's also worth noting that the AECID has special grants available to publishers to support the publication and promotion of any of the included authors.
The complete 2019 10 of 30 can be found here, and the 2020 version here.
Quick note: These are very short excerpts. The ones in the PDFs are significantly longer. I just wanted to give you a little taste.
*
Katixa Agirre
Excerpt from Las Madres No (Mothers Don't)
[Ed. Note: This book is forthcoming from Open Letter. UK rights are still available.]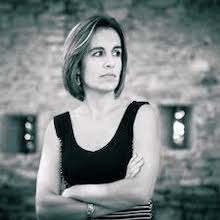 They are the acts constituting a criminal offense. The acts which have been committed, intended as a crime, as defined by the law. Always the acts, los hechos, the participle made noun, a grammatical device used to refer to the incident at the heart of a trial, or to avoid naming the incident altogether, given the fact that while still on trial, the incident isn't quite made of solid stuff. The letters A-C-T conceal the act itself. Until proven, it doesn't exist. I will also use those words: the act. Homicide, infanticide, murder, double drowning all prove to be unbearable, frankly. They resist leaving my fingertips; they hang in suspension over my keyboard and don't dare to jump.
In November of the year the acts were committed, I took advantage of the fact that I was going to Vitoria to accept the Euskadi Prize and went to see the Armentia neighborhood for the first time. Niclas swapped his afternoon classes with a colleague and we went as a family to accept the award. My father would arrive a little later, on his own. My mother couldn't find a reasonably priced plane ticket; apparently, November is a busy month (the first I'd heard of it). I told her not to worry, it's just a formality. We would celebrate the next time she came to visit.
The weather was awful, rain sweeping across the highway and rattling the trees. Still, with just an hour to go before the ceremony, I convinced Niclas to make a quick stop in Vitoria's wealthiest neighborhood. Finding a place to park was easy, as was locating the house, which had been thoroughly photographed in the days following the incident. The chalet rose elegantly from the edge of a field—the site of a popular annual pilgrimage—near the lovely Roman basilica and at a palatable distance from the other homes. Round and symmetrical, the house stood proudly under the rain, as if nothing of note had occurred within its walls, as if everything had gone just as the builders had planned. The entire façade of the second floor was a giant glass window, now hidden by grey blinds. The rest of the house looked like a traditional Basque farmhouse: pitched roof, exposed timber.
Although the house was shuttered and empty, someone had made sure the yard was kept neat. Maybe it was on the market, a likely assumption, even with no visible for sale sign. In Hong Kong, they use the word hongza, to describe homes that are silent witnesses to suicide or crime. Their value tends to plummet, making them attractive properties for investors confident in the short memories of home buyers. In Japan, they are the jiko bukken, "marked" homes you can specifically search for using filters on real estate websites, morbid details included. Who, how, when.
Two babies, drowned in the bathtub, at the height of summer.
*
Florencia del Campo
Excerpt from Madre Mía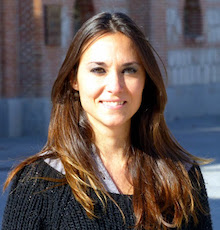 October 7, 2012. Aunt E.:
"I didn't mention it yesterday because it was way too much, but I talked to your mother and she asked me to find a doctor who would help her leave this world. She can't stand it anymore. She begged me not to abandon her in this. I don't know anyone, of course, but I said I would look into it. Not true. No way. She told S. she thinks about killing herself with gas. [. . .] I'm listening to Chávez right now. He won. And he had cancer. I don't think your mother is going to die anytime soon."
Ten days later: October 17, 2012. My father's birthday. I called him from Paris. I was rocking in an orange armchair. The balcony and the rain behind me. It always rains in Paris, the balconies are a mess, the orange armchair rocked. To my left, the bathroom and kitchen. To my right, a Frenchman. He watched me as I talked, fascinated by the fact that he couldn't understand a single word (though made of words [. . . ] one still has to guess). All we did was watch movies together, he was your competition. I had already begun to replace you. It was nighttime in Paris, day in Argentina. Winter everywhere. The orange armchair rocked. In that city, I was predisposed to movements that weren't considered forward motion. The subtle dip of my toes on the floor, an instant of air, the floor again. Rocking. The conversation I had with my father isn't worth writing about. Language rocked, too: word after word, silence, word again. Silence. The floor. Rock again. To my right, the Frenchman who watched me. To my left, the house that was never mine. Behind me, Paris rain outside the window.
Things I did while in Paris: visit the Musée d'Orsay, visit the Louvre, visit the Palais de Tokyo, visit the Pompidou, visit Shakespeare and Company, visit the National Library. I went to the first by myself, to the second with a guy whose name I can't remember or maybe never knew. I went to the Palais with my friend A. a few times, once for an indie press book fair. I picked up a couple of catalogs and talked with A. about several projects. We went for coffee at a nearby outdoor café and he said: "It's super expensive here because this neighborhood is like the Recoleta in Buenos Aires." I went to the Pompidou with one of the worst hangovers I've ever had and then went home with the Italian who had taken it upon himself to get me drunk the night before. At the bookstore, I stole a Paul Auster novel that I would later give to R. during the parenthesis we carved out in our lives and which would have us meet in Buenos Aires, despite the fact that neither one of us lived in our hometown. But the National Library was the place I went every day to work. I borrowed a library card from the Frenchman who had watched me as I rocked in that apartment, in the cinema that was Paris.
*
Natàlia Cerezo
Excerpt from "How Can This Man Be My Father?"
from  Las ciudades escondidas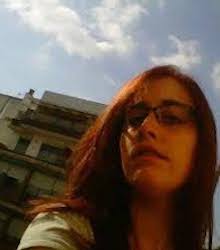 Winter. A clear day. We were hauling a shipment of something really far, up north. I don't remember what. Papa put his things in the cab and checked that all was in order before we set off. I watched from the passenger seat as he rooted around in the engine, staining his shirt with grease. Then he got a hose and sprayed down the truck. He had named it, like a boat: faded blue letters stuck on the inside of his door.
Papa drove all day and we only stopped to eat a couple of sandwiches at a rest stop. The ground had been left untended, with patches of neglected, brown grass. We ate quickly at a cold stone table and threw the tinfoil and orange peels in the empty trash bin.
The truck vibrated and roared and Papa was quiet. He drove with his eyes on the highway and his hands tight on the wheel. The sun was setting and the hills and fields turned violet. Our headlights lit the road and the passing cars. One had its interior light on, and inside a woman was looking at a map. She had it spread open, taking up almost the entire windshield. She was tracing a route with her finger and showed something to the driver. I saw them for just a moment. Then the light went out and the car sped off.
We stopped at a truck stop to spend the night. Crossing the parking lot, we passed by trucks and people shouting in the direction of the restaurant's colorful lights. Papa walked ahead, his head bowed, his stride long and hurried.
We sat at the bar and Papa shook hands with the waiter, a big man who made us a hot dinner and gave us a piece of cake on the house. They chatted a long while and I did the crossword in a newspaper someone had left behind.
Other truckers saw us on our way back and greeted Papa and gave him little slaps on the back. They asked me if I was his daughter. I said yes and stuck out my hand. Papa held me by the shoulders and it hurt a little.
*
Aixa de la Cruz
Excerpt from Cambiar de idea (Changing My Mind)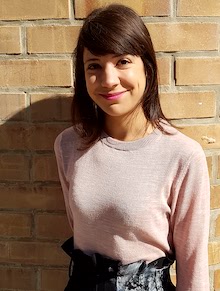 When I got to Granada, I was already over the shock phase. I wasn't a beginner. Moreover, I now had in my possession the means for making life a party. I didn't have to kneel in bar bathrooms anymore. I had my own room and my own bed. I went to classes on cultural materialism and feminist theory and gender studies and acquired a framework that would lend transcendence to whatever I got up to at night. I dressed up as a madwoman in the attic for Halloween; during carnival, after we'd studied Judith Butler's performance theory, I wore a tight dress, spike heels, and a sign around my neck that said: woman. Dressing up as an object was the same thing as being an object, but with ironic distance. The lines to get into the popular clubs got shorter, waiters served you right away—with a smile—even bureaucratic processes were sped up. The fact that I was so used to male attention that I snubbed it was nothing to be ashamed of. I confused lesbianism with my love for a challenge. Although I never used that label. Sexual orientation was a spectrum and I was moving toward the pole opposite the one I'd started from. The pole of departure was never real. I had been raised within a binding heterosexual framework that had conditioned and limited my transition to adulthood, but now, at last, I was free.
One night—early morning, actually—I met Milena. I was with Lisa and Laura, two friends from my masters program, at one of the trendy dance clubs downtown, and we had some molly. It was a weeknight and the dance floor was practically empty. I noticed a girl with her hands in the air, dancing in circles to a beat that didn't come from the music playing in the club, but from whatever was playing in her head, and I guessed we were probably high on the same thing. She was with five guys dressed like she was, huge sweatshirts and sneakers. Her masculine get up was kind of sexy, like she had just been fucking and had thrown on her boyfriend's clothes, although it didn't look like she was with any of them. Good vibes. Rule number one is that they aren't surrounded by women. I had just been explaining this to Laura in line for the bathroom: if they're straight, it works at the end of the night, especially if they think they're beautiful and have gone off with some idiot and lost their friends at the last club. They know that unless there's a miracle, they're going to end up in bed with the most annoying guy in the group they've ended up with, that they'll do it for exercise, for something to do, probably as a favor. If you go over to them, they always think you want to steal one of the male simians. The girls are aware that they're simians, but they still feel threatened, they can't help it. And then comes the kicker, when they realize you don't want to hook up with the guys, but with them. If they're still partying, if they're yawning but haven't gone home yet, it's because they still hope something exciting could happen, and this is exciting, exotic, what they were waiting for.
*
Inma López Silva
Excerpt from Los días iguales de cuando fuimos malas
(Back When We Were Bad)
[Ed. Note: I believe there's a longer sample of this—and maybe Inma's newest book—available from Katie and Jacob Rogers.]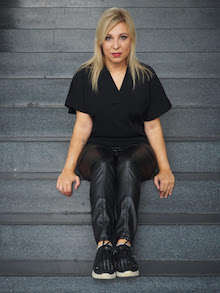 —Mamá.
That's how it started. That's how it always starts. Somebody says mamá and one isn't who she thought she was anymore. Margot has avoided that word for so long that she's even forgotten herself. But it's true, as well, that no one ever came to call her mamá before she got the letter and until the Sunday the blonde-haired, green-eyed man appeared in the visitors' room, anxious to apply that universal word to her. Mamá.
Margot has always thought that if he were to reappear some day, she would recognize her son instinctively. Everyone says that's how it is, so she assumed it would be the same for her. She often fantasized about it on her morning walks in the cool autumn air of Vigo. About being in a crowd, a feria, for example, and feeling a sort of earthly, ancestral pull until her eyes met those of the man who is undoubtedly her son. She would be able to recognize him among millions of blonde, green-eyed gypsies, an imaginary plate of lentils in his hand. That's what the prodigal son is all about. But when Margot entered the visitors' room shaking like a leaf, she had to be told that tall, strapping, Viking-esque man with blonde hair and green eyes that she had taken for the Albanian-Kosovar brother of some locked up mercenary was actually her son. After her initial shock, his smile did give him away, and in an effort to make herself feel better, Margot thought that—despite everything—she would recognize his smile in the midst of the Apocalypse itself. "Mamá," he said, the man who'd been given a new name when he was just a week old. And he smiled again, nervous as well. Margot sat down, thinking how the glass between them for that first meeting was a good idea. She tried to smile at him, too, but was sure that any expression she could make would ring false. And she didn't know what to do with her hands, either.
She had dressed carefully so that the marks of her rough living wouldn't show. Long sleeves so her son wouldn't see the scars from the needles, at first, then the IVs. A black turtleneck sweater to hide her wrinkled neck, the skin ravaged by alcohol. Someone had lent her a pair of ballet flats and a green pencil skirt that took years off and brought Margot back to her real age: a woman who would still be young, in other circumstances. She had applied her make-up painstakingly, as if she were going for a vis a vis with Isabel. Deep down, she'd always wanted her son to believe that she had lived a life radically different from the one they had yoked her with the day they left her half-dead in front of the hospital, where she'd later be only half-saved.
*
Inés Martín Rodrigo
Excerpt from the novel Azules son las horas (Blue Are the Hours)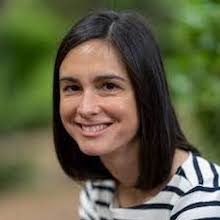 Poznan (Poland), January 1, 1958
Death waits for me. I'm not afraid. Not anymore. It's time to go. God wants me at his side, and my child Yadwiga calls: "Mother, mother! Why did you let me die?" Her words resound in my conscience more than ever before, deprived as I am of sight, but not the bitter memories the terrible, unchangeable, searing past. I haven't left bed for days. My daughter, Halita, comes very early every morning and feels my forehead. She thinks I'm sleeping deeply. I've felt her bring her head to my chest to confirm I'm still breathing. She doesn't know that every night I pray to God that I'll soon stop.
Yes, I have lived enough. I don't want to cause her more pain; not her, or anyone. I'm ninety-six years old, blind, and so far from my homeland that I no longer even sense it. My Spain! Poor Spain! I couldn't return to rest eternally by my barefoot Carmelites, in my Galicia, mi tierriña. Lately, I'm assailed by nostalgia. I began to suffer terrible attacks of dry coughing a week ago. My son-in-law called for the doctor, who came to Kozieglowy. The good doctor greeted me fondly, and after taking my hand, had me lie back. He knew, immediately, that I was in grave condition. He left the bedroom to speak with my daughter on the landing. I couldn't hear what he told her, but no one knows better than the sick person whether or not they should harbor hope. The night before, as I sat up in bed in an attempt to breathe better, I coughed hard and knew that it was pneumonia that tormented me. The chill of my beloved Poland has invaded me, my bones, forever now, and will carry me away. Halita returned to my room after seeing Doctor Piotr out and could not contain her tears. She hugged me, inconsolable, and I rocked her like when she was a little girl in Marín, the breeze of the Galician rías blowing in from the balcony. Since then, she has not left my side. She brings up bowls of warm broth, the pinenut pastries I like so much and can be found only in the Poznan market, milk with honey . . . But I have no appetite. My stomach sealed shut the day the tremors began.
*
Cristina Morales
Excerpt from Easy Reading
[Ed. Note: Jonathan Cape is publishing this in Gerry Kevin Dunn's translation. U.S. rights are still available.]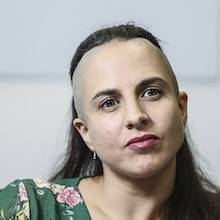 I have sliding doors installed in my temples. They shut vertically, like the automatic ticket gates for the metro, and close off my face. Picture them like two hands, playing peek-a-boo with a baby. Where's mommy? Where is she? Heeeeeeere she is! And on "here," the hands open and the baby bursts out laughing. The sliding doors in my temples aren't made of hands, but a smooth material, tough and transparent, and finished with a strip of rubber that provides a cushioned opening and closing and an airtight seal. They are those metro gates, in effect. And though you can see perfectly well what's happening on the other side, the gates are tall and slippery enough that you can't jump them or crawl under. The same with my automatic doors: when they close, a hard, clear mask covers my face. I can see and be seen and it looks like there's nothing between me and the outside, but in reality information no longer flows from one side to the other and only the basic stimuli for survival pass through. To get around the metro gates, you have to climb up on the part of the machine that punches the tickets, acts as the cog, and separates each set of gates from the adjacent pair. That, or buy a ticket, obviously.
Sometimes my doors aren't a hard, clear mask, but a store window through which I look at something I can't buy, or through which I'm looked at, desired for purchase by someone else. When I say my doors, I don't mean it figuratively. I'm trying to be absolutely literal, to explain a mechanism. When I was young, I didn't understand song lyrics because they were thick with euphemisms, metaphors, ellipses, disgusting rhetoric, disgusting predetermined signifiers of meaning in which "woman against woman"—mujer contra mujer—doesn't mean two women fighting but two women fucking. How twisted, how subliminal and foul. They could have said woman WITH woman . . . But no: the least obvious meaning possible is that we're talking about two chicks eating pussy.
My doors aren't a metaphor for anything, nothing I use to allude to a psychological barrier isolating me from the world. My doors are visible. There's a retractable hinge in each of my temples. A slotted track runs from my temples to my jaw and opens so each door can slide in and out. When deactivated, the doors are stored behind my face, each occupying the reverse side of one half: half a forehead, an eye, half a septum, one nostril, one cheek, half a mouth, half a chin.
*
Aroa Moreno
Excerpt from The Communist's Daughter
[Ed. Note: The Communist Daugher, in Katie's translation, is forthcoming from Tinder in the UK. U.S. rights are still available AND Aroa has a new novel forthcoming that's getting a lot of buzz. Casanovas & Lynch has all the info.]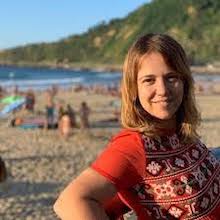 Katia Ziegler uncaps the pen she has used to sign every important document in her life. The one she brought to her wedding, in the seventies. All those strange faces in the church pews. She remembers him smiling whole time, but not the features of his face, as if it had been erased in the distant past and only the simple fact of his smile was left. A single image from that time, a photograph: his back against the silver car, hands in his pockets, the lock of blond hair over his left eye.
October. Outside, the rain falls, a deflated cascade clapping slowly on the roofs. The same rain that used to leave them without electricity, and the reason her father kept matches and candles in the drawers. But later he'd gotten hold of a flashlight: a replica of the ones the police use, he said. The girls played with it at night, and it was never handy when the lights went out. The rainwater would unleash the smell of the garden. Then, out the window, a narrow horizon. Suddenly, a neighbor, a tidy courtyard, a maintenance worker. In the beginning, she took a photograph of the trees every month, watching them change color as she fixed coffee. Of the rain, she also remembers the cold muzzle of that brown horse on the ground and soaked to the bone. Rings of water that met, and disappeared. One October, like this, she planted a hundred bulbs, spread over the entire yard. The grass raised the red clay of the pavement. All of that is behind now, asleep. Until the heat starts to close in, and it will all burst yellow again.
October. The month of the revolution.
After the rains came the winter.
When it falls, snow doesn't make a sound.
*
Marina Perezagua
Excerpt from Leche (Milk)
[Ed. Note: Also worth looking into her novel, Seis formas de morir en Texas (Six Ways to Die in Texas)]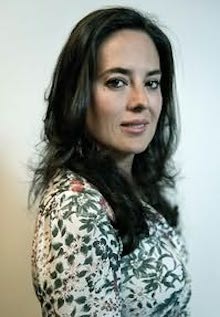 The fact that it's him, though physically unrecognizable, neutralizes my senses. When it's someone else, I move away from the unpleasant smell, the deformation, the sounds of suffering. But when I care for him, in the same bed where we placed him the day they brought him here, he doesn't make me sick and if his skin could take it, I would kiss his whole body. But right now, the little skin left intact is as delicate as the skin of those silver insects that live in the damp and come apart at the slightest touch. I clean flecks of it off the thermometer, off the tiny spoon I use to feed him soup. Off his eyelashes that collect the particles sloughing from his lids like scales.
And yet, he's alive. Almost more importantly, he's here. He is here. That's what I tell myself every morning on this couch, before I open my eyes and look at him a few meters away. Him. It doesn't matter what comes next, the agony, the death. The worst—months of searching, waiting for news, a tormented soul—is over. And so when Arturo warned me that he was unrecognizable and asked whether I was prepared to see him, I didn't fear the horror that the neighbors saw and which forced them to look away sometimes as they helped us get him into bed.
When they all had left, Arturo and I stood before him. We didn't speak. Arturo took a few steps back to leave the room, and from the doorway turned to say: You're just missing his dentures. I forgot them. I'll bring them this week.
Like others, he lost his teeth in an explosion and used a prosthesis. Already three weeks have passed since Arturo told me he would bring them, but he hasn't come yet. It doesn't matter. He doesn't need them. His stomach can't support the weight of food.
*
Almudena Sánchez
Excerpt from Doce relatos maestros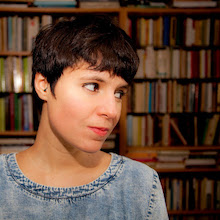 The literature thing was my boyfriend Blas's idea. My name is actually Lorna Garrido and I live on a narrow street in Madrid. It's so narrow that one day my neighbor lent me her hair dryer through the window. Sometimes I dream that I can't get out the front door. That there's a wall. I dream about brick walls, cement walls. Last night, I dreamt about the Berlin Wall.
As I was saying, Blas convinced me to sign up for a writing class. I searched online until I found the best school in Spain. You could read the instructors' bios, which confirmed that they had all published more than two novels.
"You don't need a degree or anything, you know? It's easy—just tell your life story or the stuff about the walls, if you want. You'll meet some great storytellers, in any case."
I had a strange relationship with literature ever since I was young. I liked to get inside books. When I did this, I didn't open the door for the mailman or answer urgent phone calls. I believed in them too much, that was the problem. I told their stories as if they had happened to me. I couldn't tell what was real and what was made up. My optic nerve got inflamed: I read intensely, dislocated my wrist turning the pages, underlined with lipstick. Anybody could tell the difference between my books and someone else's. Mine were an eyesore. I gave them evaluations: unbeatably good. I quit reading with the same intensity, still young. I felt unsatisfied. I gave away my books. The Catcher in the Rye, Lolita, Helena, or the Sea in Summer, The Year of Magical Thinking. Some of them I hid. Mrs. Dalloway, The Master and Margarita, Sweet Days of Discipline. One day I was caught reading in the elevator. I rode up and down, up and down, for two hours until a technician got me out. Well, I'm actually not sure if I read that or made it up.
I could walk to the writing school. There was just one obstacle: on the way, I had to pass through a 130-foot tunnel full of mud, graffiti, needles, a fingerless glove, firecrackers, bloody glass, a bat, and damp things. And that wasn't worst part, even though my hands always ended up getting sticky. I accidentally got people's jackets dirty outside the tunnel. A woman punched me once because I touched her shoulder pads.
*
Sabina Urraca
Excerpt from Las Niñas Prodigio (Girl Prodigies)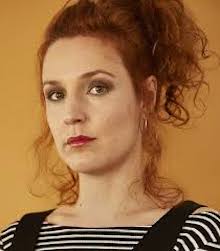 "Who's the oldest?"
"They're twins."
"Would you little girls like some candy?"
"They don't like it."
Their mother didn't let them have sweets. The pediatrician told her that sugar could make them even wilder. Occasionally, she let them have a little bit of a Dan-up yogurt drink; otherwise, it was plain yogurt, no chocolate milk.
"He's looking at me."
"No, he's looking at me."
Paula and Raisa stood in front of the Michael Jackson poster, vying for his attention.
"No way! He's looking at me! At me!"
Actually, Michael was looking at me, arms crossed in the leather jacket, those kiss-curls. Any girl would naturally want to come between us.
I didn't take sides. All by themselves, they would provoke the explosion I so loved to watch.
Sometimes Paula and Raisa would chase each other around the house with knives. Their mother would lay her head on the table and cry. She kept a handkerchief tucked in her sleeve and used it to mop the bitter tears of having raised two daughters who wanted to kill one another. She would look at me and whisper, as if in prayer:
Blessed Christ!

What I've done wrong . . .

Little Lord Jesus, come take me . . .
Then she'd go back to folding the cloth napkins she used for the family's Sunday lunch, face hidden in her hankie, tearful little spasms running down her back.
I would just eat my afternoon snack, not knowing how to respond. In the cupboard, there was a container of Cola Cao all for me.
"You're a calm child, can't you teach these savages to respect each other?"
What could I say? By that point, she should have known that if I kept coming back every Thursday after guitar lessons, it was because I enjoyed the spectacle.
*
Irene Vallejo
Excerpt from El Infinito en un Junco (Infinity in a Reed)
[Ed. Note: "Hodder & Stoughton has won a seven-way auction to acquire rights to Infinity in a Reed."]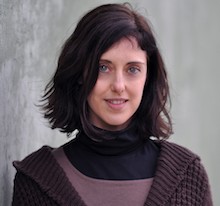 Mysterious groups of men rove the roads of Greece. The peasants watch them with mistrust from their fields or the entrances to their huts. Experience has taught them that only dangerous people travel: soldiers, mercenaries, slave traders. They frown and mutter until they see them sink back down over the horizon. They do not like armed strangers.
The men on horseback ride on, taking no notice of the villagers. For months they have climbed mountains, crossed ravines, passed through valleys, forded rivers, sailed from island to island. To complete their task, they must venture through the violent territories of a world almost perpetually at war. They are hunters in search of a very special kind of prey. Silent, cunning prey that leaves neither trace nor trail.
If these unsettling emissaries were to sit down in some port tavern to eat grilled octopus, talk, and get drunk with strangers (which they never do for the sake of prudence), they could tell great tales of travel. They have gone deep into lands wracked with the plague. They have passed through regions devastated by fire, they have witnessed the hot ash of destruction. They have had to drink filthy water that gave them monstrous diarrhea. Whenever it rains, the carts and mules get stuck in the puddles; amid shouts and curses they have pulled them until they fell to their knees and kissed the mud. When night catches them far from shelter, only their capes protect them from the scorpions. They know the maddening storm of lice and the constant fear of highwaymen infesting the roads. Many times, while riding through immense solitude, their blood has run cold imagining a group of bandits awaiting them, holding their breath, hidden around some bend in the road, ready to fall upon them and murder them in cold blood, steal their bags and abandon their still-warm bodies in the brush.
It's logical for them to be afraid. The king of Egypt entrusted them with great sums of money before sending them across the sea to carry out his orders. In that time, just a few decades after Alexander's death, to travel with a large fortune was very risky, almost suicidal. And although thieves, contagious diseases, and shipwrecks threaten to make such an expensive mission fail, the pharaoh insists on sending his agents out from the land of the Nile in all directions, to cross borders and travel great distances. He passionately desires—impatiently and with a painful thirst for possession—the prey his secret hunters track for him, confronting unknown dangers.
*
Gabriela Ybarra
Excerpt from The Dinner Guest
[Ed. Note: This was transalted by Natasha Wimmer and is available from Transit Books.]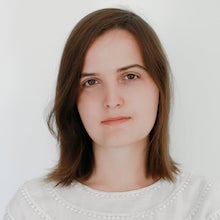 The story goes that in my family there's an extra dinner guest at every meal. He's invisible, but always there. He has a plate, glass, knife and fork. Every so often he appears, casts his shadow over the table and erases one of those present.
The first to vanish was my grandfather.
The morning of 20 May, 1977, Marcelina put a kettle on the stove. While she was waiting for it to come to the boil, she took a feather duster and began to dust the china. Upstairs, my grandfather was getting into the shower, and at the end of the hallway, where the doors made a U, the three siblings who still lived at home were in bed. My father didn't live there anymore, but on his way elsewhere from New York he had decided to come to Neguri to spend a few days with the family.
When the bell rang, Marcelina was far from the door. As she ran the feather duster over a Chinese vase she heard someone calling from the street: 'There's been an accident, open up!' and she ran to the kitchen. She glanced for a second at the kettle, which had begun to whistle, and slid the bolt without looking through the peephole. On the doorstep, four hooded attendants opened their coats to reveal machine guns.
'Where is Don Javier?' asked one. He pointed a gun at the girl, obliging her to show them the way to my grandfather. Two men and a woman went up the stairs. The third man stayed below, watching the front door and rifling through papers.
My father woke when he felt something cold graze his leg. He opened his eyes and saw a man raising the sheet with the barrel of a gun. From across the room, a woman repeated that he should relax, no one was going to hurt him. Then she moved slowly towards the bed, took his wrists and handcuffed them to the headboard. The man and the woman left the room, leaving my father alone, manacled, his torso bare and his face turned upward.
*
Once again, you can find the complete 10 of 30 anthologies here and here.