Death and Afterlife in September 2020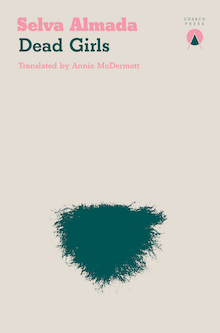 Dead Girls by Selva Almada, translated from the Spanish by Annie McDermott (Charco Press)
Yesterday, on Twitter, I promised that the rest of this month's posts on new books in translation would be way more positive, but, well, sorry everyone—I momentarily forgot which books I was planning on writing about today (and next week). Let's kick this off with a page from the "epilogue" to Dead Girls, which also serves as the book's main thesis:
The new year began a month ago. In that time, at least ten women have been killed for being women. I say at least because these are the names that appeared in the papers, the ones that counted as news.

Mariela Bustos, stabbed twenty-two times, in Las Caleras, Córdoba. Marina Soledad Da Silva, beaten and thrown down a well, inn Nemesio Parma, Misiones. Zulma Brochero, knifed in the forehead, and Arnulfa Ríos, shot, both in Río Segundo, Córdoba. Paola Tomé, strangled, in Junín, Buenos Aires. Priscila Lafuente, beaten to death, half-burned on a barbecue and then thrown in a stream, in Berazategui. Carolina Arcos, killed with a blow to the head, on a building site in Rafaela, Santa Fe. Nanci Molina, stabbed, in Presidencia de la Plaza, Chaco. Luciana Rodríguez, beaten to death, in the capital of Mendoza. Querlinda Vásquez, strangled, in Las Heras, Santa Cruz.

We're in summer now and it's hot, almost like the morning of November 16th, 1986, when, in a way, this book began to be written, when the dead girl crossed my path. Now I'm forty and, unlike her and the thousands of women murdered in my country since then, I'm still alive. Purely a matter of luck.
The most frustrating aspect of this book is also its main point: women are murdered, over and over and over, and justice is never served. (All this summer I've had the opening line to A Frolic of His Own stuck in my head: "Justice? —You get justice in the next world, in this world you have the law.") And in Dead Girls, you don't even get the law.
The book centers around three murders that took place in "the interior" of Argentina in the 1980s, when Selva Almada was a teenager. Andrea Danne was stabbed to death in her own bed, without putting up a struggle. María Luisa Quevedo went missing in December 1983 and was found raped and strangled "on a patch of wasteland on the outskirts of the city. No one was tried for the murder." And Sarita Mundín disappeared on March 12th, 1988, and declared dead when remains were found nine months later "on the banks of the Tcalamochita river [. . .] Another unresolved case."
Over the course of the book, Almada talks to living relatives of the three girls, Andrea Danne's boyfriend at the time of her murder, even a medium, but nothing is ever uncovered, the murderers are never found out, never arrested, never tried, never convicted. She details a number of suspects, of "likely" possibilities, all without resolution. This lack of closure is taken to an extreme with Sarita Mundín. With the advent of DNA testing, her bones were exhumed and tested. The body her sister thought was Sarita's wasn't. She could still be alive, although that's not the consolation for her sister that one might hope for—instead, her sister believes that she was sold into the sex trade.
Bleak and unforgiving, Dead Girls draws attention to the secondary horror of violence in society. Not only are woman constantly in physical danger (and not just women—this book could be written about Black Americans or members of the trans community or, god, I can't finish this list), but their murders are often left unresolved or, way too frequently, uninvestigated.
One other note: In a way, Dead Girls and Mothers Don't by Katixa Agirre (available in Basque and Spanish, forthcoming in English) are mirrors of one another. In the case of Dead Girls, it's billed as fiction, but is almost entirely true. (And reads more like an investigation than an invention.) In the case of Mothers Don't, it reads like an autofictional true-crime book about a woman who kills her child, but it's completely fabricated. Both deal with tough subjects in differing ways, and would be interesting to read in conversation with each other. (In a couple years when Mothers Don't comes out, that is.)
*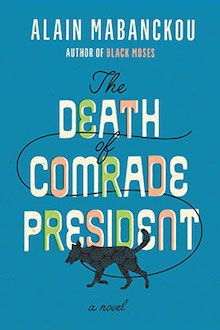 The Death of Comrade President by Alain Mabanckou, translated from the French by Helen Stevenson (The New Press) is the ninth book of Mabanckou's to appear in English (although maybe only the eighth to be available in the U.S.? I'm confused by the status of Black Bazaar) and his works generally receive a decent amount of review coverage and buzz. Personally, I still love African Psycho the best, but it's probably because that was the first one I read . . . I haven't seen this yet, but it totally fits with my "death" theme for this post:
Mabanckou's riotous new novel, The Death of Comrade President, returns to the 1970s milieu of his awarding-winning novel Black Moses, telling the story of Michel, a daydreamer whose life is completely overthrown when, in March 1977, just before the arrival of the rainy season, Congo's Comrade President Marien Ngouabi is brutally murdered. Thanks to his mother's kinship with the president, not even naive Michel can remain untouched. And if he is to protect his family, Michel must learn to lie.

Moving seamlessly between the small-scale worries of everyday life and the grand tragedy of postcolonial politics, Mabanckou explores the nuances of the human soul through the naive perspective of a boy who learns the realities of life—and how much must change for everything to stay the same.
This is random, but the first time I met
Beowulf Sheehan
—photographer to the literary stars—he had his portrait of Alain Mabanckou on the backside of his business card. Having just read 
African Psycho 
(possibly because Mabanckou was going to be at PEN World Voices? That might be a false memory), I thought Beowulf and Alain were
the
coolest motherfuckers. I was not wrong.
*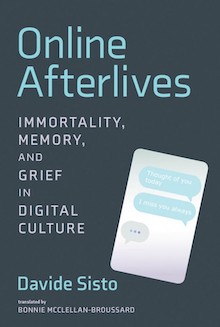 Online Afterlives: Immortality, Memory, and Grief in Digital Culture by Davide Sisto, translated from the Italian by Bonnie McClellan-Broussard (MIT Press) sounds fascinating:
Facebook is the biggest cemetery in the world, with countless acres of cyberspace occupied by snapshots, videos, thoughts, and memories of people who have shared their last status updates. Modern society usually hides death from sight, as if it were a character flaw and not an ineluctable fact. But on Facebook and elsewhere on the internet, we can't avoid death; digital ghosts—electronic traces of the dead—appear at our click or touch. On the Internet at least, death has once again become a topic for public discourse. In Online Afterlives, Davide Sisto considers how digital technology is changing our relationship to death.

Sisto describes the various modes of digital survival after biological death—including Facebook tributes, chatbots programmed to speak in the voice of a dead person, and QR codes on headstones—and discusses their philosophical ramifications. Sisto reports on such phenomena as the Tweet Hereafter, a website that collects people's last tweets; the intimacy of sending a WhatsApp message to someone who has died; and digital cremation, the deactivation of a dead person's account. Because we can mingle with the dead online almost as we mingle with the living, he warns, we may find it difficult to distinguish communication at a distance from communication with the dead. The digital afterlife has restored the communal dimension of death, rescuing both mourners and the mourned from social isolation. A society willing to engage with death and mortality, Sisto argues, is a more balanced and mature society.
It also reminds me that a) I need to clear out my browser history more often, and delete my Twitter at least once a mental breakdown, and b) that the Black Mirror episode "Be Right Back" is trippy as shit.
But what I really want to write is about Randall Kenan. I didn't know Randall very well, but there are few human beings I think on with as much tenderness and respect and admiration as I do Randall. We met in Marfa in 2016 when we were both on Lannan Fellowships, and, in addition to a few interactions at readings and receptions, all of us who were there at the time (Amitava Kumar and Timothy Donnelly were also there) had the most amazing going away party for him. Aside from him warning me about javelinas (first I'd heard of them! but Randall was nervous about being out too late with these things around—and with good reason) and telling me to email him next time I'm in Chapel Hill, I don't remember any of the specifics of that conversation. Nevertheless, my memory is steeped in a warm glow, a sense of rightness and goodness. (I also very clearly remember his smile. Not just from that day, but from all our encounters. He had a really fantastic smile.)  In the back of my mind, I've assumed for years that I would see him again someday in Chapel Hill and hang out. (And that I would read the giant novel he was working on in Marfa as soon as it was published.) And then, I found out, through John Keene's social media, that Randall had passed away.
And as much as I want to rail against social media, and am afraid to read this book because of the philosophical issues surrounding death that it inevitably must bring up (my next birthday isn't too far away, which makes this primetime for mortality thinking), I do have to say that the tributes and photos and memories being shared about Randall are really touching.
(There will be a Bread Loaf memorial reading for Randall on September 20th at 4pm eastern.)
*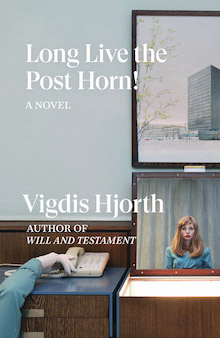 Long Live the Post Horn! by Vigdis Hjorth, translated from the Norwegian by Charlotte Barslund (Verso Books) is maybe the most timely (?) book in translation to come out this month. I mean, anything about the postal service . . . (Although I wish it was "Long Live the Muted Post Horn! W.A.S.T.E. 4EVA!")
Ellinor, a thirty-five-year-old media consultant, has not been feeling herself; she's not been feeling much at all lately. Far beyond jaded, she picks through an old diary and fails to recognise the woman in its pages, seemingly as far away from the world around her as she's ever been. But when her coworker vanishes overnight, an unusual new task is dropped on her desk. Off she goes to meet the Norwegian Postal Workers Union, setting the ball rolling on a strange and transformative six months.

This is an existential scream of a novel about loneliness (and the postal service!), written in Hjorth's trademark spare, rhythmic and cutting style.
I wasn't personally as into Will & Testament as many others, but this sounds a bit more up my alley . . .