TMR Season Fourteen: "J R" by William Gaddis
To celebrate the NYRB reissue of J R by William Gaddis—one of my all-time favorite books—we're going to feature it as the next title in the Two Month Review. 
The full schedule is below, but in short, the first live episode will be on Wednesday, December 16th at 3pm eastern (available as a podcast the next morning), and we'll wrap things up on February 24th. This works out to approximately 66-70 pages a week, depending on which volume you're using. (More on that below.)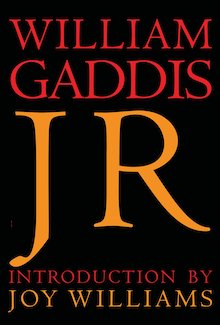 For anyone unfamiliar with William Gaddis, he was one of the titans of twentieth-century literature. He wrote five novels, of which, The Recognitions and J R are the most widely discussed, although his fourth novel, A Frolic of His Own, earned him his second National Book Award. (J R also won the NBA.) His works are complex, filled with allusions, and, especially in the case of J R, incredible in terms of capturing the chaos and frenetic buzz of conventional speech. He's also the subject of Jonathan Franzen's "Mr. Difficult" essay from the New Yorker. 
Since Franzen sucks and doesn't like J R, I'm not going to quote from that article, although I will guarantee that it will be discussed on numerous occasions this season.
And yes, All of his works are heady, but I'm willing to bet that if you give J R a chance, you'll quickly fall into the patter, the chaos, the jokes, and the plot (such as it is). Here's the copy from the NYRB edition:
At the center of J R is J R Vansant, a very average sixth grader from Long Island with torn sneakers, a runny nose, and a juvenile fascination with junk-mail get-rich-quick offers. Responding to one, he sees a small return; soon, he is running a paper empire out of a phone booth in the school hallway. Everyone from the school staff to the municipal government to the squabbling heirs of a player-piano company to the titans of Wall Street and the politicians in Washington will be caught up in the endlessly ballooning bubble of the J R Family of Companies.

First published in 1975 and winner of the National Book Award in 1976, J R is an appallingly funny and all-too-prophetic depiction of America's romance with finance. It is also a book about suburban development and urban decay, divorce proceedings and disputed wills, the crumbling facade of Western civilization and the impossible demands of love and art, with characters ranging from the earnest young composer Edward Bast to the berserk publicist Davidoff. Told almost entirely through dialogue, William Gaddis's novel is both a literary tour de force and an unsurpassed reckoning with the way we live now.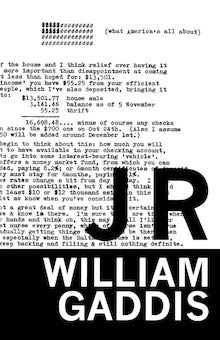 Speaking of that National Book Award win, back in 2009, the National Book Foundation published a series of posts (and maybe a physical booklet?) with write-ups covering all of its past winners. Harold Augenbraum gave me the honor at that time of writing both about Gravity's Rainbow (another foundational book for me) and J R. Here's what I had to say way back then:
J R is the perfect novel for our new recession-driven world. Similar to Gravity's Rainbow (which I wrote about earlier), this is another encyclopedic novel with dozens of characters, subplot upon subplot, quite literally overflowing with ideas, conversations, and detritus. And money. It's all about money.

At the heart of this comic masterpiece is an eleven-year-old boy named J R, who, with a bit of capitalist ingenuity and the help of his music teacher Edward Bast, builds a paper fortune out of surplus goods, common stock, and an unerring ability to game the system. It's a coming-of-age tale for the late-capitalist period of irrational exuberance.

Of course, things fall apart in the end. Bast—who dreams of becoming a composer—loses his artistic mojo, and J R's paper empire is just that, and implodes like a house of cards. (Sound familiar?)

It's not like we weren't warned though—entropy always wins. It's just like science teacher Jack Gibbs says early on in the novel:

In other words this leads you to assume that organization is an inherent property of the knowledge itself, and that disorder and chaos are simply irrelevant forces that threaten it from outside. In fact it's exactly the opposite. Order is simply a thin, perilous condition we try to impose on the basic reality of chaos . . .

There is tons of chaos in J R. Everywhere you turn in this book you find another mess. The amount of clutter Gaddis was able to work into a book that's narrated almost entirely through dialogue is amazing.

And that's probably the most amazing thing about J R. Although some early critics were flummoxed by this method of unattributed dialogue, after 50 pages a half-way perceptive reader picks up the rhythms and phrases and can jump ahead a few hundred pages and immediately identify which character is speaking.

J R is America. It's a loud, raucous book of voices, messes, and money. It's a book with a solid cult pedigree that should be read, and read again, for pure pleasure and great insight into the insanely frantic world we inhabit.
It's been probably fifteen years since I last read this book, and I really hope that you'll join us in the fun, frenetic chaos that's sure to be the fourteenth season of the Two Month Review. We have a lot of guests lined up—some first time readers, some Gaddis experts—who will help Brian and I to contextualize and dig into this modern masterpiece.
Few notes on the schedule: I broke up this season by "scenes" based on Steve Moore's incredibly helpful Gaddis Annotations website. His page numbers are based on the original Knopf version, the layout for which was retained by both Penguin Classics and Dalkey Archive Press when they reprinted it. NYRB has reformatted the book slightly, making it a few dozen pages longer. Given the popularity of the book and previous editions, I'm including all the page numbers below so that everyone knows how to follow along. And once again, you can watch the first episode live on 12/16 here.
December 16: Scenes 1-11 (pgs 1-72 NYRB, 1-68 others)
December 23: Scenes 12-18 (pgs 73-145 NYRB, 68-137 others)
December 30: Scenes 19-31 (pgs 146-209 NYRB, 137-197 others)
January 6: Scenes 23-42 (pgs 210-289 NYRB, 197-272 others)
January 13: Scenes 43-47 (pgs 290-353 NYRB, 272-332 others)
January 20: Scenes 48-56 (pgs 354-424 NYRB, 332-400 others)
January 27: Scenes 57-61 (pgs 425-491 NYRB, 400-463 others)
February 3: Scenes 62-67 (pgs 492-572 NYRB, 463-543 others)
February 10; Scenes 68-71(pgs 573-647 NYRB, 543-610 others)
February 17: Scenes 72-75 (pgs 648-703 NYRB, 610-663 others)
February 24: Scenes 76-83 (pgs 704-770 NYRB, 663-726 others)
See you next week for scenes 1-11!
One response to "TMR Season Fourteen: "J R" by William Gaddis"