Theater
2017-18 Season
All performances take place in Todd Theatre (in Todd Union) on the University of Rochester's River Campus. Unless otherwise indicated, ticket prices are $15 for the General Public and $12 for Seniors (65+); also $12 for UR staff, faculty, alumni and $8 for UR students.
For tickets and more information, visit www.sas.rochester.edu/theatre/ or call (585) 275-4088.
Fall Semester 2017
In the Matter of J. Robert Oppenheimer by Heinar Kipphardt (translated by Ruth Speirs)
Thurs., October 12 – Sat., October 14 and Wed., October 18 – Sat. October 21 @ 7 p.m.
Matinées: Sat. and Sun., October 14 & 15 @ 2 p.m.
Kipphardt's celebrated drama, drawn from the actual transcripts of the infamous Oppenheimer security hearings, is a timely and provocative exploration of the individual's conscience and the power of the state. How should an individual's morality respond to the power of national security institutions, as well as to the repercussions of a creative mind's ideas and discoveries? In the Atomic Energy Commission's hearings against the "father" of the atomic bomb, J. Robert Oppenheimer, a mirror is held up to our collective conscience in ways that seem hauntingly relevant in our current political dystopia.
Read more: Timely political drama plays out on stage
Directed and set design by Nigel Maister
Costume design by Tilly Grimes
Lighting design by Solomon Weisbard
Sound design and original music by Obadiah Eaves

URPerforming16! The Talent Edition III
Fri., October 27 at 7 p.m. (Open Round)
Sat., October 28 at 7 p.m. (Finals)
-- free admission --
Celebrate extraordinary performers from all disciplines in this UR's Got Talent-format evening of student artists.
Octavia by Seneca
Thurs., November 30 – Sat., December 2 and Wed., December 6 – Sat., December 9 @ 7 p.m.
Matinée: Sun., December 3 @ 2 p.m.
Octavia is a play ripped from the headlines— from the year AD 62. Attributed the Roman stoic philosopher, Seneca (which would have been extraordinary, as he himself is a character in the play), it chronicles the dissolution of the marriage between the Nero, the unstable, narcissistic emperor, and Octavia, his popular wife. Questions about the right conduct of a ruler, laments about a woman's place in the world, and musings on the degeneration of the world commingle to make the rarely-staged Octavia a startlingly relevant document.
Directed by Ken Rus Schmoll
Set and costume design by Marsha Ginsberg
Lighting design by Yuki Nakase
Sound design by Jane Shaw

Spring Semester 2018
We Don't Live on Mars Yet—created by Talya Chalef and the Ensemble
Thurs., March 1 – Sat., March 3 and Wed., March 7 – Sat., March 10 @ 7p.m.
Matinée: Sun., March 4 @ 2 p.m.
The UR International Theatre Program is commissioning its first on-site devised work, helmed by Australian-South African director, writer and theatre artist, Talya Chalef. Working with students, and dealing with themes of "sanctuary" and social justice, Chalef will develop an experiential and topical theatrical piece reflecting the thoughts, aspirations, and challenges of students; where they feel we are now, and how they envisage a map of the future. World premiere.
Directed by Talya Chalef
Set design by Jung Griffin
Costume design by TBD
Lighting design by Solomon Weisbard
Sound design and original music by TBD
Projection design by Sofy Yudistkaya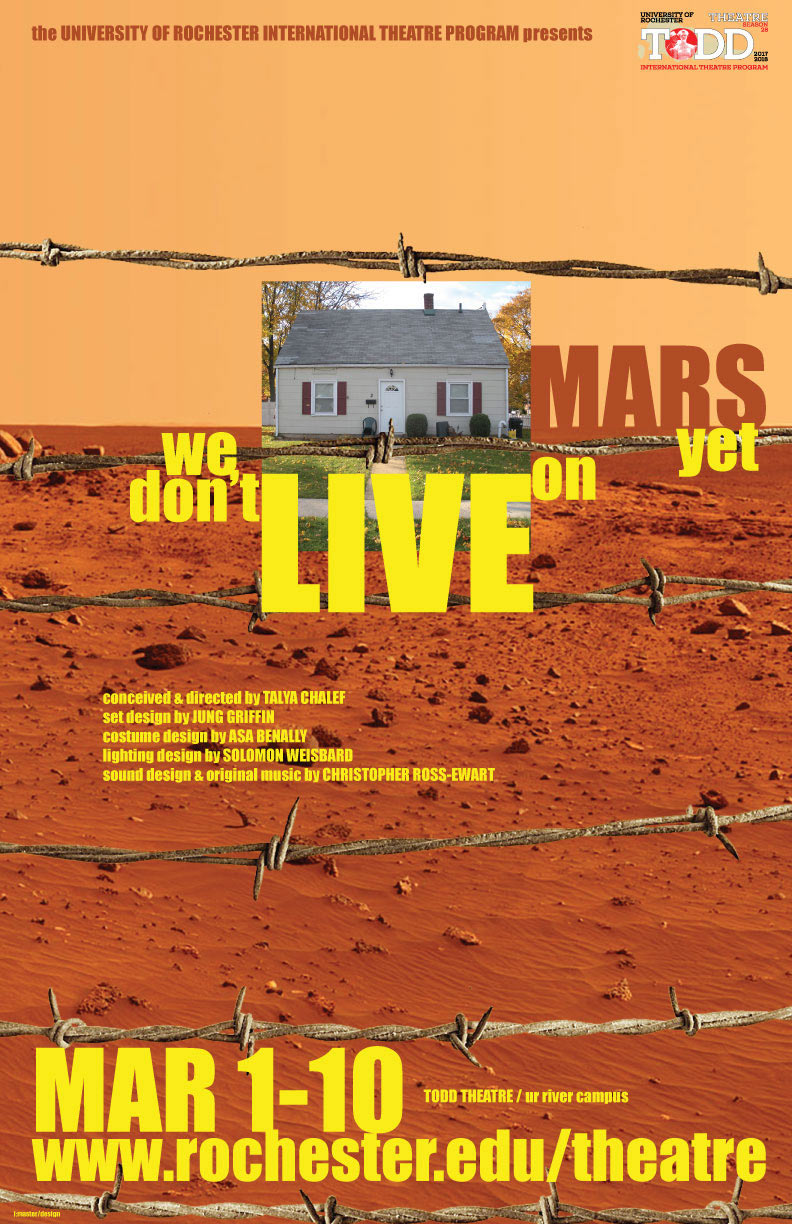 download the poster
One Act Play Festival
Fri., March 23 – Sun., March 25 @ 7 p.m.
Matinées:  Sat. & Sun., March 24 & 25 @ 2 p.m.
-- free admission --
Short student-written, directed, designed, and acted plays by budding young playwrights and directors!
Written, Directed, Designed, and Performed by students

The Pinter Plays (The Collection and The Lover) by Harold Pinter
Thurs., April 26 – Sat., April 28 and Wed., May 2 – Sat., May 5 @ 7 p.m.
Matinée: Sun., April 29 2 p.m.
Nobel Prize-winning playwright, Harold Pinter, one of the seminal figures of 20th century drama, is a master of the minimal and the malevolent. The Collection and The Lover are two of his most unnerving and, yes, funny, one-acts. In both plays couples deal with fidelity and infidelity that may (or may not) have happened; in both the undercurrents of violence—sexual and social—are exposed, toyed with, and ultimately left for the audience to wrestle with; and in both, Pinter leaves us keenly aware of something in the universe having shifted in an intangible and deeply unsettling way.

Directed by Nigel Maister
Set design by Amy Rubin
Costume design by Lux Haac
Lighting design by Seth Reiser
Sound design and original music by Obadiah Eaves
Fight direction by J. David Brimmer
---
Student Theater Groups