Theater
In the International Theatre Program, students engage in all aspects of a production, from acting to writing, directing, to stage management.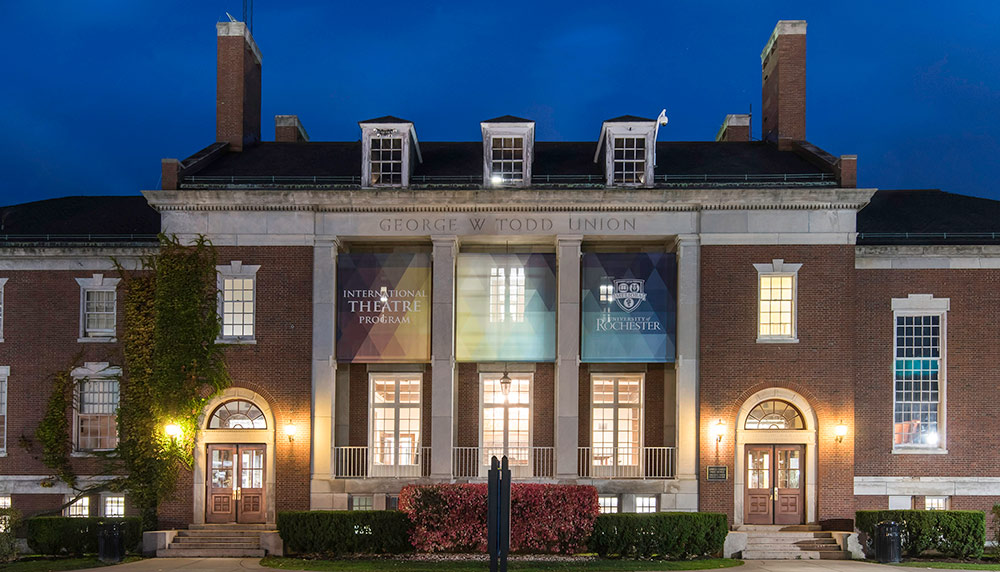 2016-17 Season
All performances take place in Todd Theatre (in Todd Union) on the University of Rochester's River Campus. Unless otherwise indicated, ticket prices are $15 for the General Public and $12 for Seniors (65+); also $12 for UR staff, faculty, alumni and $8 for UR students.
For tickets and more information, visit www.rochester.edu/theatre or call (585) 275-4088.
International Theatre Program: When You Coming Back, Red Ryder
Todd Theater, River Campus
October 6–8 and October 12–15 at 7 p.m.
October 8 and 9 at 2 p.m.

When a small, sleepy New Mexico diner is visited by a fugitive couple on the run, locals and visitors have their lives upended and their dreams and inner desires confronted.  Tense and gripping, "Red Ryder" explores the myths of American manhood and heroism with brutality, humor, and nail-biting suspense.  Recommended for adult audiences only
UR Performing15! The Talent Edition II (free admission)
Todd Theater, River Campus
Fri., October 21 at 7pm (Open Round)
Sat., October 22 at 7pm (Finals)

Celebrate extraordinary performers from all disciplines in this UR's Got Talent-format evening of student artists..
International Theatre Program: Circle Mirror Transformation
Todd Theater, River Campus
December 1–3 and December 7–10 at 7 p.m.
December 4 at 4 p.m.

Called an "absolute feast" and "unheralded gem," Obie award and Pulitzer prize-winner Annie Baker's extraordinary, multiple award-winning play, Circle Mirror Transformation, explores the lives of a group of small town Vermonters through the minutely detailed lens of those characters taking an acting class.  While the theatre games and exercises they play begin harmlessly enough, over time, we see tiny wars being waged, hearts being broken, and the yearnings, regrets, and deepest secrets of each member of the class being revealed. With affection, empathy, quiet drama, and the magnificent eye and ear of a detailed miniaturist, Baker lays bare the souls of her characters in this funny and quietly devastating contemporary American masterpiece.
International Theatre Program: That Poor Girl and How He Killed Her
Todd Theater, River Campus
March 2–4 and March 8–11 at 7 p.m.
March 5 at 2 p.m.

Alyssa Long is pretty, rich, and lucky enough to have attracted the attention of mysterious newcomer, Felix Maia. But in the wake of her sudden disappearance, frenemies gather and rumors abound.  Described as Gossip Girl meets Lord of the Flies, That Poor Girl... by contemporary playwright, Jen Silverman (who critics have called "a fresh voice who takes chances, but also a playwright who plumbs the depth of humanity without sentimentality") is a (very) dark comedy that looks at social media and social justice, how far we're willing to go, and who we are when we get there.
International Theatre Program: God Has No Country
written and performed by Donal Courtney
Todd Theater, River Campus
March 31 and April 1 at 7 p.m.

A special theatrical event, imported from Ireland, God Has No Country tells the story of Monsignor Hugh O'Flaherty's courageous exploits in German-occupied Rome during the Second World War." Though little remembered today, this unassuming Irish priest used his connections in the Vatican to harbor prisoners of war and Jews and is credited with saving over 6,500 lives. The play follows O'Flaherty's torment as he decides to act in defense of those suffering under Fascist tyranny. It also reflects on his upbringing in Killarney and on how joining the priesthood protected him from involvement in the Anglo-Irish War. Told with great humor and sensitivity, God Has No Country aims to bring the heroic deeds of this extraordinary but unsung man to a wider audience.
International Theatre Program: The Motherf**ker with the Hat
Todd Theater, River Campus
April 27–29 and May 3–6 at 7 p.m.
April 30 at 2 p.m.

Described as a "brilliant comedic talent," Stephen Adly Guirgis's hugely funny and equally poignant The Motherf**ker With the Hat becomes the first production on the Todd Theatre mainstage with a student-led artistic team.  Guirgis's play examines the lives and struggles of a small-time drug dealer striving to make good and the complicated woman he loves, with painful, but acutely observed hilarity.  As the Wall Street Journal noted: Motherf**ker is a "splendidly made, unromantically romantic comedy that keeps you laughing, then sends you home thinking."
---
Student Theater Groups