Theater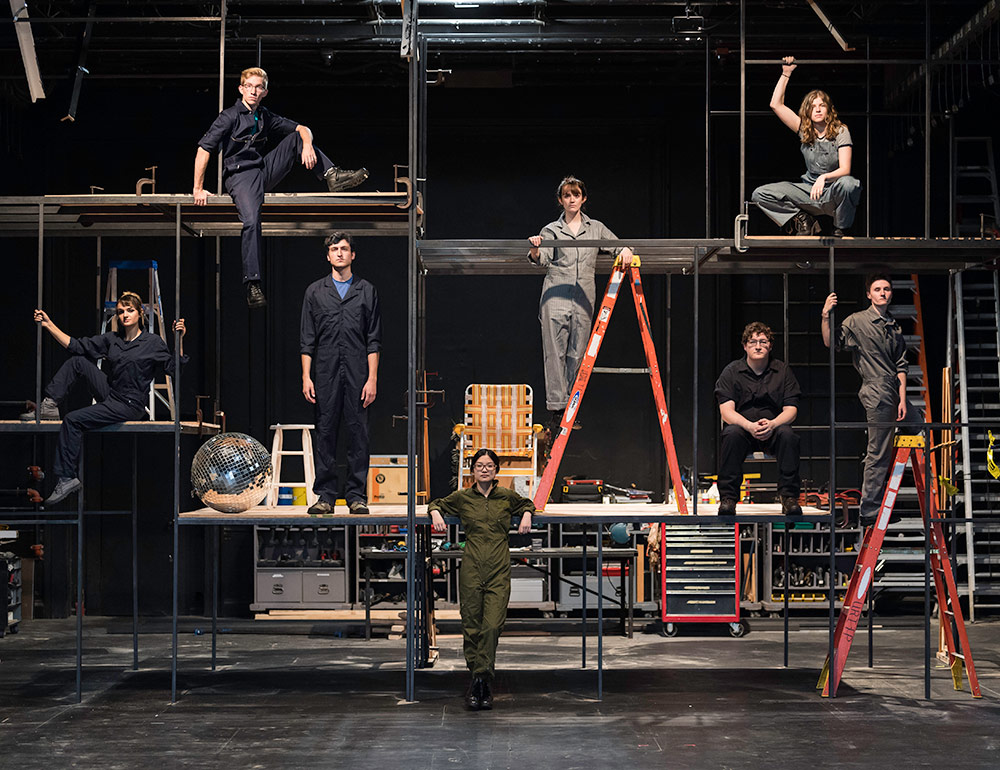 The opening production of the fall 2018 semester, Gone Missing, explores loss—lost things, losing everything, and the impact of loss beyond the object itself—in ways funny, theatrical, and charming. (University of Rochester photo / J. Adam Fenster)

2018-2019 Season
All performances take place in Todd Theatre (in Todd Union) on the University of Rochester's River Campus. Unless otherwise indicated, ticket prices are $15 for the General Public and $12 for Seniors (65+); also $12 for UR staff, faculty, alumni and $8 for UR students.
For tickets and more information, visit www.sas.rochester.edu/theatre/ or call (585) 275-4088.

Fall Semester 2018
Gone Missing by Steve Cosson; music & lyrics by Michael Friedman
Gone Missing—a wonderfully theatrical and deliciously idiosyncratic musical—speaks to our shared experience of finding ourselves in the things we lose. Written by one of the most important musical composer/lyricists of the 21st century, Michael Friedman (Bloody Bloody Andrew Jackson), and by Steve Cosson and his multi-award-winning theatre company, The Civilians—a company that "interrogates our lived experience, questions and tests the stories that shape our world, and awakens new thinking and perceptions"—Gone Missing is funny, quirky, guaranteed to make you think, and will charm your socks right off.
Thurs., October 4 – Sat., October 6 and Wed., October 10 – Sat. October 13 @ 8 p.m. (please note LATER CURTAIN TIME)
Matinées:  Sat. & Sun., October 6 and 7 @ 2 p.m.

Directed & Set Design by Nigel Maister
Costume Design by Tilly Grimes
Lighting Design by Thomas Dunn
Sound Design by Obadiah Eaves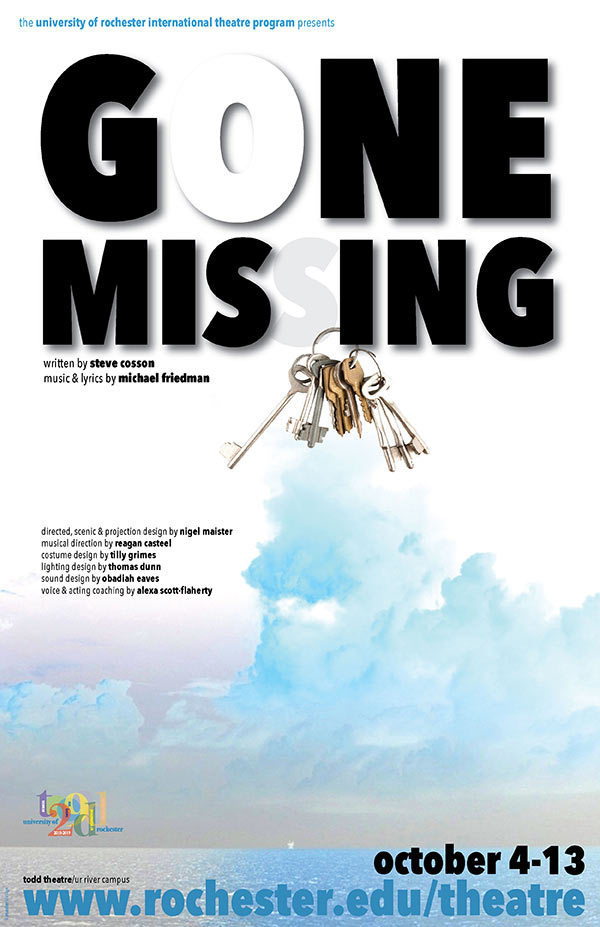 URPerforming17! The Talent Edition IV
Celebrate extraordinary performers from all disciplines in this UR's Got Talent-format evening of student artists.
Fri., October 19 at 7 p.m. (Open Round)
Sat., October 20 at 7 p.m. (Finals)
***FREE***

Revolt. She Said. Revolt Again. by Alice Birch
A ferocious call for revolution. A sharp and irreverent assault on language. Revolt. She Said. Revolt Again., Alice Birch's extraordinary contemporary play about the ways in which the words we use to talk about love, sex and daily life shape the behavior, expectations of, and relationships to women, is both a call to action and a challenge to upend all preconceptions. Birch, the winner of the 2018 Susan Smith Blackburn Prize and one of the UK's most celebrated young playwrights, has written that rare work that will change the way you view the world.
Thurs., November 29 – Sat., December 1 and Wed., December 5 – Sat., December 8 @ 7 p.m.
Matinée: Sun., December 3 @ 2 p.m.              
Directed by Christina Roussos
Set Design by Carolyn Mraz
Costume Design by Isabelle Coler
Lighting Design by Devora Kengmana
Sound Design by Emily Auciello
Fight Direction by J. David Brimmer
---
Spring Semester 2019
Cardenio by Stephen Greenblatt and Chuck Mee
A Shakespearean scholar (Greenblatt) and a master post-modern playwright (Mee) take a legendary lost play by Shakespeare (Cardenio) and through an act of theatrical imagination reinvent and re-construct it, creating an irreverent, madcap romantic comedy filled with mismatched lovers, sexual intrigue, sudden reversals, traveling actors, a play-within-a-play and philosophizing servants.  All this, filtered through the extraordinary imagination of director, Ed Iskandar, known for his exuberant, playful, and extravagant theatrical events, promises to delight and enchant even the most jaded theatre-goer!
Thurs., February 28 – Sat., March 23 and Wed., March 6 – Sat., March 9 @ 7 p.m.
Matinée: Sun., December 3 @ 2 p.m.              
Matinée: Sun., March 3 @ 2 p.m.                      
Directed by Ed Sylvanus Iskandar
Musical Direction by TBA
Set & Lighting Design by Seth Reiser
Costume Design by Loren Shaw
Sound Design & Original Music by Lee Kinney

ToddX: panels, workshops and colloquia by distinguished Theatre Program alumni
Two days of panels, workshops, and colloquia by Theatre Program alumni who have made their mark in a diversity of fields from design to politics; from producing to acting. 
Fri. and Sat., March 19 & 20; Times TBA

The Conduct of Life by Maria Irene Fornes
Cuban-American playwright, Maria Irene Fornes's Obie-award-winning drama explores political, sexual and social relationships of power, corruption, and abuse in a work that is simultaneously terrifying and tender; subtle and didactic; funny and frightening; poetic and brutal.  Fornes's landmark aesthetic that combines a deep sensitivity with the disenfranchised and an acute understanding of human and political nature, exposes a vision of the world that feels curiously appropriate and chillingly contemporary.
Thurs., April 25 – Sat., April 27 and Wed., May 1 – Sat., May 4 @ 7 p.m.
Matinée: Sun., April 28 @ 2 p.m.               
Directed by Nigel Maister
Set Design by Andrew Moerdyk
Costume Design by Lux Haac
Lighting Design by Seth Reiser
Sound Design & Original Music by Obadiah Eaves
---
General Info:
All performances take place in Todd Theatre (in Todd Union) on the University of Rochester's River Campus
Please Note: This season's curtain times are 7 p.m. (evenings) except for Gone Missing whose curtain time is 8 p.m.. All matinees have a 2 p.m. curtain time
Ticket prices for mainstage shows are $15 for the General Public and $12 for Seniors (65+); also $12 for UR staff, faculty, alumni and $8 for UR students.  Tickets may be purchased online, from the Common Market, or at the Box Office (one hour prior to curtain)
Tickets for URPerforming! The Talent Edition are free (and available one hour before show times only from the box office)
Box Office telephone: (585) 275-4088
---
Student Theater Groups