Overview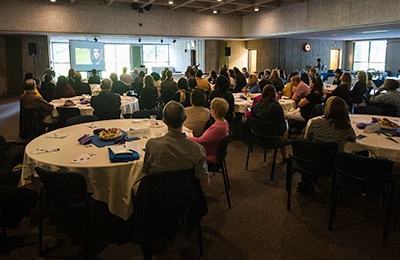 The Interfaith Chapel welcomes people of all faiths and traditions. The chapel is home to nine faith communities, as well as several faith-based student clubs who hold services, meetings, and activities in our building.
Rooms in the chapel are also commonly rented out to non-faith groups looking to hold events on campus. For more information on how to reserve a room at the chapel, see our reservations page.
---
Interfaith Chapel Services
Hillel - Jewish Community
Shabbat Services are at 6 p.m. on Fridays, followed by dinner.
Chabad - Jewish Student Community
Shabbat Services are at 6 p.m. followed by dinner at 6:45 p.m.
Protestant Chapel Community
Services are on Sundays at 5 p.m.
University of Rochester Christian Fellowship
Services are Sundays at 3 p.m.
Newman Roman Catholic Community
Sunday Masses are at 10:30 a.m. and 7 p.m. There is also a Wednesday Night Instamass in Friel Lounge at 9 p.m.
Muslim Community
Friday Jumma Prayers are at 1:15 p.m. in the Sanctuary.
Zen Meditation Group
Meditation is held on Wednesdays at 6:30 p.m. and Sundays at 11:30 a.m.