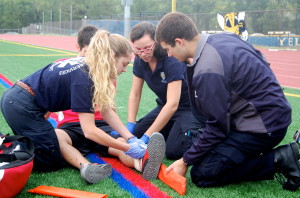 The University of Rochester River Campus Medical Emergency Response Team is committed to providing quality care to the University community. MERT staff consists of New York State Certified Emergency Medical Technicians (EMTs) and general members who are highly trained and ready to respond to medical emergencies around campus. MERT functions with a full three-member crew every night from 8:00 PM to 8:00 AM during the academic year. MERT also maintains 24-hour coverage on Saturdays and Sundays and has EMTs on call during weekdays. MERT is a non-transporting agency with equivalent equipment and training to a transporting agency. MERT is equipped with a service vehicle to respond to calls, but does not have an ambulance. This means that if a patient requires transportation to a hospital, MERT will provide treatment until another EMS agency arrives. MERT is affiliated with the University Health Service and the University of Rochester Department of Public Safety.
For more basic information on RC MERT, refer to our FAQ page. For information on membership and joining MERT, visit our membership page. For information about community events and partnerships with MERT, visit our community page. For information and paperwork for standby requests or to contact the executive board, visit our "Contact Us" page.
Our Members
MERT staff consists of a committed group of University of Rochester students. Members come from a diverse background of majors and medical experience. Within the organization there are three ranks of experience a member can obtain: Medic Assistant (803), Crew Chief Trainee (802), and Crew Chief (801).
All members enter the organization as an 803 regardless of outside experience. 803s receive extensive training in first aid, vital signs, CPR, AED resuscitation, bleeding control and oxygen administration. On a call, the 803 is expected to take careful vitals and assist the 802 and 801 in any way necessary. 802s and 801s are more experienced members of the organization and are required to hold a current New York State EMT certification. 802s train under the supervision of the 801 and are expected to run the call according to New York State BLS protocols. 801s are the senior members on calls. They assure that the call runs smoothly and provide training and feedback to the 802 and 803. 801s are legally responsible for the call. One 801, 802 and 803 make up a full crew and are on call every night from 8PM to 8AM, as well as from 8AM to 8PM during weekends. During weekdays, RC MERT members utilize text dispatch via Public Safety, and communicate through GroupMe to assign members to a call, if availability allows. Together, these methods ensure 24/7 emergency medical coverage during the academic school year.
Medical Amnesty
In 2012, the University of Rochester put into effect the Medical Amnesty policy. This policy encourages all University of Rochester students to seek help for themselves, their friends, and their peers. Medical Amnesty protects students who actively seek medical aid from RC MERT from any disciplinary action in cases regarding drugs or alcohol. It is RC MERT's hope that the Medical Amnesty policy will result in more students seeking help for friends in need. RC MERT's number one priority is the safety of members of the campus community and are bound by law to not share any information of our patients with any member of the campus, including the administration. It should be noted that Medical Amnesty does not apply when members of the University of Rochester Department of Public Safety or Residential Life seek medical aid for a student regarding a case of drugs or alcohol, unless that aid was actively sought by the student. For further information regarding Medical Amnesty please refer to the Student Code of Conduct. 
Community
The dedicated members of RC MERT constantly work towards strengthening ties with both the campus and greater Rochester communities. In addition to providing emergency medical services to the University of Rochester, RC MERT also strives to promote personal health and health education on and off campus. MERT has participated in a variety of health promotions as well as cosponsored health related events with a variety of university organizations.
Links to Campus Resources
Other NYS Collegiate EMS Agencies