Pipe Dreams
Long one of the most prominent in the country, the organ program at the Eastman School of Music strikes up new initiatives to expand its keyboard strengths.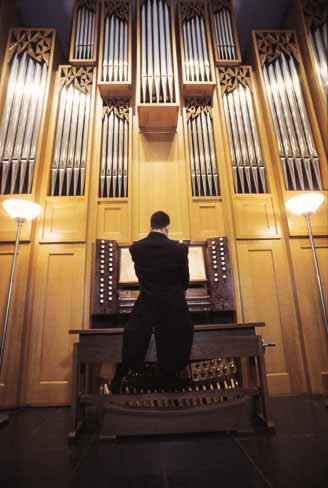 There let the pealing organ blow,
To the full-voic'd choir below,
In service high, and anthems clear,
As may with sweetness, through mine ear,
Dissolve me into ecstasies,
And bring all Heav'n before mine eyes.
-John Milton, Il Penseroso
By Jeffrey Marsh
Few instruments inspire quite like an organ.
For Milton's pilgrim, it provided a soundtrack to heaven. Fans of old horror movies know the haunting sounds of Bach's Toccata and Fugue in D minor would not be nearly so scary coming out of a piano. And don't newlyweds step with a little more bounce when the chords of Felix Mendelssohn's A Midsummer's Night Dream (better known as The Wedding March) ring out at the end of the ceremony?
Maybe it's all that air rushing through all those long pipes. Or maybe it's that organists use all four limbs to get the full effect from their beloved instruments.
But for sheer visceral, musical effect-especially live-organs stand nearly alone.
And since early this century, there have been few places like the Eastman School of Music when it comes to learning to play, appreciate, and even build the granddaddy of keyboard instruments.
Building on its already lauded programs in organ and sacred music, Eastman launched several new initiatives in 2001.
Students enrolled for the first time last fall in a new diploma program in sacred music, a 24-credit series offered through the organ program.
Eastman also added a visiting professor of improvisation-this year William Porter from the New England Conservatory of Music in Boston-to improve a vital skill for organists.
And finally, Eastman students have a new connection to the Goteborg Organ Art Center (GOArt), an international center for research in historical organ building and performance practice in Gšteborg, Sweden. There, organ experts have designed and built what is considered the ultimate collection of organs in the world.
"We offered a lot before, but now we're putting together everything in one package," says David Higgs, co-chair of Eastman's keyboard department and head of the organ program.
Open to students in a variety of disciplines, the sacred music program was first envisioned by the late Eastman organ professor Russell Saunders and Eastman Professor Emeritus David Craighead. Under director Peter DuBois '80E, director of music at Third Presbyterian Church of Rochester, the diploma program stresses religious philosophy as well as organ performance and includes a two-semester supervised internship at local churches.
Andy Pester '05 says Eastman's reputation and new focus on sacred music were big draws for him.
"I knew what to expect, but I was blown away by the talent here," he says. "There aren't many younger organists out there, but here I'm surrounded by so many people about my age with so much talent."
For such aspiring organists, the Swedish center is the perfect setting to get to know the instruments inside and out, says Hans Davidsson, founder and artistic and research director of GOArt, who currently is an associate professor at Eastman.
The organ program is planning regular "field trips" to the center.
"The experience you get when you practice and work on the instruments themselves-you can't get any other way," Davidsson says. "The instruments work like teachers and provide immediate response."
At the GOArt Center, modern scientists, engineers, and tunesmiths replicate the best historic organs down to the smallest detail, even using the same process for building the pipes and pedals. With the help of computer models, GOArt researchers have created instruments that are superior to other modern replicas, Davidsson says.
"There's a big difference between textbook learning and actually playing the instruments we were learning about," says Mark Pacoe, a teaching assistant with the organ department who has traveled to Goteborg.
Playing the best instruments can make a big difference, but organists must also be skilled at improvisation, Higgs says.
"Improvisation in churches has gone on for more than 600 years," he says. "A great deal of today's sacred music's standard repertoire started as improvisation."
Fred Teardo '03, an organist for St. Luke and St. Simon Cyrene Church in Rochester, uses improvisation each time he plays.
"You always have to add new and interesting things, especially when you have to blend music for different approaches," he says. "Improvisation makes us better musicians on a deeper level."
What sets Eastman's sacred music program apart from other similar programs is the emphasis on practice as well as theology, Higgs says.
"We emphasize that students be grounded in practical theology and theory, but we also practice the skills necessary to function at the highest level on Sunday morning," he says.
Another key for aspiring church organists is practicing on and playing the best instruments. Eastman has been contracted to help design organs for some local churches, and graduates move on to many prestigious facilities that have intricate and well-crafted organs.
Eastman graduates become chief organists or heads of the music departments of major churches. Others go on to churches around the country or faculty positions at universities and colleges.
While Eastman owns 20 organs as well as a rare pedal clavichord replica of the kind played by Bach, the trips to Goteborg will give students a unique perspective, Higgs says.
For Peter Geise, a master's student, the experience is a chance to see how the organs were built and how they're tuned. Geise is considering building organs after graduation, and he maintains and helps tune the Eastman organs.
"These instruments are about as authentic as you can get," he said. "It's a really unique experience, one that lets us get a lot more in depth into some amazing instruments."
Jeffrey Marsh is associate editor of Rochester Review.

Maintained by University Public Relations
Please send your comments and suggestions to:
Rochester Review.