The Orchestration of a Tony Award Winner
Orchestrator Douglas Besterman '85 designs the sounds of some of Broadway's and Hollywood's biggest hits.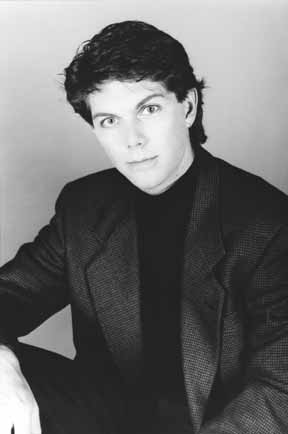 By Jeffrey Marsh
During an early rehearsal for The Producers, Mel Brooks, the mastermind of the Broadway smash hit, turned to Douglas Besterman '85, smiled, and said, "It's surprisingly good."
Critics, to put it mildly, have agreed: "This is a gift from the show-biz gods!" gushed Time last April. Said The New York Times: "It is the real thing: a big Broadway book musical that is so ecstatically drunk on its powers to entertain that it leaves you delirious, too."
And Besterman, a College graduate who had a major role in shaping the sound of the record-breaking, 12-time Tony Award-winning show, agrees, too, but from a slightly different perspective.
"It is a surprise when a production comes together, hopefully a good surprise," says Besterman, who won his second Tony for Best Orchestrations for The Producers. "A show is a whole team of designers, writers, cast, an orchestra, everyone with their own ideas. When it works, it's definitely a surprise."
Besterman's award-winning work (he also won a 2001 Drama Desk Award for Outstanding Orchestrations) on the show is the latest in a long string of hits for the Rochester graduate in a career spent working on Broadway and in film. He took home his first Tony in 1999 for Fosse, and he was nominated for Broadway's top honor in 2000 for The Music Man.
The chorus of critics and fans singing the praises of Brooks's revival of his 1968 movie of the same name has not died down since opening night. Thousands have lined up to watch stars Nathan Lane and Matthew Broderick conspire as Broadway schemers, and even more are waiting.
While the stars get encores and accolades-"Nathan Lane gives the performance of his career!" says WCBS-TV-and even the director gets notices- "Susan Stroman's brilliant staging doesn't miss a sight gag or a comic inflection!" says The Star-Ledger-most theater-goers might overlook the orchestrator's credits.

We're the designers of the sound of a piece," Besterman says. "Outside of the theater world, a lot of people don't really know about the job of an orchestrator. That's partly because the kudos go to the composer when a score works, but it's a job that's pretty high on the food chain in theater."
In a typical production, the composer develops the show's melodies-the contextual skeleton-for each song, mainly on piano. The orchestrator then fleshes out each piece and develops them for a mini-orchestra-usually about 24 musicians for live theater.
Sometimes, a composer will pass on a fully developed piece. But often there's little more than a hum of an indication of how a song is supposed to go. To complete that translation, the composer turns to the orchestrator.
"Composers carefully choose the right partner for a project," Besterman says. "It's very much a partnership."
And Besterman has partnered with some of the best in the business in a career that has included bestselling Disney films and honored Broadway plays.
Glen Kelly, the musical arranger and supervisor for The Producers, says Besterman was "wonderfully easy to deal with."
"When you get together with an orchestra for the first time, you want no surprises, and that's how it worked here," he says. "Doug was able to look at sketches and know what I wanted and create that. It's astonishing how he can quickly know what was going on just by what I created on the piano."
As with many aspiring artists, Besterman dreamed of working on Broadway and in film while a college student. At Rochester, he studied both music history and theater, a program that allowed him to take classes at the College and at the Eastman School of Music.
Although he was always interested in composing and orchestrating, he says Rochester helped set the stage for his
career.
He studied with the late Rayburn Wright '43E, then head of the Department of Jazz and Contemporary Media at Eastman, who had been a chief arranger at Radio City Music Hall in the '50s. Besterman credits his former teacher with speeding his development.
"The things I learned from Ray shaved 10 years off my learning curve because it was incredibly practical information," he says. "People used to say that I had no experience yet I was able to do so much, because that's what Ray knew and taught us. It was an incredibly valuable four years."
He began to focus his career on orchestration when he moved to New York City after graduation.
"I was working as a pianist and music director or a vocal coach, whatever I could do to make a living," he says.
And then, as often happens in creative jobs, Besterman says he got his lucky break. He was hired in 1989 to be a rehearsal pianist for an American-style musical theater review in a theme park in Seoul, South Korea. The orchestrator of the review, Danny Troob, had too much work to do by himself so Besterman assisted. In 1992, when Troob was asked to orchestrate an off-Broadway show for composer Allen Menken, he suggested Besterman.
"I had to go to Korea to get hired in New York," Besterman jokes. "But that's everyone's story. There's no way to put out a shingle and get hired for a show. You just have to get lucky."
In addition to his Tony-nominated musicals, Besterman's orchestration credits include the musicals Big, Damn Yankees, A Christmas Carol, Gentlemen Prefer Blondes, and Weird Romance. Other work includes the Martha Graham Dance Company ballet But Not for Me, the films Anastasia, Mulan, Superstar, Pocahontas, and Annie as well as production work on albums by Barbra Streisand and Barry Manilow.
Waiting in the wings are other movies and the possibly Broadway-bound Dracula, directed by Des McAnuff with music by Frank Wildhorn.
Of all his works, Besterman says his favorite was the 2000 musical Seussical, an adaptation of the works of Dr. Seuss. To create the sounds of the beloved author's fantastical worlds, Besterman and composer Stephen Flaherty had to invent sounds and experiment with synthesizers and other "found" noises.
"We had no idea what the style was. We were trying to invent a sound. What does Whoville sound like? What's the sound of a Lorax?" Besterman says. "It was a really creative process, something that you were not able to do on traditional Broadway."
Flaherty says Besterman has the combination of traditional theater instrumentation and an understanding of modern electronic music vital for the job.
"The score was certainly a hybrid, with parts written in almost a vaudeville style and parts that are more pop-influenced," Flaherty says. "The world of Dr. Seuss was very lighthearted with a sense of wildness and fun. We had to work really hard to reflect that sensibility. Doug was the perfect orchestrator for that."
Flaherty and Besterman have worked together on several projects, including Anastasia. Working on a musical for film is very different from working on a theater production, Besterman says.
For a film, animators make basic sketches from the original score, and then the orchestrator works with the musicians to compose the music, from which the animators take their cues for the final action. It's a process that can take much longer, with the music completed several years before the movie is released.
"It's an incredible process," Besterman says. "You work directly with the animators, and they literally animate to what we give them."
The blending of film and music and the introduction of modern technology into musical arranging represents the future when it comes to modern musicals, Flaherty says. And he says Besterman is a star in the field.
"He has an incredible understanding of orchestrators and writers who came before him-the history-but he's also very interested in more cutting-edge techniques, electronics, and different ways to use instruments," Flaherty says. "In the world today, you either find people who are wonderful classicists and know how to write for a string orchestra or people who are involved in more modern technology. It's rare to find someone who understands both. And Doug thinks dramatically, so it's all in one."
Being a part of the Mel Brooks-produced musical required dramatic thinking of a different sort, Besterman says.
Brought into The Producers by director Stroman, Besterman says Brooks had the final say on all aspects of the production. Working with the Hollywood legend was an experience Besterman won't soon forget.
"He was the benevolent dictator, with an emphasis on benevolent," Besterman says. "He surrounds himself with really talented people and pays attention to them. He's particularly good at that."
With The Producers, a show that both skewers and pays loving tribute to decades of musical theater, Besterman's challenge was to accurately represent the comedic music of the '50s, Kelly says.
"Doug totally understood what that sound was," he says. "It sounds as though somebody who's been around for 80 years orchestrated it. It's an amazingly accurate representation."
As Broderick and Lane were receiving their first ovation when The Producers had its initial opening in Chicago, Besterman had already made his exit and was
back in his home office in West Hollywood, California. Orchestrators are usually well out of the spotlight by the time the actors take the stage.
Besterman says he followed the reaction to the production carefully, but even those intimately involved with the musical were surprised that it proved to be as popular as it has been. In addition to its record-breaking Tony haul, The Producers has sold out its shows at the St. James Theatre since opening there last April. Demand last summer was so hot that scalpers were reportedly asking as much as $1,000 a seat.
"The Producers was fantastic," Besterman says. "You hope once in your life to be involved with something that connects with the public in that way. But there's no way to know what it was going to be when we were doing it. We just had a sense that it would be something the audience would really like."
At the Tony Awards last June, as the musical began to win award after award, those who produced The Producers realized just what a phenomenon the show had become, Besterman says.
"We all started to wonder if we'd have to take one for the team, that they'd give the award to someone else," he says. "But winning a Tony is an incredible honor."
Besterman says winning for The Producers was less of a surprise than his first Tony for Fosse, which he co-orchestrated with Ralph Burns, someone he cites as one of the innovators of theater orchestration.
"I was sitting in the audience listening to my name called in a list of people I've been admiring and listening to for 20 years," he says. "If I were a voter, I'd give it to them because they're great and have done so much. It's an incredible feeling just being honored in that company."
"With The Producers, it was certainly a great honor, but by that point we knew how popular it had become. I had a speech prepared for this one."

Jeffrey Marsh is associate editor of Rochester Review.

Maintained by University Public Relations
Please send your comments and suggestions to:
Rochester Review.