State-of-the-art Technology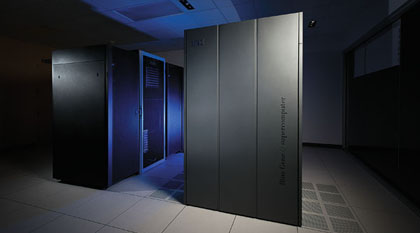 A Blue Gene/Q supercomputer, housed at the Health Sciences Center for Computational Innovation, is capable of more than 200 trillion calculations a second. An Omega 60-beam laser that can deliver up to 40,000,000,000,000 watts of power onto a target less than 1 millimeter in diameter for approximately one-billionth of a second. Tools like these are crucial assets for faculty and student research.
---
The University's 7,500 square foot, controlled access primary data center, completed in 2009 and fully operational the following year, is the hub of the University's computing resources. It underwent $1.6 million in upgrades in just two months in 2012 to prepare for the arrival of the Blue Gene/Q supercomputer.
The Center for Integrated Research Computing provides researchers across the University with hardware, software, training, and support necessary to utilize this computing technology in their research activities.
University of Rochester Inaugurates New Era of Health Care Research August 12, 2012
---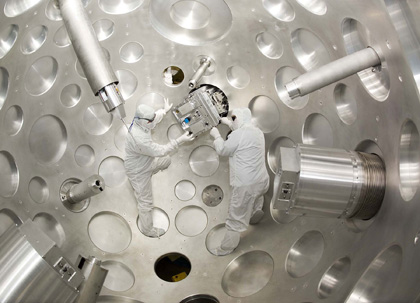 The Laboratory for Laser Energetics (LLE) of the University of Rochester is a unique national resource for research and education in science and technology. LLE was established in 1970 as a center for the investigation of the interaction of intense radiation with matter. The National Nuclear Security Administration funds LLE as part of its Stockpile Stewardship Program. The 60 laser beams of the OMEGA focus up to 40,000 joules of energy onto a target that measures less than 1 millimeter in diameter in approximately one billionth of a second. At LLE scientists continue to research what will one day become a vast source of power using the ocean's ample storehouse of potential energy.
---
The River Campus also offers Core Research Facilities.
---
The Shared Resource Laboratories provide a wide spectrum of innovative, state of the art services and instrumentation run by experienced personnel to all researchers at the University of Rochester School of Medicine and Dentistry.
---
Opened in 2011, URNano offers both internal and external certified users access to nanofabrication instruments in a state of the art clean room and a metrology room. The center is dedicated to offering a unique set of tools for lithography, deposition, etch, and characterization in a concise footprint. Contact: Nick Bigelow, chair, Department of Physics.