New Release! 77 by Guillermo Saccomanno
We're a few days late announcing this here, but Tuesday, February 12th was the official pub date for Guillermo Saccomanno's 77, translated from the Spanish by Andrea G. Labinger. And today, it was featured in Vanity Fair as one of "6 Must-Read Books from Around the World."
Here's the full press release that Anthony put together: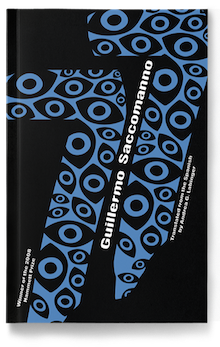 "As his characters grapple with love, allegiance, and daily life under a dictatorship, every action is a form of resistance."
—Foreword Reviews
https://twitter.com/the_littlebot/status/1067886608605696000
https://twitter.com/jaawlfins/status/1095028095118000128
https://twitter.com/markhaber713/status/1068293520375586816
Before his English-language debut, Guillermo Saccomanno said, "It intrigues me to find out how I'll be read in the land of Faulkner." When we published the sprawling noir novel Gesell Dome in 2016, the celebrated Argentine author was, it turned out, read very well indeed.
In addition to the love from Publishers Weekly, who gave Gesell Dome a starred review and placed Saccomanno on their Writers to Watch list, Kirkus called the work "cynical and funny: a yarn worthy of a place alongside Cortazar and Donoso." Globe and Mail declared, "Saccomanno requires no introduction in Argentine literature; for English readers, this is his startling, epic debut."
While
Gesell Dome
shifts between a litany of residents of Villa Gesell, depicted as a type of hellish, tourist-town Yoknapatawpha,
77
is a considerably shorter, punchier novel that focuses in on the particular experience of Gómez, a gay professor living in the bloodiest year of the Videla dictatorship in Buenos Aires. The result is a more personal look, and a moving, increasingly relatable warning against what Saccomanno calls "civilian complicity" in atrocities:
What I wanted to deal with was civilian complicity, because the military dictatorship came about with the complicity of business and labor groups, and political parties—let's not forget it came just before elections were to be held. There is a lot of documentation in Argentina, a lot of testimony, a lot of biography, a lot of work has been done on the dictatorship, but not on civilian complicity. The support of the middle class and small business has never been sufficiently exposed.
With green Ford Falcons hovering ominously on every street corner, and cops beating or imprisoning people with impunity, the residents of Buenos Aires try to go about their normal business:
Even if you were snatched up and taken away, the others didn't change their normal routines: they worked, went through red tape, paid their taxes, fell in love, married, and then hated one another, came and went, talked about the game, reproduced, had kids, educated them, sent them to school, and went on with their lives, their usual lives . . .
Looking the other way eventually becomes an untenable proposition for Gómez. A student gets taken by gunpoint from his class, he finds himself involved with a homophobic cop, and two young dissidents show up seeking refuge at his apartment.
And remember, since Guillermo is our Author of the Month, you can get 30% of either of his books by using SACCOMANNO at checkout.