Edith Bruck: Recounting the Holocaust Until She Can't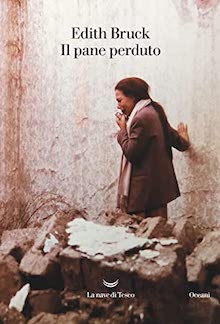 Il Pane Perduto by Edith Bruck (La Nave di Teseo, 2021)
Review by Jeanne Bonner
When Edith Bruck was 12 years old, she was deported to Auschwitz, and was immediately separated from her mother in a brutal scene. In her new memoir, Bruck writes that later, after being yanked away, another prisoner who had been at the camp long enough to become a hated kapo pointed to smoke from the gas chambers and said, "You see that smoke?" When she nodded, he said her mother had been burnt alive, adding, "Your mother has become soap like mine."
More than 75 years later, the Hungarian-born Bruck remains committed to telling the story of the Holocaust. The 89-year-old transnational Italian writer's new book, Il Pane Perduto, is one of five finalists for the Strega award, Italy's highest literary prize, which will be awarded on July 8. For the woman known to some as "Signora Auschwitz," it's of a piece with a long body of literature in which she has likened the experience of surviving the Holocaust to being eternally pregnant with a monster she cannot abort. And she has pledged to bear witness until she can't.
Only a handful of her works have been published in English, most notably Letter to My Mother (New York: Modern Language Association, 2006). Scholar Gabriella Romani, who co-translated that novel, has called Bruck "the most prolific writer of Holocaust narrative in the Italian language," and she's arguably one of the last remaining great Holocaust-era chroniclers in any language.
In Il Pane Perduto (the title means literally "lost bread"; no English translation yet), Bruck can often seem clear-eyed about some of the most horrific moments of her life—and some of the most horrific moments of recent human history. And it's very possible the Italian language can take some credit. After moving to Rome in the 1950s, Bruck began writing in Italian, instead of Hungarian. As scholar Philip Balma noted in his book, Edith Bruck in the Mirror, Bruck adopted the Italian language as a "shield that would allow her to dive back into her painful past without directly reliving the suffering." In an interview in April broadcast from the Villino Corsini Library in Rome, Bruck said, "Language is my country."
Her sober approach to recounting the twentieth century's greatest shame may also stem from the mission she gave herself when she survived: Bruck believes her debt to those who perished—including her parents and a beloved brother—entails bearing witness, until her last day of Earth, if need be. As her friend and peer, Primo Levi, observed in his preface to her book Due Stanze Vuote, Bruck was someone who "escaped in order to narrate" the saga of the Holocaust. Levi, who also survived Auschwitz, called her body of work an "unforgettable testimony."
Bruck expounded upon her mission at length in a 2014 nonfiction book whose title, Signora Auschwitz (which means "Mrs. Auschwitz"), refers to the inadvertent nickname that emerged in her encounters with nervous Italian students who knew little about the Holocaust. In the book (published by Marsilio; no English translation), she writes about struggling to keep up with a grueling schedule of school visits she agreed to make. She ultimately decides to continue, and that resolve makes it unsurprising that she is again in the literary limelight as a finalist for the Strega award, which is an equivalent of the Pulitzer Prize.
What made Bruck keep up her frequent school appearances as a witness is also what makes her work, including the new book that has yet to be translated, essential reading: We still need reminders about the horrors of the Holocaust. The memoir includes a moment when she finds herself briefly at the Bergen Belsen concentration camp, where she is ordered to drag the weak prisoners to the "death tent" where a pile of human skeletons lay (Note: translations are my own). Some detainees managed to say to her, before dying, "Tell what happened. They won't believe us but tell the story, if you survive, for us, too."
While Bruck has written novels and other works of literature that are not related to the Holocaust, she is especially masterful at describing the Shoah. She depicts the act of remembering Auschwitz for survivors as the experience of harboring "a rampaging tenant inside of themselves," one which they cannot "deliver" or evict by talking or writing about it. She knows: in her early career, she thought each time she wrote about the Holocaust in a book, a part of the "monster conceived at Auschwitz" would seep out of her.
That's an incredibly graphic, extreme way to depict survival. In this new work, she uses subtler methods that nonetheless demonstrate the hold Auschwitz (or any concentration camp) has on survivors. In the early years after the war, she writes that she and fellow survivors wandered about, not just dazed but also sick over not belonging anywhere. Something essential had been severed ("spezzato"); the survivors were ill at ease when they were alone with themselves and also while in the company of others. It's not surprising then that in the new memoir she writes that her "true brothers and sisters" are the people she met in the Lager.
Bruck has remained remarkably faithful to her teenage pledge to bear witness. But as she might argue, what choice does she have? In Il Pane Perduto, she writes that when she was finally liberated at age 14, "a sad man" approached her and transcribed her information on a piece of paper, including her birthdate, the concentration camps where she had been confined, and her prisoner number. Then he gave her the document. She still has it—a lifetime membership card she can never discard.
One of the most notable aspects of Bruck's body of work is the innovation she's employed in recounting the Holocaust, often using unusual or unlikely angles to illuminate her personal experiences as a prisoner of the Nazis and the wider travails of European Jews before, during and after the Holocaust. For example, one short story called "Silvia" is narrated by the young son of a high-level Nazi official in Germany who finds a young Jewish stowaway and brings her home to live with him. Bruck manages to evoke sympathy for the boy while fully enunciating every abhorrent nuance of the anti-Semitism that has infected his parents and his society. Similarly, Bruck employs an approach that's almost brutal in its honesty in the book, Signora Auschwitz. What's more, it highlights an aspect of a survivor's life that may be invisible to many (the work of educating the younger generations), while also immortalizing an unforgettable nickname.
The new book is more straightforward, as memoirs often can be because they trace a part of a person's actual life. But that's appropriate at this moment for such a prolific writer. Bruck's new memoir caps off a career of triumphs and adds to a rich body of work. And she really isn't finished. While promoting the memoir this year and participating in myriad events connected with the Strega award season, Bruck found time to publish another book of poetry. Because she's going to tell the story of the Holocaust until she can't.
(The large image associated with this post is copyrighted by the