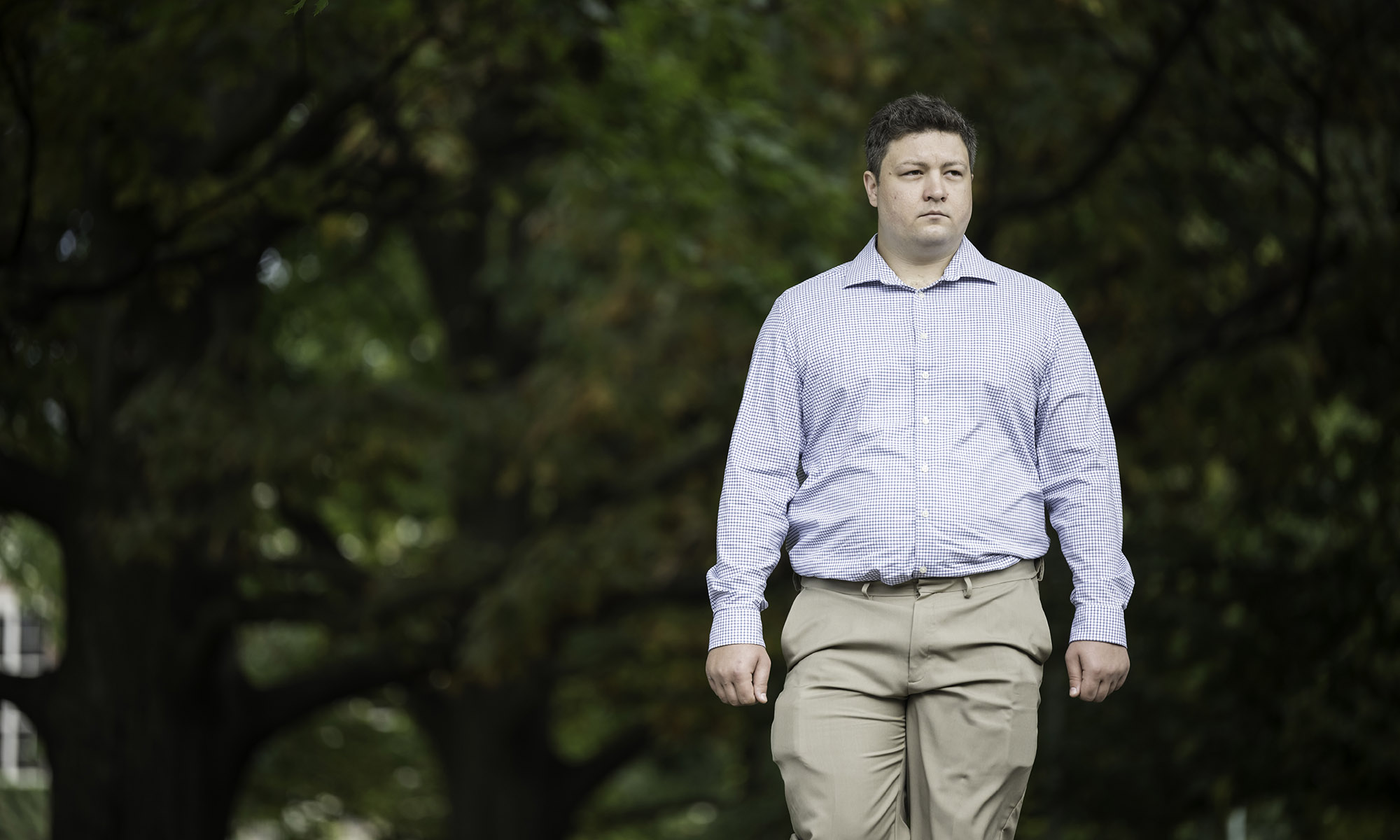 Students like Garrett Boehmer '25 bring "experiences and background that add to our diverse community," says associate director of admissions.
Many times during his service in the US Army, when he was within walking distance of the North Korean border, Garrett Boehmer '25 would wonder, "How did I end up in a place like this?"
He has the same thought these days, but for completely different reasons.
"I can't believe I ended up at the University of Rochester," he says. "I never thought this would be part of my journey."
It's a journey that has taken 12 years and includes four schools and three majors. Boehmer was a fresh high school graduate when he started. Now, he's a 30-year-old husband and father of two daughters.
Non-traditional? You bet.
"There have been so many unexpected events," says the computer science major, who transferred to the University from nearby Monroe Community College last January through Rochester's "2+2" partnership with the college. "But I always knew that someday I would get my college degree."
Vaulting to success, first in athletics
By the end of his sophomore year at Aquinas Institute in Rochester, Boehmer was tired of soccer—a sport he had played since fifth grade. One day, he watched the varsity track team practicing, and the pole vaulters caught his eye. "I thought it was a cool and unique sport," he says. "I wanted to give it a shot."
He made the team, went to summer camps before his junior year, and "became obsessed." The hard work paid off, as Boehmer won two Section V championships and finished eighth at the state meet.
St. John Fisher University in nearby Pittsford was starting a track team, and the coaches recruited Boehmer. He wanted to major in engineering, something Fisher didn't offer, but was eager to join the upstart track team. He decided to major in physics but didn't enjoy it.
He transferred to the State University of New York at Brockport after one year, joined the track team and continued to major in physics. "They told me they didn't have engineering, so I continued with physics because I was familiar with it. And I wasn't really worried about my academics or my major at the time. I was still hyper-focused on pole vaulting."
Weeks before he started at Brockport, Boehmer's childhood friend and fellow Aquinas graduate, Chris Salva, died in an accident. Boehmer was crushed. He managed to get through a year and a half at Brockport, but he felt lost, with no direction. One day, while watching TV, he saw an ad for the Army. "I thought, 'This is what I need. This will give me guidance.'"
And two weeks later, after much haggling with his parents, he enlisted.
Boehmer served more than three years. He started at the US Army post Fort Benning (now Fort Moore) in Columbia, Georgia, moved on to Fort Hood (now Fort Cavazos) in Killeen, Texas. His service time included a nine-month rotation in South Korea. Boehmer was an M1 armor crewman, operating armored equipment to destroy enemy positions and, potentially, defend the US anywhere in the world. He was honorably discharged in June 2017 and says the military made him grow up fast.
"I came out focused and determined," he says. "I still hit bumps in the road, but now I have this mentality of 'I'm going to get through this, I'm going to get through this.' I can adjust, and I can adapt."
Heading back to college
Boehmer enrolled at MCC, and this time he majored in electrical engineering. One day in class, he saw a student named Monica Mandal across the room. Enchanted, Boehmer asked for her number, and they started dating. When Monica became pregnant a year later, Boehmer dropped out of MCC and found a factory job at Harris Corporation, a technology company now called L3Harris. He worked weekends while Monica worked toward her degree in civil engineering at the University at Buffalo. She now works as a design engineer in highways and transportation for Colliers Engineering & Design.
"The whole time she was going to school, I knew my time would come and I would get my degree," Boehmer says.
The two married in January 2019. Their daughter, Vivienne, was born that May. Another daughter, Amelia, was born last August. The family lives in Spencerport, a village 12 miles west of Rochester.
Boehmer returned to MCC, and, after obtaining his associate degree, was admitted to Rochester on the GI Bill for the spring 2023 semester. "An incredible thing," he says. "I never thought I'd get into a school like this."
A commitment to transfers and veterans
Tanya Strachan, associate director of admissions, says the College in Arts, Sciences & Engineering has welcomed an average of 140 transfer students annually over the past five years, about 15 of whom come from MCC.
"The path that transfer students take is not always linear, and we value the experiences and background that add to our diverse community," Strachan says. "We benefit from our transfer partnerships with MCC and work together to support students who aspire to transfer to Rochester."
Rochester's 2+2 partnership with MCC allows students who obtain an associate degree at the junior college guaranteed admission to the University, provided they fulfill certain academic standards. Rochester admissions counselors visit MCC a few times each semester to connect with students and staff and offer advice to students interested in transferring to the University.
Christopher Kumar, chairman of MCC's engineering science and physics department and an academic advisor for the 2+2 program, says Rochester's admissions staff has been "very helpful" in assisting MCC students like Boehmer in their transition to the University.
"MCC has long partnered with the University to provide opportunities for students to have a seamless and easy pathway to achieve higher education," Kumar says. "The relationship between the institutions is vital for our community and prospective student, particularly low-income students."
The University also has a commitment to military veterans. There are nearly 50 veterans enrolled across all University campuses. Of those, 70 percent are beneficiaries of the Yellow Ribbon program, which provides financial support to post-9/11 veterans.
Since Boehmer arrived on campus last January, his presence has proven enriching to those around him, classmates and faculty alike. George Ferguson, a professor of instruction and codirector of the undergraduate program in the Department of Computer Science, says Boehmer has been a model student. "He comes to class prepared for what we're doing, he's not afraid to ask or answer questions," he says. "It speaks to his self-discipline, which makes sense given his background. I'm not sure his commanders would have appreciated his questions, but I know that I do."
Boehmer hopes to find an internship before graduating and then land a job as a software developer. "I just want to make something cool," he says. "Something I can put my name on. I really feel like my life is just getting started."
---
Read more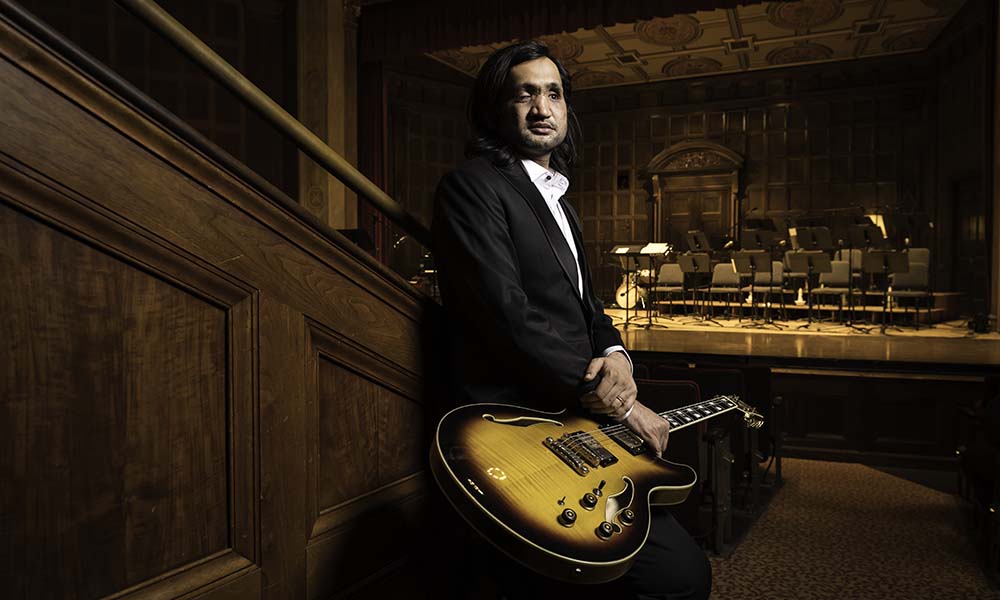 Blinded in an accident, guitar student finds community at Eastman
A jazz guitar student, left blind in an accident, finds support and community at the Eastman School of Music.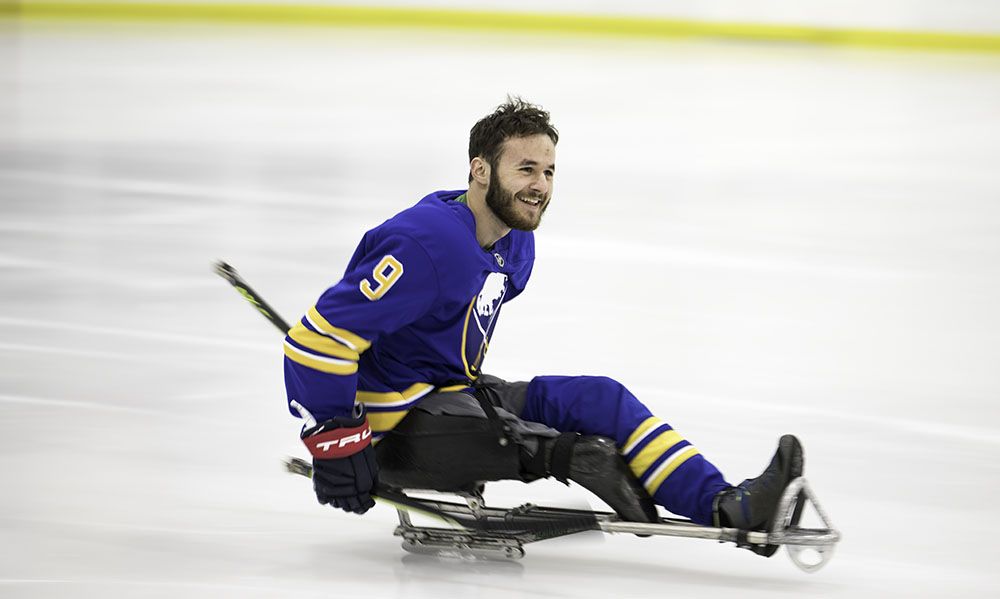 Sam Becker '25 reaches a sled hockey milestone
In earning a spot on the US development team, Becker moves one step closer to his dream of the Paralympic Games.\.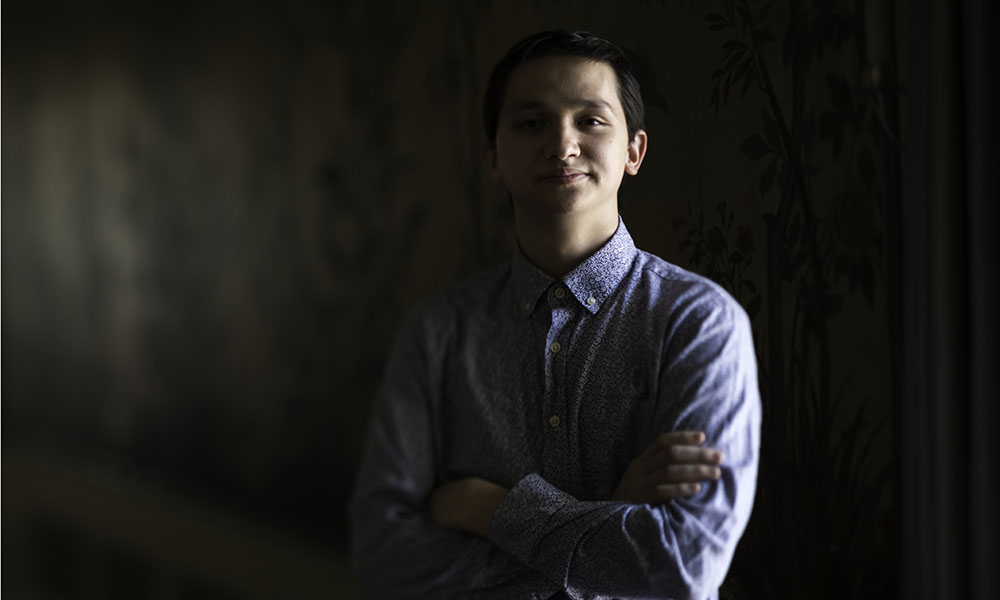 For James Wilson '23E, piano has been the key to life
Stricken with cancer as a teenager, the prodigy used music to heal himself and others.
Category: Campus Life