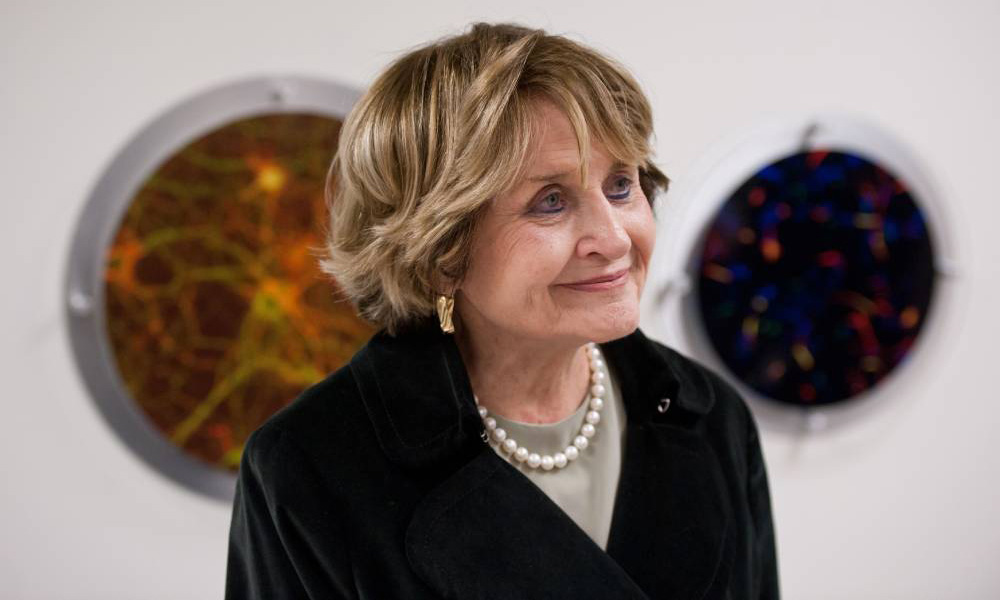 The family of Louise and Bob Slaughter is donating the Honorable Louise Slaughter's official Congressional papers to the University of Rochester. The River Campus Libraries' Department of Rare Books, Special Collections, and Preservation will house, archive, and make available the Louise M. Slaughter Congressional Collection in the coming years.
Slaughter served with distinction as the US representative from the Rochester region from 1987 until her death in 2018. During her 16 terms, she was the only microbiologist in Congress and the first chairwoman of the Rules Committee. Known as a progressive Democrat, Slaughter was highly regarded as a champion for women's rights, higher education, the arts and humanities, federally funded research, economic development, and health care accessibility. At the time of her death, she was dean of New York's congressional delegation.
"Rochester was the heart of Louise's district and she tirelessly represented the people here," said University President Richard Feldman. "Her legacy in Congress, throughout the state, in Rochester, and across this University was profound and will never be forgotten—it is a distinctive honor for the University to curate and steward her collection. I want to thank the Slaughter family for entrusting us with this wonderful opportunity."
"Serving as a member of the United States House of Representatives was the highest privilege and honor of our mother's life, and we are delighted that the University of Rochester will be the steward for the official records, documents and memorabilia associated with her entire Congressional career," said Robin Slaughter Minerva, on behalf of the family. "The results of her leadership will long remain evident in Rochester, and viewing the breadth of this collection will give students, faculty and the public a sense of the enormous scope of our mother's accomplishments," she adds. "This is not just about housing papers and historical records, but it's about preparing and inspiring those who will be our leaders in the years to come by offering an insider's view of history—of Rochester, of New York and of the United States."
The collection will document Slaughter's leadership and steadfast work for the public good, including her sponsorship of landmark legislation and dedication to her constituents. The papers include legislative research, introduced and passed bills, speeches, manuscripts, awards and visual media documenting years of committed service. The collection will also serve as an important tool for scholars, students and the community. It will help them gain a greater understanding of her leadership and cultural movements that took place during Slaughter's 30-year Congressional tenure.
"There's incredible scholarship potential here," says Mary Ann Mavrinac, University vice provost and Andrew H. and Janet Dayton Neilly Dean of University of Rochester Libraries. "Students, faculty, community members, authors, artists, visiting scholars and others across far-ranging areas such as education, political science, public health, and women in government and leadership can draw from her papers to inform their work."
"Congresswoman Slaughter's papers will offer nearly endless opportunities for research, teaching, collaboration, community engagement, and service learning," adds Jessica Lacher-Feldman, assistant dean and Joseph N. Lambert and Harold B. Schleifer Director of Rare Books, Special Collections, and Preservation, who notes that next steps include hiring a project archivist to process the collection and prepare it for public access and use.
The University anticipates creating the following from the collection:
A comprehensive and fully searchable online guide to the collection to promote access and research;
A retrospective exhibition and related programming that will highlight Slaughter's contributions and legacy to our community and nation;
A digital exhibition and online resource that will include audio, video, photographs, documents, and memorabilia.
Throughout her Congressional tenure, Slaughter was an enthusiastic supporter of the University. In acknowledgment of her efforts and leadership, the University presented her its prestigious Presidential Proclamation in 2014, and Eastman Medal in 2009. That same year, Slaughter delivered the undergraduate Commencement address. In March 2019, Slaughter was named to the National Women's Hall of Fame in Seneca Falls and will be formally inducted on Saturday, Sept. 14.
Category: Society & Culture