"The Invented Part" by Rodrigo Fresán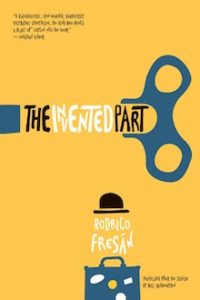 The Invented Part by Rodrigo Fresán
translated from the Spanish by Will Vanderhyden
552 pgs. | pb | 9781940953564 | $18.95
Open Letter Books
Reviewed by Chad W. Post
Given all the Two Month Review posts and everything else, hopefully you'll have heard of Rodrigo Fresán's The Invented Part by now. But in case you haven't, below you'll find the press release that we sent out with copies of the book to all reviewers and booksellers. (If you're a bookseller or reviewer and need a copy, you know where to find me.)
There is a bit of an update as well. In addition to publishing The Invented Part , The Bottom of the Sky , and Mantra , we've just signed on The Dreamed Part the second book in the trilogy, which we'll (hopefully) bring out in 2019.
Remember, if you use 2MONTH at checkout, you can get The Invented Part for 20% off through our website.
"A lively if sometimes-disjointed paean to creativity. Invented, and deeply inventive as well, an exemplary postmodern novel that is both literature and entertainment."—Kirkus Reviews (STARRED REVIEW)
One of the most respected Spanish-language authors of our times, Rodrigo Fresán (Kensington Gardens) has been praised by the likes of John Banville, Jonathan Lethem, Enrique Vila-Matas, and Roberto Bolaño, and his work has earned comparisons to David Foster Wallace, Thomas Pynchon, William Gaddis, and many others.
That might all sound like hyperbole, but won't as soon as you start reading The Invented Part, the first book in a projected trilogy (The Dreamed Part was recently released in Spanish) this novel mixes high concept science-in-fiction ideas with hilariously manic lists, and deep dives into the history of F. Scott Fitzgerald's Tender Is the Night, Kubrick's 2001, The Kinks, and more.
The plot of The Invented Part is simple enough: an aging writer whose books about how writers and writing are no longer the preferred flavor of the literary world wants to change—and extend—his life by breaking into CERN and the Large Hadron Collider so that he can merge with the so-called "god particle" and become a consciousness outside of time, one that can rewrite reality according to his whims.
Although the overarching plot is pretty wild, the book is filled with heart and humanity, with each chapter taking a different stylistic approach to the writer's life and times, opening with a moving story of his near-death experience at a beach while his parents' relationship falls apart, and including a section on the writer's sister's marriage into a wealthy family that is as insufferable as it is bizarre, resulting in her own madness. There's also an anxiety-ridden section with the writer in the ER, panicked that he's having a heart attack, which triggers a tidal wave of story ideas that he hopes to be able to one day write. (If only he can merge with the god particle!)
There are also incredible sections—half historical, half invented—about Scott and Zelda Fitzgerald and Gerald and Sara Murphy, about William Burroughs, about 2001: A Space Odyssey, all of which add to the underlying exploration of the relationship between great art and the artists that give rise to it.
For all of its inventiveness and depth, The Invented Part is also an incredibly readable book. Fresán is an irrepressible and consummate stylist whose writing is imbued with great intelligence and insight, pop culture references and literary hijinks, unforgettable characters and mind-bending ideas. It's a testament to the power and expanse of fiction, and reaffirms Fresán as one of the greatest novelists of our time. Overall, it's a joy to immerse yourself in, and, like the best of authors, will leave you craving more.
Which is good, since Open Letter has already signed on two more Fresán titles, The Bottom of the Sky (May 2018) and Mantra (TBD), with plans to complete the "Parts" trilogy as well. The manuscript of The Bottom of the Sky is available for interested reviewers, and Fresán is available for interviews both in English (by phone) and Spanish (written).
Also worth noting that translator Will Vanderhyden—whose other translations include Carlos Labbé's Loquela and Navidad & Matanza—received an NEA Translation Fellowship and a Lannan Fellowship for his work on this book. He too is available for interviews or to answer any questions about Fresán's other books.