9 Comp Authors for Dag Solstad, Or, How I Learned to Stop Worrying and Embrace the Listicle
So much has happened over the past two weeks! Given all that I want to say about Dag Solstad's books and the people who review them, I'm going to rush through a few general comments about recent publishing events.
First off: the New York Rights Fair and BookExpo. This year marked the first ever NYRF and the "newly reimagined" BookExpo, which, to be honest, seemed pretty much like the old BookExpos but with more stages and fewer exhibitors? I didn't spend all that much time there, but I'm sure Tom and I will be breaking this down on the next Three Percent Podcast (while carefully discussing some shady shit that a publisher is trying to pull with regard to paying a colleague for a translation, and I do mean carefully, since they've already threatened me for writing a "defamatory tweet," which is funny, since Twitter circa 2018 is like 150% "defamation" [read: catty pot-shots] and then a bunch of dumb Trump tweets), so I'll just say that I was able to get signed galleys of Jonathan Lethem's The Feral Detective and Sarah Weinman's The Real Lolita–the two titles that I am most excited to read this summer, once my summer actually starts.
In terms of the NYRF, the main concern was with how few American editors came to the fair itself. In ways typical of the semi-arrogant New York literary scene, most all of the editors forced the visiting rights agents to come visit them in their offices. Which, cool. Fine. Some agents like seeing where the editors work. But there's something about this power dynamic which bugs me. And makes me think that if the foreign editors also attended the NYRF, then their American counterparts would actually step out of their anonymous glass buildings. As long as there's a chance that they could be pitching their books, then it's worthwhile. Similar to what I said about BookExpo (which I hope changes its name again next year into something way more rad, like BOOK EXPO-LOSION or BOOKSELLERS PARADISE or maybe–god help us–something that didn't mention the word book, since there were just as many coffee mugs, reading glasses, and other sideline trinkets on display as there were books), the situation with getting big publishers to pay attention to international literature is the same as it ever was.
* * *
The most important thing–to me, anyway–was that The Invented Part by Rodrigo Fresán, and translated by Will Vanderhyden, won the Best Translated Book Award! That's two in a row for Open Letter, which is really gratifying. We spent a decade as a bridesmaid, which can get a bit tiresome. Not that I disagreed with all the books that have won over the years–the BTBA jury is nothing if not committed to promoting the "best" regardless of commercial buzz and shit–but sometimes you just want to come in first.
And big shout out to Ugly Duckling and Karen Emmerich for winning the poetry side of things for Before Lyricism by Eleni Vakalo. Such a deserving book, press, translator, and author.
Since the book I'm writing about next is one that I think should be a finalist for the 2019 BTBA, I'm going to hold off on all my predictions and statistically-influenced guesses until my next post, which should be up later this week.
* * *
Finally, the main reason this post is so late is that I spent the week in Vermont at Translation Loaf (AKA Translation Bread Loaf, AKA Bread Loaf Translators' Conference, AKA Translator Summer Camp). It's always a joy to go up there and hear lectures from the best of the best–I got to hear Bill Johnston talk about the Polish epic he translated that comes out this fall, and hear Sora Kim-Russell talk about ambiguity in Korean and queer Korean books–and got to meet so many earnestly enthusiastic translators. I feel like BEA (AKA ABA, AKA BookExpo) used to give me a true rush, but as I've aged, as BEA has evolved, and the translation scene has come into its own, I'm finding that a week Loafing is much better for my mental state. If you have the chance to go, I HIGHLY recommend it. It's not cheap, but it's 100% worth it.
* * *
Enough! Let's get to the Solstad. Although Solstad has written around 100 books (actually, 30) over the past 112 years (he's 76), only a few of his titles have made their way into English. Graywolf did Shyness & Dignity a few years back, and Harvill did Novel 11, Book 18 and Professor Andersen's Night. That's not much for an author who Lit Hub proclaimed as "Norway's Greatest Living Writer." (Always with the hyperbole!)
New Directions is trying to rectify that. This month they brought out two Solstads: T Singer and Armand V.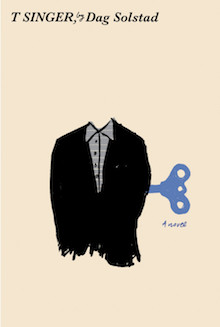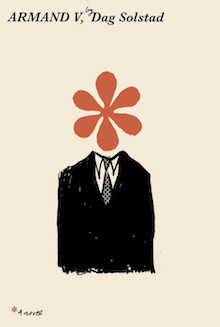 It's going to be really interesting seeing how well these books end up doing. On the one hand, everything is set up for these to truly break through. Everyone and their brother will be reviewing them, including an inevitable James Wood piece in which he talks about how Solstad is the Norwegian Henry Green. The covers are excellent. The blurbs are on point–Karl Ove Knausgaard, Haruki Murakami (?!), Geoff Dyer, Per Petterson, Lydia Davis–and booksellers seem to be responding well. Also, Norwegian fiction is having a bit of a moment right now thanks to the imminent release of the aforementioned Knausgaard's gargantuan sixth volume of My Struggle. Not to mention, New Directions has had a lot of success breaking highly literary authors, such as Sebald, Marías, Aira, Lispector . . .
At the same time, Solstad is a writer's writer. T Singer, the better of these two books by a Texas mile, is so existentially bleak that it made me anxious for days after finishing. It's a meticulous book that reminds me of Javier Marías in the way it meanders and gets into the heads of the characters, taking one step back for every couple forward, clearly more invested in the aleatory and incidental rather than the essential and plot-relevant. In some ways, the real engine driving this novel is the desire to find out if anything eventful ever happens to T Singer. Spoiler: It doesn't. Life is life, not some Lifetime movie.
That's dark shit! Does the American public want to read a book with this sort of existential dread? I hope so! But I also want the American public to want books that are more complicated than Netflix. Which is probably asking a lot.
I do appreciate Solstad's dedication to trying something new with each of his books. More or less. Or at least with Armand V. Told through a series of footnotes to a non-existent novel, Armand V comes off as being more innovative than it really is. In the end, it's just another Solstad novel with random numbers inserted along the way. Since he never really embraces the conceit–none of these read like actual footnotes, and the mediations about what parts of the story about Armand V exist "above" in the "real," yet unwritten text, versus those down below are a bit overblown and about as philosophically interesting as NPR.
All that aside, one thing that is incredibly impressive about Solstad is how strong his style is. There's a distinct voice that inhabits these two books (and the earlier ones), which is more rare than it should be–especially for works in translation. It's so distinctive in tone and general vibe that these books almost run together, or could be slipped inside of one another without much notice.
What do I mean? Here are four quotes from the four Solstads I have at hand. I'm not even going to name which books they're from because who cares, that's kind of the point.
Yes, he knew Oslo like the inside of his own pants pocket, so to speak. That was an expression a lot of people used back then, in the sixties, and he didn't know why, because what in the world did it mean to know your own pants pocket? Could it be that it was intimately associated with the concept of "pocket tennis," which was also used a lot in those days, so that one expresion has no meaning without being associated with the other? Because young men never had much in their pockets. Usually no more than the keys to their own rented room and a handkerchief. They kept their wallet in a back pocket, which is not the same as a pants pocket, since there are two pockets in front and that is where they would stick their hands, and then they might have occasion to play pocket tennis, as it was then called, as a sort of distraction. So, he knew Oslo like the proximity of his own dick in a game of distraction.

*

The only thing he regretted about this break was that he had not told his wife exactly how things were. Otherwise he accepted that everything had turned out as it did. He still recognized, eighteen years afterwards, that he had done the right thing in abandoning an unsuspecting wife and his small child sleeping in an adjacent room. In order to look for the woman who represented adventure to him, even though he knew that the adventure was now over by the very fact that he was cutting loose from his marriage to follow Turid Lammers. He had no hopes of recovering what had been, but he wanted to preserve the memory of it, of her, that is, to breathe in the same room as her. He could not let her down. He had discovered in this deliberate infidelity an intensity and a suspense that he could usually only observe with fascination, but without fully understanding, in art and literature.

*

Had his colleagues observed the scene? The mere thought made him so rigid. For a moment he stood completely still. Good God, he exclaimed aloud, it can not be true! But it could be true. He knew from experience that teachers sitting convivially in the teachers' lounge were extremely alert to any impropriety taking place in the school yard, for even if they did not watch but sat and talked among themselves, they listened all the time, and if suddenly there was total silence out there instead of the steady buzz and occasional shrill voices calling, not the usual thing, laughter and such, but absolute silence, at least one of them would get up and walk over to the window to see what it could be, and then one more would come, and then a third, until the entire faculty were posted at the windows, stating out at the school yard, and there they had seen . . . No, no, he interrupted himself, there is no point even thinking about it. It's the end.

*

The reason he let things go so late was because he didn't want to bind himself financially, meaning take on student loans. He knew that he, with his peculiar attitude toward life, shouldn't take on that sort of obligation to the nation, because then he would lose his independence. Besides, there was no specific goal for his studies, and that's something you need if you are going to enter into a financially binding contract with the nation itself.
See? There's a sort of "Solstadian" sentence or voice. It's distinctive, with variations, and feels comfortably literary. But literary like who? I mentioned Henry Green above, but that's nonsense. Green tried a lot more with his prose than Solstad does. Green would use various sorts of constraints and structural ideas to allow his writing to embody a variety of forms. Solstad is always just Solstad. Maybe.
To try and get a handle on Solstad's voice and style, I went through all the reviews I could find of his works and found the nine authors who critics have compared him to. So, in keeping with the greatest literary websites this side of 2017, I've decided to make a list of all these comparative authors to Solstad.
1) Thomas Bernhard
The Solstadian long sentence feeds back into itself, meandering with the aimless inevitability of a river heading towards the sea. Thomas Bernhard would seem to be an influence, but instead of the pent mania that animates the narrators of Extinction or Concrete Solstad lulls the reader with a wanly insistent gentleness. Bernhard has us in stitches. Solstad's humour is the opposite of hysterical. This is what laughter might feel like in a language lacking the word for it – not because nothing is funny but because everything is.

–Geoff Dyer, The Guardian

*

Solstad writes in long, probing, repetitive sentences (clearly influenced by Thomas Bernhard, but lacking the extremity of the Austrian writer) that tend to circle obsessively around a character's personal anxieties and tribulations.

–James Wood, New Yorker

*

1990s: Minimalism, Thomas Bernhard-styled misanthropy.

–Ane Farsethas, Lit Hub
It's interesting that Wood and Dyer cite Bernhard for the length and meander of the Solstad sentence, skewing away from Bernhard's rage and woof, whereas the Lit Hub piece claims that the books Solstad wrote in the 1990s (including Shyness & Dignity and T Singer) were similar in terms of their intent and philosophical thrust.
2) Knut Hamsun
Knut Hamsun remains the king of Nordic gloom, but Solstad gives him a run for the money in a story at once traditional and postmodern.

*

The teacher's ruminations vividly bring to mind the savage introspection of that earlier master of ennui in Oslo, Knut Hamsun.

–Boyd Tonkin, The Independent

*

It has all been said before, and said better, by Elias's heroes; Knut Hamsun, for instance.

–Kate Chisholm, Telegraph
Bit easy and on-the-nose, but sure, Knut Hamsun, Nobel Prize-winner and Nazi, who also wrote about 4,000 novels (only 20!), all different yet similar.
3) Philip Roth, because why not
In terms of stature and influence Philip Roth would be the obvious American comparison. Like Roth, Solstad found his voice with his debut book, Spirals, in 1965. And as with Roth, Solstad's male protagonists can be understood as variations of the same basic personality type (David Foster Wallace would probably have ranked him with Roth as a GMN—Great Male Narcissist).

–Ane Farsethas, Lit Hub
And today's readers would probably rank DFW with both of them as a GMN whose troubled young men inspire incels to be all fucked up and hate Chads.
4) Witold Gombrowicz
1960s: Existentialism. Solstad's breakthrough novel examines freedom and tyranny, and is inspired by Polish writer Witold Gombrowicz.

–Ane Farsethas, Lit Hub
The more I quote it, the less interesting this Lit Hub essay actually seems. It's like a collection of major twentieth-century trends tenuously tied to authors who some people have heard of. Cool.
5 & 6) Don DeLillo and Toni Morrison
(In Norway, Solstad is as celebrated as, say, Don DeLillo or Toni Morrison in this country.)

–James Wood, New Yorker
Sure?
7) Pale Fire era Nabokov
The Pale Fire comparison is apparent, but this novel, written in 2006, is more digestible.
Also, this novel–Armand V–isn't even in the same stadium of quality as Pale Fire. Not at all. Not as inventive, as well crafted, as interesting, or as likely to be read 100 years from now. But whatever! Listicles are not places for thoughtful comment! Let the random Google searches drive the article! Stop thinking!
8 & 9) Jean-Philippe Toussaint and Alberto Moravia
Completely modern, yet with a kind of classical poise ('it's new old-fashioned elegance', as Karl Ove Knausgaard has put it), his books are funny and serious in the great European tradition. Knut Hamsun is the inevitable touchstone, but off-beat names like Jean-Philippe Toussaint, Witold Gombrowicz and Alberto Moravia are also inviting comparisons.

–Sam Riviere, The White Review
Weirdly, of all of these, the one that rings the most true to me is the Toussaint. Even though I think he went off rails about seven books ago, he's a gamer and keeps churning out unique little novellas that are quite distinctive in terms of their voice. So, sure, I'll buy that one. Much more than Moravia, but whatevs, you know?
* * *
In case you missed it, this list was brought to you by dead or dying white European men. Toni Morrison is the only female any of these critics name-checked, and although DeLillio and Roth are definitely American authors, their place in the pantheon of literary greats grants them honorary Great European Writer status. Given how poorly so many of these authors sell–when was the last time you read a Hamsun book?–I'm not sure all the Great White Love will really make Solstad a household name, but it's undeniable that all of these reviewers want to elevate him into the modern canon, which means classroom adoptions and a lot of people reading his books to make sure they can small talk the shit out of it at the next Paris Review party. (Bad joke! Now that Lorin Stein is gone, these probably won't be so stiffy and pretentious.)
* * *
Speaking of the death of reading, I came to the realization last night that Apple has done far, far more to destroy reading than Amazon could ever dream of. Sure, Amazon undercuts community bookstores and turned reading into some weird gamified price-chopper world of cut-rate ebooks and algorithmic hell, but at least reading is still part of it all. Apple gave us the iPhone, the object that makes it so easy not to read a book! Why waste time with a novel when you can watch Netflix on your pocket device while you shit? Contemplating life's great mysteries is so lame compared to firing off a spicy Tweet while stopped at a red light. 99% of everyone has crushed more candies than books they'll ever read.
I can't remember where I heard this, but someone on some podcast–that I listened to late at night, instead of talking to friends or cherishing my family, because disembodied voices exist in my iPhone ready to entertain me whenever I want–pointed out how so many movies are set in 2004-2005. After America 9/11 (compared to Chile 9/11) and before the time when all we did was look at our phones. That's wild. And true. Writing a book about 2018 has to incorporate the very device that makes novels obsolete.
I've seen my kids watch YouTube on one device while playing a game on another. I may have done this myself. If you took every hour that my kids wasted on their phones and converted it into reading (and buying) books, the whole fucking industry would be undergoing a Golden Age. Apply that broadly.
Instead of railing against Amazon's business practices of getting everyone they can books (and other goods) at as low as prices as possible, indie booksellers should blast away at the devices that make reading the ninth or two-hundredth best way to entertain yourself.
End Old Man Rant. For now.
3 responses to "9 Comp Authors for Dag Solstad, Or, How I Learned to Stop Worrying and Embrace the Listicle"