9 Books Likely to Win the 2019 Best Translated Book Award
I'm just back from a poetry reading that's part of Rochester's The Ladder literary conference . . . actually, it was a poetry reading PLUS short stories (which are the poetry of novel writing), which is neither here nor there, except that a few of us played a sort of drinking game? Actually, we just straight up played a drinking game with no question marks. Give a preface for your short story or poem as to where it came from? DRINK. Include a pop culture reference? DRINK. Did the crowd do a "hhhmmm-ahh" reaction when the poem epiphanied? DRINK TWICE. 
Point being: Tony Leuzzi, Chen Chen, and especially Brian Wood, killed my damn liver. (Lie! My liver dies every October when the Cardinals fail in the postseason. Whelp, Matheny still can't manage the bullpen. AT LEAST THERE'S WHISKEY.)
Given that, it's a perfect time to listiclize and write about Wait, Blink. Let's start with the latter before this poetry-induced brain coma really sets itself in.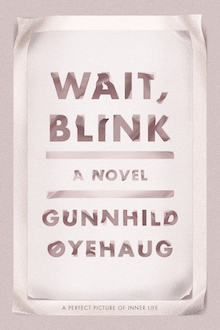 First, let's repeat the refrain of all these 2018 Translation posts: I could try and write out a thoughtful, legit review of this book (like what I did on Lost Empress over at Quarterly Conversation), but who cares? You'll find that somewhere else. And my insights don't really rate compared to the more nuanced reviews that will be written by more sophisticated, smarter people.
So here's a list of observations!
I like this book! I devoured it because I'm a sucker for novels that are both structurally interesting and contain some romance. The book tells the story of eight (or so) (sometimes) interrelated characters, skipping from one to another, building in both plot and theme. The main story is between a young woman trying (and failing) to write an article about how females are always wearing oversized men's shirts when they're presented as vulnerable in films (see: Lost in Translation) who has a whirlwind (failed) relationship with an author she happens, coincidentally, to meet right after fetishizing the author photo on the back of his book that she buys because he's cute.
There's definitely a series of statements to be made about human connections and internal life in relation to this book. And art. It's all set up as paired relationships that haven't quite worked out. For instance, running parallel to the story of the writer and the young woman mentioned above is a storyline of a fairly serious young man who reunites with a young woman who's been in love with him since they first met at his grandmother's funeral a decade earlier. There's also a filmmaker trying to recreate a Before Sunrise/Before Sunset situation with a professor she once hooked up with. And there's a performance artist raising a daughter alone dealing with the distance created between the two of them when her daughter stops breastfeeding. Time passes. Relationships drift. But there are moments.
The pop culture references in this book are all the fuck over the place. The main one? P. J. Harvey. I'm not even kidding. What is happening in Norway that so many characters are affected by P. J. Harvey? Who, I should point out in case you're not familiar with 120 Minutes and Rid of Me, totally rocks. But, really, P. J. Harvey? Cool ref, I guess? Especially for the 40+ set.
I wonder what would happen if you submitted this book to reviewers and readers under two different names–one that's clearly male, like Olaf, and one that's clearly female, like Sophia. My cynical prediction? They'd praise the "male version" for its "innovative structure" and dedication to artistic representation; they'd praise the "female version" for the "emotional content" and "intense honesty." If I'm right, that's so depressing and puts literary criticism in a box with, like, Fox News; if I'm wrong, then the kids are alright.
I'm a dipshit and can never remember Gunnhild Øyehaug's name. This is weird. Every aspect of my life involves foreign names and international books. Gunnhild Øyehaug. Not sure how to pronounce "Ø," which might be screwing up my memory? It's sad, but I guess I'm having that problem that some readers have where they "can't pronounce the author/character/place names," except that the readers I have in mind all see this as some huge impediment. But you know what? IT DIDN'T MATTER AT ALL THAT I CAN'T PRONOUNCE THE AUTHOR'S NAME. I LOVED THIS BOOK AND NEVER KNEW WHO WROTE IT. This really does seem to be limited to reading. I mean, if "strange" names caused people to not watch certain shows then Game of Thrones wouldn't be a thing.
I don't think I understand the subtitle. "A Perfect Picture of Inner Life." There's something so twee about that. Perfect? Cool, ok, sure, perfection. "Picture" seems much more cinematic and sort of contrasts with "inner life" for me. I don't know. It's fine. A lot of people will likely accept and/or embrace this. It just seems a bit lame to me. Wait, Blink (which appears in the text as one point as a reference to a cursor–a CURSOR!–on a computer screen) is excellent. Don't sully that. Also, in case you think I'm a moron and didn't realize when this book was taking place, what with its references to cursors, P. J. Harvey, Lost in Translation, Before Sunrise and such, page one states that it's January 2008. Before iPhones (remember the observation in the last post?) and before Let England Shake, which, in 2011, marked P. J.'s momentary comeback.
*
One of my favorite Sam Miller observations is that every fun fact hides a lie. This frequently involves the length of time mentioned ("XXX has home runs in 5 of his last 7 games" means that he's had homers in 5 of the last 8 as well, or maybe even 5 dongers in the past 9, 10, 20 games), or by adding on a number of variables ("the XXX are 12-0 in one-run games that take place on Monday" is pretty meaningless).
In a way, listicles function similarly. Why produce a list of the "14 Best Works of Estonian Literature" or the "7 Books to Read Before Your First Kombucha Experience"? Are these numerical limitations based on any rationale, or dictated by your Google results? I assume that all the added criteria ("40 Best Villains Found in Novels Written by Women") are just to help you refine that search until it's manageable for copying and pasting.
Which is all a preface to my list of 9 books likely to win the 2019 Best Translated Book Awards. Why 9? Because people love odd numbers. And because I can't think of 10 contenders. Actually, I don't think that there are even 4 legit contenders that I've read so far this year. I've read dozens of translations eligible for next year's award, but so far, I've liked a number of books, but haven't really been blown away. But these 9 titles all seem likely to be longlisted, maybe shortlisted, and possibly the winner.
I'm also including totally unscientific, messy, ridiculous odds as a nod to recent Supreme Court decision allowing any and all states to have sports gambling. I cannot wait until I can go to a Rochester Red Wings game and place a bet on who's going to win the 7th inning Garbage Plate race–hot dog, mac salad, beans, salad, fries, or meat sauce. (SPOILER: It's always meat sauce.)
And in case it isn't abundantly clear, this is just for fun. I have no inside knowledge at all. In fact, the BTBA jury hasn't even been decided upon. (Contact P. T. Smith if you're a bookseller or translator or learned reader who wants to be on next year's jury.)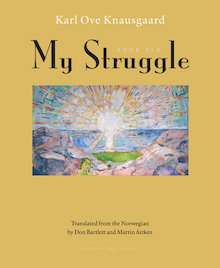 1) My Struggle: Book Six by Karl Øve Knausgaard (2-to-1 odds)
I don't want this to win. Not because I don't like Knausgaard–I'm an apologist of sorts, and fall in between the Tom Roberges of the world ("who cares?") and the James Woods ("most interesting author of the century," which, is not even close to an accurate quote). I do enjoy the glacial shifts that take place in this book, and I don't necessarily mind wasting approximately 4,000 hours reading a semi-asshole's inner thoughts. (I mean, c'mon. I spend about that long every week in my own asshole mind writing these gargantuan posts.)
The reason I don't want this to win is because Archipelago doesn't earn nearly enough from the sales of My Struggle. It's not my place to speak about this in detail, but from what I know, the contracts they have–with Penguin Random House UK for the book itself and FSG for the paperback–are very favorable to PRHUK (who's on my list for not paying us yet for their edition of Death in Spring, and initially offered us something like $200 and the honor of having one of our books picked up by PRH) and FSG (apropos of nothing: can we please stop pushing Gerald Murnane as anything other than a writer's writer for middle-aged white literati?). If this wins the BTBA, Archipelago gets fuck all. The prize goes to Knausgaard (who probably doesn't need it), and to Don Barrett and Martin Aitken (who probably do, and totally deserve it). And by the time the award is announced, FSG will be primed to cash in with their paperback edition. Sure, there might be a slight uptick for Archipelago, but they deserve so much more. That's your economic reality. A small example of how the world tilts.
I forgot the first rule of listicle writing: NO OPINIONS IN LISTICLES.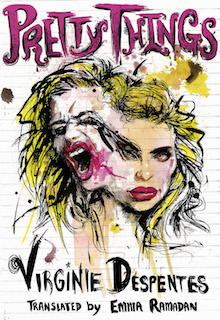 2) Pretty Things by Virginie Despentes (10-to-1 odds)
Emma Ramadan + Virginie Despentes + Feminist Press. This should be the frontrunner, but then again, people should be reading Kathy Acker.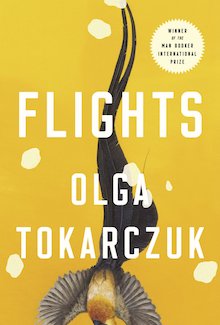 3) Flights by Olga Tokarczuk (12-to-1 odds)
The thing about having being outspoken and overly honest: People claim they want this, but they most definitely do not. There's a direct correlation between being opinionated and being friendless. Especially if these opinions are unpopular or nuanced. Even in the literary world, which is supposedly smart and logical and thoughtful and inclusive of a wide range of dissenting ideas, having your own take is not a great thing. The best way to suceed in the book world is to be a "hype man."
This book. I loved this book back in 2008. I wanted to publish it. But now . . . well, after reading the whole thing, my enthusiasm has been tempered. Not to take away from Jennifer Croft's translation. She's amazingly talented and deserves every dime of the Man Booker money, but the book itself is only OK. (Very unpopular opinion!)
The three stages of my hot take:
The first 150 pages are wonderful! So smart and compelling!
Pages 150-300 are second-rate Dubravka Ugresic.
Pages 300-450 are "What is all of this even for?"
None of this really matters given the hype surrounding this book already. Given the players involved (Jennifer really is spectacular, and Olga is an incredibly interesting person and writer) and early praise, I'd be willing to bet actual money that this makes the BTBA AND National Book Award shortlists.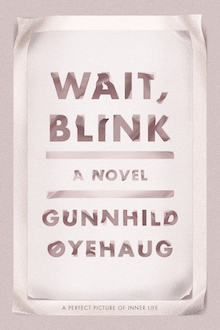 4) Wait, Blink by Gunnhild Øyehaug (25-to-1 odds)
See above.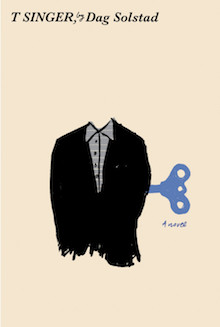 5) T Singer by Dad Solstad (50-to-1 odds)
[Still waiting on that new James Wood review to quote from. But I'm sure it's coming, and will likely provide that little bit of star-power necessary to make sensitive readers feel like they're missing out if they haven't read Solstad. That low-level anxiety is a key to breaking an author out.]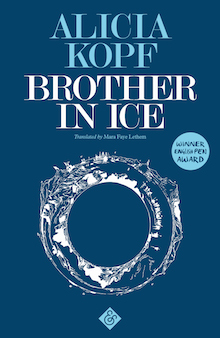 6) Brother in Ice by Alicia Kopf (100-to-1 odds)
Reading it now, and it's fine! This is like Flights with more autism. I'll write more about it next week, but given how this is being published everywhere this year, it's pretty much a guaranteed shortlist title. And thus has a chance to win!
7 & 8 & 9) The Endless Summer by Madame Nielsen, The Bottom of the Sky by Rodrigo Fresán, and Fox by Dubravka Ugresic
Don't want to make it weird by including Open Letter books here, but it's been proven–two years in a row–that if you read our books, they're as good as (or better than) the books receiving all the hype and showing up on all the "cool" lists. Stay strong, P. J. Harvey fans. Stay strong.
3 responses to "9 Books Likely to Win the 2019 Best Translated Book Award"