9 x 9 x 9: Everything Comes to an End
The other day I saw someone on Twitter asking haters of "best of" lists what changes they would institute to make these things more palatable.
I thought about this for longer than I'd like to admit because a) circa-2001, I used to love year-end recaps. This was the era of "Best Week Ever" and other clip shows that were rooted in a sense of immediate nostalgia. Year-end shows counting down the "10 Best Celebrity Fights of 2001" or "15 News Stories that Dominated 2003" were effective at manipulating a lot of viewers and readers. It's not like the "best of" list came into existence in 1999, but with Y2K and 9/11 and G. W. Bush (the last worst president) and an increasing sense of imminent doom . . . there was something appealing about looking back on the last few moments and appreciating something.  IT COULD ALL END TOMORROW SO ENJOY YESTERDAY.
B) I'm a hater! We all know that this whole series of posts has been an extended hater's guide to literary life in 2018, so this isn't a surprise, but the Buzzfeedification of "lists" really wrecked the sweet nostalgia that existed back in the day. (Only olds say "back in the day.") When new lists are a daily constant, their general appeal diminishes precipitously. Add to that the idea that a decent number of people are employed to cut up culture into smaller and smaller fragments—"17 Books by Michiganders Now Living in Iowa Who Were Born In the Reagan Era!"—and, well, who cares.
This is all banal and just a reordering of 95% of the shit I've already written. But before I create my own ridiculous list (what did you expect? If you've read any of these, you know how things work), I want to go straight at the "best of 2018" lists.
These are fun to put together! They're more fun if your book (as writer, translator, publisher, or designer) are included!
But "Best Of"? Really?
Let's just throw some serious statistical shade—the final negativity of 2018 before a more loving 2019?—before moving on to the jokey, fun portion of this post.
How many works of fiction were published in 2018? Approximately 50,000 not counting the 500,000+ self-published works of "art." (So much shade! Just getting it all out . . .) Now, for any one of the "Best Books of 2018" lists—New York Times, Washington Post, Time, The New Yorker—how many books do you think the people passing this "best of" judgement really evaluated?
Let me tell an honest story about how the sausage gets made that is neither flattering, nor anything that I should publicly share. (I suppose this is a test to see a) how controversial this story really is and b) how many people read more than just the headline.)
Last winter I was one of the judges for the PEN America (aka PEN West? PEN LA? The Hollywood PEN? The one that's now simply part of PEN?) Translation Prize. There were about 13 titles that us three judges had to review. We used a Google Sheet to share our impressions. Our mandate was to read at least 20-30 pages of each book and then decide if it was a "No Way," a "maybe," or a "YES!!!!" for the shortlist.
Here's the truly unknown part: We were charged with picking a winner by the end of March. Given that Aleksandrs was due to be born around March 1, I sort of, kind of, misread the deadline and implored everyone to pick a winner before the end of February. Just a month or so after we received our big box of books.
So, OK, I know that this award is not as prestigious as the PEN Central (PEN NYC? PEN World? I should Google this, but we live in a post-fact world, and c'mon, are you really going to fact-check my rambles? SPOILER ALERT: I'm almost always wrong) Translation Award, or the National Book Award for Translation, but I'm 99.9% convinced that the same stressors and personal reactions hold true no matter what you're judging.
You know what the best Google Sheets entry is in this situation? "Read 20 pages and No Fucking Way." Not to go all prisoner's dilemma on the state of award judging, but there's much more utility in telling everyone they don't need to pay attention to a book.
Obviously, this is less than ideal. How many books can you think of that require more than 20 pages to fully appreciate their complexity and depth? Fox and like, a hundred thousand others?
(Not to digress, but this is the same danger that comes from selecting books to publish based on 20-page samples. I know this is about to become a trope of mine, but isn't 20 pages of a 300-page book a small sample?)
Let's get specific and catty (again, it's the last of the shade, so cut me a bit of slack) but how exactly did The Perfect Nanny by Leila Slimani end up on four best-of lists and ZERO translation prize longlists?
Yeah, yeah, I ripped on this book back at the beginning of the year, and yes, yes, I know it's not meant to be an advancement of literary style or a book that anyone will give shits about one hundred years from now—it's fun! (And filled with murdered children. True Crime is the Crack of 2018.) But when you put it on a "best of" list, when it's clearly not even one of the ten best translations of the past year, you're signaling something.
And rather than be cynical, I'll be pragmatic (this is what I call "emotional growth"): as many books as a professional reviewer might receive in a year, I wonder how many they truly read. Let's say they read 150 of the 50,000 novels published last year, and read 20 pages of 450 more. Under those circumstances, they've summarily dismissed 0.9% of published novels, and read 0.3%. That's a grand total of 1.2% of the novels published in the past year that the professional book reviewer has evaluated. Even if you dismiss 75% of all published novels as "garbage," they would have looked at 600 of 12,500 books—4.8%. This is not impressive.
So how did The Perfect Nanny end up on these lists? To be pragmatically cynical: Because it was one of the few books the list-makers had read, and one of the only translations.
Of the thirteen books that I judged for the PEN award, I only read five in full. I'm still willing to put 100% of my reputation behind our selection (Chasing the King of Hearts over Flights), but I also am more than willing to acknowledge that there may well be a gem in the other eight titles that I dismissed because the opening was ass, the cover was uncomfortable on my eyes, or some other minor annoyance at the time that clouded my objectivity.
"Best" is a term that reinforces the patriarchy and the idea of diametrically opposed, either/or terms—"best vs. worst" or "good vs. bad" or "worthwhile vs. not"—and something that our woke moment should be shitting all over. But.
One more thing that always troubles me: Most lists are generative rather than prescriptive. The starting point is "X books/movies/albums/moments of Y" and put the writer into a situation in which they have to research and recall and uncover the appropriate number of items that fit under the (hopefully) SEO-optimized rubric.
For example, in January, I could easily post a list of the "15 Contemporary Spanish Female Authors You Should Read Now." I have six in mind, could Google the rest. I wouldn't necessarily have read any of them, but it would be a solid list. 
Instead, I've tried to work backward. Rather than taking a single topic and finding books that can fit that list, I've created a "multi-level list of restraints" for myself. Below you'll find nine books. From nine different presses. Each assigned a different song from 2018. And there are three different Oulipian rules that I'm not telling you. Figure them out if you will.
One other note: Inspired by the omnipresent Sam Miller, each of the bits below is as much about a memory of that press/book/translator as anything else. What lasts may not be what's most important about any of these things, but it's what lasts that forms one's lasting opinions.
The main point? This list of the overlooked is about as valuable as a list of the "best books"—flawed, incomplete, subjective—and, hopefully, less self-important (and/or a lame act of counting), and more of an adventure. Discover something about 2018 books . . . and music?
In case you want to listen along while you read, here's the Spotify playlist: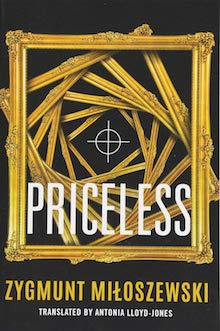 Book: Priceless by Zygmunt Miłoszewski, whom I met at BEA in Chicago a couple of years ago when Poland was the market focus. I'm mostly Polish (or Kashubian, which, to be honest, is even cooler, at least to me, and mostly because I have a belief that Kashubians are rebellious bomb throwers and this somehow explains why I am this way) and as a result have always had a great interest in Polish literature. Which is partially why Open Letter will be launching a Polish reportage series in 2020. Starting with Foucault in Warsaw, which could easily become our best-selling title ever.
Translator: Antonia Lloyd-Jones (2 works of fiction published in 2018), who is probably the best translator in the world to drink with. I mean that in the most positive of ways. Antonia is so passionately engaged with literature, with translation, and is so funny.
Publisher: AmazonCrossing, who, once again, published more works of fiction in translation than any other press, clocking in at 41 for 2018. (To put this in context: Dalkey had 18, Open Letter 6 [doesn't include poetry or reprints], New Directions 13, and Coffee House 3.) I have a feeling that a number of Three Percent readers dismiss their titles out of hand—and sure, there are a lot of romance books that they bring out—but there are at least a handful of titles every year that are worth checking out.
Song: "Be This Way" by Arms and Sleepers
This song is one of Aleks's favorite jams. And when a ten-month-old BOUNCES to a song, you know it's legit. The first time this song came on, he went crazy. There's nothing like an infant's child, and if you've been following me on Instagram, you've probably noticed just how smiley and laugh-y this kid is. I hope he never loses that.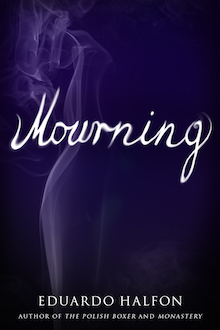 Book: Mourning by Eduardo Halfon who received the 2018 Guatemalan National Prize in Literature earlier this year. What's particularly cool about this award is that it's given out by the Guatemalan Ministry of Culture and Sports. Could you imagine if the National Endowment for the Arts was in the same governmental grouping as the U.S. Olympic Committee? There are a few different examples of this from around the world, and it makes me wonder if books/culture get more money by being associated with these other ministries, or if it only makes the overall numbers for books and publishing look pathetic. (The best-selling book funded by the NEA sold what? 50,000 copies last year? [Probably a huge exaggeration.] Last night more than 10,000,000 people watched a football game.) For example, the Italian Book Office is part of the Ministry of Trade. Which makes sense, since culture is a sort of export . . . Main point: Give the NEA more money.
Translator(s): Lisa Dillman and Daniel Hahn. It's like a Translation Dream Team! They would be a tough out in the Translation Olympics . . . Which reminds me: Should we do another Women's World Cup of Literature this summer? Those were so fun . . .
Publisher: Bellevue, which, man, Tinkers. I dream of having a Tinkers. And not just because I love typing "tinkers." That's legitimately how you get ahead in nonprofit publishing—win a Pulitzer! (Obviously not available for works not written in English, so, clearly, not going to happen.)
One of the most interesting stories of 2018 that we didn't cover on the Three Percent podcast or here on this "series" is the fact that Bellevue Literary Press broke away from, well, Bellevue, and is not a non-affiliated nonprofit. We need to get Erika Goldman on to break down the pluses and minuses.
Song: "Bodys" by Car Seat Headrest
We're skinny! . . . . . . . Well. Most of us.

We're alive! . . . . . . . Well. Most of us.
SO. When I got back from Bread Loaf last summer I weighed more than I ever had in my life. I felt disgusting. I don't know if it was sympathetic pregnancy weight, too much beer, or the general process of aging, but I didn't want to end 2018 like that.
So I didn't. Over the past six months, I've lost almost 30 pounds through a combination of intermittent fasting, endless amounts of Pilates, lots of cardio, and will-power.
Nevertheless, according to the BMI chart, I ams still, technically, "overweight."
Fuck BMI. (I'm allowed one of these per post, apparently.)
But on a more serious note, I listened to Teens of Denial every single day I was in Marfa, Texas. At least once, usually twice. It was the most important album in the world to me that summer. The song structures, the vocal games, the "whatever" attitude that was post-Pavement in the most Pavement way. And according to my Spotify Wrapped summary, I listened to Car Seat Headrest for 42 hours in 2018. (My son listened to Panic! At the Disco for 72 hours, which is much more troubling, I think.) If I could see Will Toledo play in person then, like 85% of my bucket list will have been checked off. I AM OLD.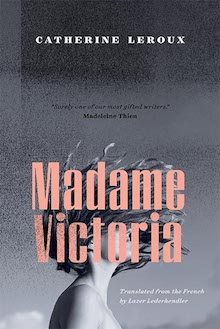 Book: Madame Victoria by Catherine Leroux, which I've already written about.
Translator: Lazer Lederhendler. I don't know anything about Lazer, but he has seven translations of Quebec authors listed in the Translation Database (which will hopefully be back soon?), which doesn't include the books that he translated that aren't available in America. Hopefully I can interview him in February when I do another focus on Quebec literature . . . Based on this article, I think he would be great to talk to.
One other note about Quebec translators: Just as Quebecois authors don't get much play in the U.S., the translators are overlooked quite a bit as well. Sheila Fischman (born in Moose Jaw, Saskatchewan, which is the most wonderful Canadian place name ever) has translated more than 150 books over her career, and for that reason alone should be a household name about the international literature set. But I don't feel like that's the case.
Publisher: Biblioasis, who is one of my favorites (long live Windsor!) and someone I would love to publish a book with. Dan and I have talked about doing something about publishing, which I am planning on working on over the summer. Even before that, I'm going to contribute a piece to a book that Cambridge is publishing and hope to use this as the sort of overture to a longer something.
Song: "Choke Points" by Haiku Salut
Yes and more yes. It is winter and this is the most winter song. And that's why it's on here.  (That and it reminds me of my favorite Múm songs.) Someone asked me the other day about what type of music this is. I have no idea! My love of this song puts my disinterest in popular music in stark relief. I don't care about Rhianna or the latest Ariana Grande single. (Not that there's anything wrong with liking either of these—I just don't.) Granted, my life mantra is "remember the days when," but, like seriously, being a pop star was not cool when I was in high school. The way hipsters embrace pop music makes me a bit queasy. As if the selective embracing of destructive capitalist tendencies—Amazon = EVIL, Clear Channel Communications = OK because that beat rocks—is logically justifiable. I miss punks.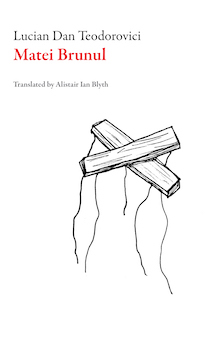 Book: Matei Brunul by Lucian Dan Teodorovici, who I'm pretty sure sent us a couple of his works to consider when we were first starting out. At that time, he was a great risk taker (with his prose), trying to do something totally new (with his structures), and with a great future ahead of him (if not that masterpiece quite yet). I'm very excited to read this and see how far he's come. And, in reference to something below, I want to publicly thank him for sending this to our offices. It's nice to know that we're still on his radar, and I hope this is as good as it sounds, and gets some of that sweet bookseller love.
Translator: Alistair Ian Blythe. I'm honestly not sure if we've met, but if we have and he's reading this, I am sorry. I really like the Filip Florian book he translated some years ago.
What happened to Houghton Mifflin Harcourt? Are they still around? Not in the international literature game though, right?
Publisher: Of the 18 Dalkey books currently in the Translation Database, were more than 9 readily available in bookstores? It pains me to see how much has changed in the past decade. We only get these books in the office when their author or translator buy extra copies and send them to all the BTBA judges. I do buy as many as possible, but more often than not, the titles I want are delayed and delayed and delayed. Which bums me out. So many fans of Dorothy and Coffee House and Restless and Transit should spend some time with the Dalkey Archive backlist. They would find so many titles that would blow their minds.
And yes, this recent job posting was roundly ridiculed on Twitter and all the DMs. It doesn't help that the web address includes the word "intern." At the same time, the complaint about the $38,000/year salary for someone starting out in publishing—at a nonprofit nonetheless—seems a bit harsh. That said, the idea that this position would be responsible for running a press that was one of the GOATs just a few years ago for, maybe, maximum, $60,000 (NOT what the current Executive Director earns) is totally bonkers. This job posting has too many contradictions to make most applicants feel comfortable with even applying.
I wish I could do something to help save Dalkey. There's such a solid core there, but with every year that goes by, they seem to drift further and further out of the conversation—either by choice (refusing to publish books that are "trendy" just to be "in"), or because of lack of marketing expertise, or because they're mostly in Ireland, or because the books don't come out when scheduled, or whatever—and that pretty much sucks. This is a press that should be as revered as Graywolf and Coffee House and the like, and yet, I feel like the new literati (for lack of a better term), those who are under 28 and actually read, don't have more than a passing familiarity with Dalkey. And that sucks.
It's interesting to think about their entire history . . . When was the Dalkey heyday? "Birth-1999," which includes huge successes like Hopeful Monsters by Mosley, Chromos by Felipe Alfau, and Wittgenstein's Mistress by David Markson? Or is it "2000-2008," which included the Third Policeman cameo on Lost, some of the best years ever in terms of fundraising and sales, and pretty solid penetration into the bookstore market. OR, "2009-Today," in which Dalkey became multinational, moved to the University of Houston-Victoria, published more works in translation than ever, and expanded all of their funding sources?
Song: "Chop Chop" by Go March
I loved the first Go March album ("The Ship of Bambi" in particular), and although this one might not be quite as raw and compelling, it is very polished and hits all of my musical buttons. (Well, most of them. Way back when I wrote about Jeff Rosenstock's "USA," which is 8 minutes long, anthemic, and includes a group singalong of the chorus—a song element that gets me every single time.) This song reminds me a bit of my favorite Battles albums . . . Which makes me want to watch the video for "Atlas." I love how that song breaks itself down into its various components and then builds back up. This sort of sound architecture is catnip for me.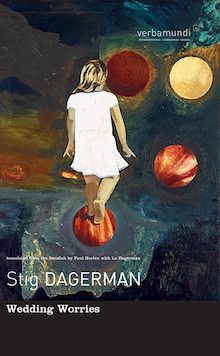 Book: Wedding Worries by Stig Dagerman, which is another book that I wrote about earlier this year and which I hope makes the BTBA shortlist.
Translator: Paul Norlen and Lo Dagerman. I've mentioned this before, but Lo is exactly the sort of literary executor every writer should have. She's unstoppable in her enthusiasm and dedication to getting more recognition for her father's work. If only someone would write one long profile of him for NYRB or the New Yorker . . . That would most definitely break him out to a much larger audience. And his books are all so damn good. 
Publisher: David R. Godine, who probably doesn't get enough credit in the translation world. But look at this list of titles in the Verba Mundi imprint. Perec, Le Clézio, Modiano (both pre-Nobel), Donoso, Buzzati, Echenoz, Musil, Sabato . . . One could do a lot worst than spend a year reading all of these books.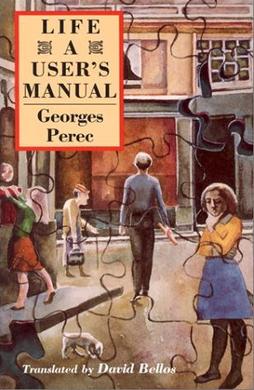 Life, A User's Manual was the first Godine book I ever read. I had the old oversized edition with the puzzle-piece cover. It was unwieldy and mind-breaking. Aside from Calvino's If on a winter's night a traveler, this was the first Oulipian novel I read, and it send me down a path. This was one of my entryways into Dalkey's catalog. Roubaud and Queneau became fundamental authors in my reading constellation, and I wish I could go back in time and rediscover them all over again.
Song: "It Was Not Natural" by Wye Oak
This is an album I was way into around the time of the first NYRF and the last TranslationLoaf. I probably talked about this album too much. Just like with Civilian, Jenn Wasner and Andy Stack put together a run of three songs that is PHENOMENAL. On this particular album, it's the album's title song, "Lifer," and this. You need to listen to all three in a row. This is my clinamen—I'm cheating and including all three songs on the playlist.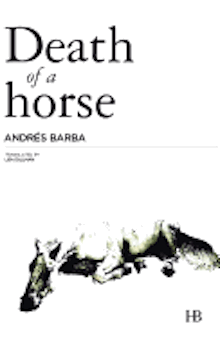 Book: Death of a Horse by Andrés Barba
Translator: Lisa Dillman, who I think I've known forever. We met somewhere, years and years ago, either at ALTA or in Guadalajara or somewhere else, and she pitched Barba. He's a blindspot for me. I like Such Small Hands better than all his other books, but it's still not my favorite. He's the sort of Spanish writer who I think of as too mannered. (Remember that for some of the forthcoming January posts.) But Lisa? Lisa is incredibly talented and wonderful.
I have two memories:
She was part of the first panel we put on at the University of Rochester called the "Ecology of Translation." (Or something like that.) It was 2007, and I still had most of my hair. She came to Rochester and was on a panel with me, Jon Welch from Talking Leaves, and . . . shit. Someone else? Anyway, she told a story about a Big Five Press (HarperCollins? [the question mark makes this not libel]) "editing" one of her books from a first-person narrative to third-person. Even if this is a false memory, it totally tracks and seems just as insane in 2018.
Last year, I used Such Small Hands in my World Lit class. One of the undergrads from the Eastman School questioned the first paragraph of the book, wondering if a few of the first sentences were originally one long sentence, or broken up in the way Lisa had broken them up. Live on a Skype call, she checked the original and told him that he was right—initially it was one long sentence. I love that story for a few reasons.
Publisher: Is Hispabooks still around? If not, then the world is a worse place. But I think they might be gone . . . No one Tweeted about this book, which would be normal if it were from Open Letter (self burn!), but unusual for a Barba book. And this isn't promising: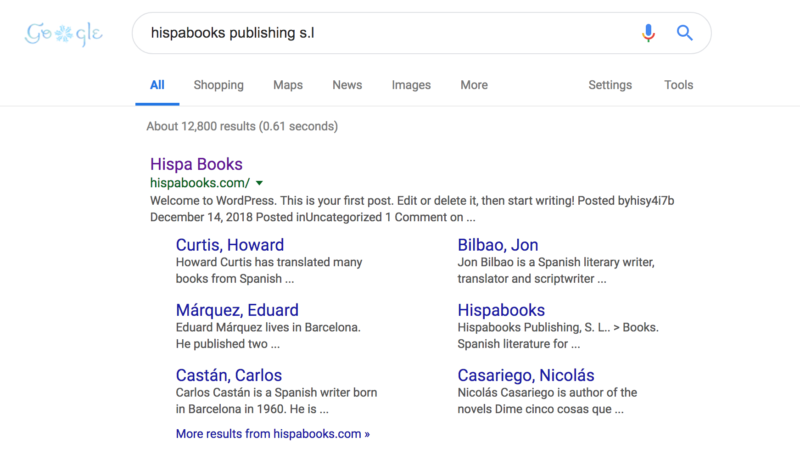 Especially when all the sub-links lead to no longer existing pages . . . Also, did byhisy4i7b take over this website last week? Once upon a time, IN THE DALKEY DAYS, the Context Magazine domain expired—without anyone's knowledge—and was taken over. I don't know if anyone would have noticed had I not been on a sales call with the buyer at the University of Arizona Bookstore and had this conversation:
UofA: Is it a joke? I don't get it.

Chad: What? I don't . . .

UofA: Context. Is this a dark joke?

Chad: The Thomas Bernhard cover article?

UofA: The porn.

Chad: The what?

UofA: The porn site where Context used to be.

Chad: Well. OK. Well. Hold on. Oh. Oh fuck.

UofA: That's what I said. So much oh fuck.

Chad: Thank you?

UofA: For . . .what exactly?

Chad: Just. Let's all hang up now.
Song: "My Lady's on Fire" by Ty Segall
Thank you Drag City for putting (almost) all of your albums up on Spotify. This was a great 2018 present! Especially all seven million Ty Segall albums. As my best friend from college said, "he has a bit of a Robert Pollard problem." Which, as someone who writes way way way too much every week, I can totally appreciate. (For reference, Ty Segall has 17 albums on Spotify dating back to 2008; Guided by Voices has 39 since 1987, including several that are quadruple and quintuple size albums.)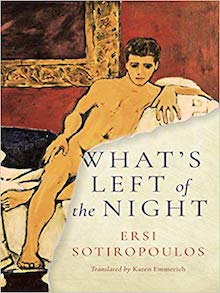 Book: What's Left of the Night by Ersi Sotiropoulos, which we will be reviewing shortly. There was a snafu. The reviewer has it in hand now. All is well.
Translator: Karen Emmerich. One-half of my favorite translating family. Full stop.
That should be the whole post, but really, is there a more brilliant and talented translated brother-sister duo than Karen and Michael? NO. THERE IS NOT.
The most impressive aspect of both is that, although they're genius and operate on intellectual levels I've never even dreamed of—possibly because my best dreams are about flying or being a super spy—they're always incredibly modest and giving and engaged. If this is the future of academia and translating, then there is hope in 2019.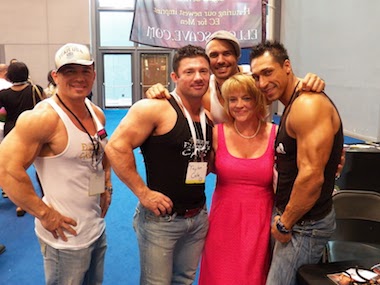 Publisher: The first time I met Ross from New Vessel we were at BEA. Standing outside of the Ellora's Cave booth. It was slightly uncomfortable (because *cough* obviously Ross and I are both equally as jacked as those dudes) and because I didn't know this guy and wasn't sure if he we would be in to my dismissive, sarcastic, woe-is-the-world sense of humor. Not only is Ross the master of the inappropriate joke, but he collects the Ellora's Cave calendars for his grandmother. This is how lasting friendships are born: Over underdressed, overly-buff dudes.
Ross was my +1 to the PEN West (America PEN? PEN Of the Other Rockies? HollyPEN? NEVER GETS OLD) Award ceremony.
Also, Ross is the founder of the "Full Ufberg" club. I would post a picture of myself illustrating his signature look, but I as it is lose enough readers every week with my words. Basically, the "Full Ufberg" is when you button maybe two, mostly just one button on your button-down dress shirt. Let the chest hair fly and be as exposed as possible. And own it. Ufberg that shit UP.
Song: "Tom" by Ed Schraeder's Music Beat
It wouldn't be a year in music for me if there wasn't at least one Dan Deacon song, even if it's just a song that he helped produce. There are songs on this album that are even more Deacon-esque, but I love how haunting this song is, and you can hear DD's fingerprints on it.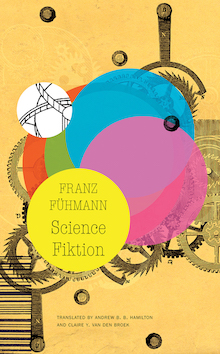 Book: Science Fiktion by Franz Fühmann, which is quite fun. At least the first story. That's all I was able to read over my holiday mini-vacation. But it was good! It was about a scientific procedure to let you see a few seconds of your future. This led numerous test subjects to insist that they would do something completely opposite from what they saw, thus proving that they had free will and that the future was not preordained or fixed. But then, each and every one, without fail, for reasons they couldn't logically fathom, would end up doing exactly what they had seen in their glimpse of the future. Which leads to a sense of utter helplessness in the subjects.
Translator: Andrew B. B. Hamilton and Claire Y. Van Den Broek. I love both of these names.
Publisher: Seagull Books, the publisher of the most elaborate catalogs of any publisher in the world. Is it overkill? DEFINITELY. But is it also glorious? UNDISPUTEDLY.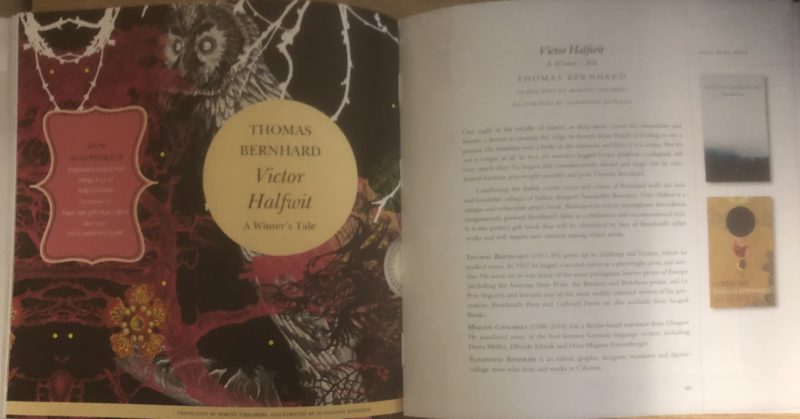 This past fall, I went on a U.S. tour for a variety of reasons, and had the chance to hang out with George Carroll and Rick Simonson—two former Seagull Publishing School instructors—and witness their banter and hear their bookselling stories. Rick in particular is deep in with Seagull, and it was so earnest and rewarding and enjoyable. Their friendship, their fandom of the Sounders, the way in which Rick champions Seagull . . . to me, this is exactly the sort of interaction/relationship that reaffirms my belief in books. It enough to make me wish I could retire to Seattle and force them to go to Mariners games 81 times a year.
There are 169 titles from Seagull Books in the Translation Database. That's an incredible feat. Europa Editions has 168.
Song: "We Don't Have a Sail but We Have a Rudder" by El Ten Eleven
One of the two best shows I've ever been to in Rochester. If you listen to El Ten Eleven, you might assume that it's a band of 4-5 people futzing around on several different instruments. But no! It's two guys, a ton of pedals and electronic machines, and some serious ingenuity for crafting sounds. (See note above about sound architecture.) One of the songs they performed ended with one of the guys banging on the other's double-neck guitar with his drumstick. Watching these songs craft themselves in real life is like witnessing magic.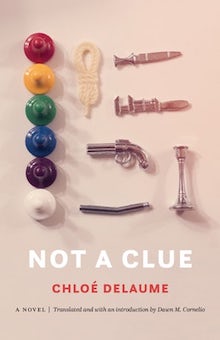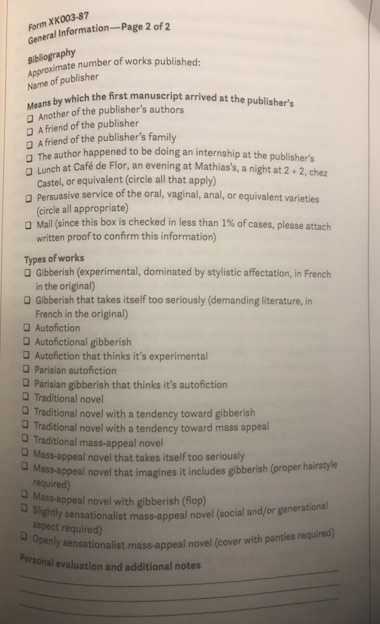 Book: Not a Clue by Chloé Delaume, which is fantastically odd. This is a book that merits the label of "experimental," in part because it may not always work, but it never settles down into something predictable or conventional. The syntax is interestingly twisted throughout, the plot barely ever develops beyond the framing structure (six psychiatric hospital patients, one who killed Dr. Black), and it all culminates in an At-Swim-Two-Birds metafictional morass with the characters trying to overthrow the "Omniscient Narratrix." It's wild, it's the sort of book that hipsters will discover ten years from now, and it's filled with jab after jab at autofiction.
Translator: Dawn M. Cornelio. I am a fan of everyone who uses their middle initial. This can never go wrong. Also, her introduction is SOLID.
Publisher: University of Nebraska. Three-ish-or-so things and some corollaries:
UNP was our first distributor.

When their new director took over—the same person who shut down the bulk of Northwestern's translation program—she ended their distribution center (which had done fulfillment for Dalkey Archive back in the day) and shuffled us off to Longleaf which then led to Consortium which is mostly Ingram Publishing Services and . . . the arrow only goes in one direction, folks. What you knew will always change at some point. Nothing lasts forever; Everything ends.

I'm going to do a month of university press books in 2019.

I have so many months planned around countries and publishers, but, when I look at my working list, so many University Presses—Yale, Syracuse, Columbia, Nebraska, etc.—are left out. Is there a National University Press Book Appreciation Month? No?

Recently, I saw a bunch of people on Twitter fall in love with Marie Redonnet's Hôtel Splendid, one of the first UNP books I read, way back in the mid-1990s when I was a bookseller and was compulsive about reading. I read the trilogy. Stocked it at Quail Ridge Books. Talked about it with John O'Brien when interviewing with Dalkey . . .

This recycling of 1990s French authors has tripped me out. Chevillard. Redonnet. Oster. It's odd enough that the music of my high school days has resurfaced, but the more obscure authors I read from a few decades ago are coming back into fashion? Very odd.
Song: "'You' Are the Problem" by Ron Gallo
The other most amazing show I've seen in Rochester. Gallo ROCKED. My ears rang for about 17 days. But it was so sweaty and raw and charged and incredible. His new album is really great, and there are any number of songs I could include here, but I feel like this one is the most fitting. I know that I am the problem. And I hope that in 2019 I can be less of one, and a better member of the book community. More forgiving and friendly, less cynical and more focused on helping presses like UNP and Seagull and Biblioasis get the attention they might not be getting from other websites. The plans for 2019 Three Percent are extensive and probably unrealizable, but I'm going to give it a go. Hey, I made it through this year of weekly posts. Including the longest one yet in which I officially say goodbye to this series and to badgering all my favorite targets.
Have a safe New Year's Eve!
3 responses to "9 x 9 x 9: Everything Comes to an End"