Season 9 of the Two Month Review: Monsterhuman by Kjersti Skomsvold
Now that I'm back from a week-long self-imposed retreat, it's time to overwhelm this site with posts about Norwegian literature. There are two special audio interviews in the works, a post about a few female Norwegian writers (and Shirley Jackson) that will go up on Monday, and the kick off of the new season of the Two Month Review on Thursday, July 25th.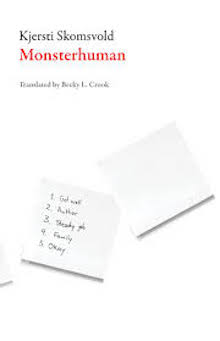 The full schedule is below, but this season's featured title is Monsterhuman by Kjersti Skomsvold, translated from the Norwegian by Becky Crook.
When Kjersti A. Skomsvold was seventeen years old and about to start engineering studies at college, she found herself almost unable to move. "Laid out like a relic" in a nursing home, she listens to an old woman dying, watches her boyfriend drift away, and makes compendious lists of her worries (that she will have to go speed-dating in a wheelchair, that she will be afraid and in pain for the rest of her life). She also begins to compose a novel on Post-it notes that she sticks on the wall above her bed.

Monsterhuman is an autofictional tour de force–a funny, sad, astoundingly energetic novel about suffering from chronic fatigue syndrome, the power of writing, and twenty-first-century literary life.
I'm not sure if this is temporary or something more dire, but the Dalkey website is down, so I can't link to them directly. Your local library will hopefully have a copy, if not, you can order this from any independent bookseller of your choice. According to iPage, there are 726 copies in the Chambersburg warehouse, so it shouldn't be difficult to get. (I'm also willing to bet that City of Asylum in Pittsburgh has a copy on their shelves. As does McNally Jackson in NYC.)
Anyway, here's the reading schedule with the date of the podcast release and the pages that it will be covering (each episode will be live on YouTube the day beforehand):
July 25: Pages 1-45

August 1: 46-92

August 8: 93-143

August 15: 144-180

August 22: 180-225

August 29: 226-274

September 5: 275-316

September 12: 316-360

September 19: 360-406

September 26: 407-448
Subscribe to the podcast via Apple or wherever you get your podcasts. And be sure to rate and review us! In this time of Peak Podcast, your comments are incredibly helpful for introducing this peculiar literary podcast to new listeners.