"Time" by Etel Adnan [Why This Book Should Win]
Check in daily for new Why This Book Should Win posts covering all thirty-five titles longlisted for the 2020 Best Translated Book Awards. 
Brandon Shimoda is the author of several books, most recently The Grave on the Wall (City Lights), which received the PEN Open Book Award, The Desert(The Song Cave), and Evening Oracle(Letter Machine Editions), which received the William Carlos Williams Award from the Poetry Society of America. He lives in the desert.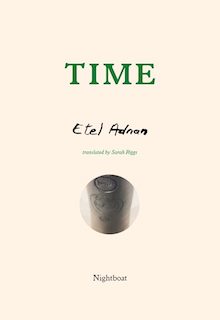 Time by Etel Adnan, translated from the French by Sarah Riggs (Nightboat)
After the smoke clears, there will be more smoke. And when that smoke clears, there will be even more smoke after that. The source of the smoke: fires, fires everywhere, some lit a long time ago, some that only just started burning. "But then when thick smoke blinds the streets, the noise cuts the heart off from the world, the thinking body gives up and finds itself on the side of decay." That is a sentence from Etel Adnan's Of Cities & Women (Letters to Fawwaz), a collection of epistolary travelogue-essays, and one of my favorite books—by Etel, and by anyone. Another of my favorite books is also by Etel, translated into English from the French by Sarah Riggs, and published by Nightboat Books: Time.
It feels vulgar to play favorites, but I guess that is the nature of judging for an award. There is a distinct debt that I owe to Etel Adnan and her work. I have been rescued, many times, from surrendering to the varieties of ill-temper that are easy when one's eyes and head are overwhelmed with smoke, by Etel's writing—by what of it has reached, through the smoke, to touch and encourage me, so kindly, yet so uncompromisingly. Maybe Etel would disagree with the ways in which her writing has been put to use—if what I am describing above is use—or even with the similarly vulgar idea that her writing, or any writing, could be appraised in such terms. And it is not as though I am always on the verge of surrender. But life is unforgiving, and reading and writing are not entirely exempt from contributing to what is unforgiving about it. What it means is that I often forget to slow myself into the forms of attention and presence that Etel's work embodies, and that her work offers. Her writing is magnanimous. It is the best of human nature. It often takes only a single line, sometimes a single word, to bring me back to myself, and to my ability to attend to and be present in the world.
Time is comprised of six poem sequences, the first of which begins with the lines, "I say that I'm not afraid / of dying because I haven't / yet had the experience / of death" ("October 27, 2003"). According to Sarah Riggs's Translator's Note, the line was written after receiving a postcard from her friend Khaled Najar, October 27, 2003. (Najar is a poet; he published one book of poetry, which was translated into English as Windows of Sand, although I am having a difficult time finding physical proof of its existence.) To repeat:
I say that I'm not afraid
of dying because I haven't
yet had the experience
of death
"I say," she writes, and Riggs translates, not "I'm not afraid." And also, dying and death are not the same experience, so could it be possible that one could fear one and not the other? (In a later poem, Etel writes, "it's more bearable to think of / death than of love," but of course love is an entirely different, if not entirely unrelated, matter.) All six of the poem sequences were written during the first decade of the 21st century, and there is something significant about that—about the example, and the image, of Etel Adnan reestablishing and sharpening, on the edge of the new millennium, her acute and longstanding form of witness. One of the many results of that sharpening, is the continuous revelation of the generosity of her witness—of what and how she sees, and of how thoroughly she shares what and how she sees with everyone with whom she comes into contact.
Sarah Riggs also writes, in her Translator's Notes, about how, while reading "Le 27 Octobre 2003" in a café in Paris, she realized she wanted to translate it into English. She asked Etel if she might want to translate the poem herself. Riggs writes: "Etel responded very simply and enthusiastically as is her way, 'I'd rather you did it.'" Etel is generous, yes, but she also knows. Riggs has published five collections of her own poetry, and has translated, in addition to Time, five collections of contemporary French poetry. The accumulation of this work has generated a voice that is the most crystalline and brilliant and seamless guide to the evolving, transformative voice of poetry. I have come to believe, through Riggs's work, that translation is touch. Meanwhile, check out this perhaps unintentional moment of sly intimacy from page 50:
time can't be translated
your voice in my veins
Truth be told, I find it difficult, sometimes impossible, to write about work that means so much to me. It can feel superfluous, when not denuding, but I understand the need to advocate for something in the chance that it might reach, by some hard-won miracle, that particular person—that person out there, i.e. you, or even you. When I first started writing this appreciation of Time, I meant to write, "After the smoke clears, there will remain, as powerful as ever, the poetry of Etel Adnan." She is, to paraphrase her words—from her short story, "The Master of the Eclipse"—one of our most important and persistent contemplatives of the ongoing apocalypse. I have to admit: I have not read the Bible. And yet despite every indication that now might be a good time to start, it is doubtful I am going to read it, because I already have access to the profound weight and ever-giving benefaction of another more relevant body of literature. Time is the latest entrant into what I consider, in fact, to be one of the most important bodies of work ever produced. Not in this or last century, but ever.
(Large image copyrighted by P K.)