"A Dream Come True" by Juan Carlos Onetti [Why This Book Should Win]
Check in daily for new Why This Book Should Win posts covering all thirty-five titles longlisted for the 2020 Best Translated Book Awards. 
Spencer Ruchti is an intern at Tin House Books and formerly a bookseller at Harvard Book Store in Cambridge. His writing has appeared in The Adroit Journal, The Rumpus, and elsewhere. He lives in Portland, OR.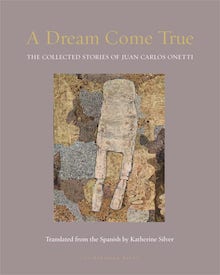 A Dream Come True by Juan Carlos Onetti, translated from the Spanish by Katherine Silver (Archipelago Books)
Juan Carlos Onetti's characters imagine pissing on one another's faces, smoke cigarettes in funny ways, wear hats (donning hats, removing hats, tipping hats), run wild with euphoria through the frigid night, fall face-first in cornfields, suffer from happiness without warning. They are accused of being "ruined by Hamlet," turn into dogs (or do they?), feel all at once "unworthy of so much hatred, so much love, so much willingness to cause suffering." They are ridiculous men. They are mean and corrupt. They are serious men. (And yes, they are mostly men.)
Born in Montevideo, Uruguay in 1909, Juan Carlos Onetti was the author of more than two dozen books, including A Brief Life, his most popular translated into English, and a recipient of the Cervantes Prize and the Uruguay National Literature Prize. Onetti's novels and stories are often set in the fictional town of Santa María, a place that Katherine Silver calls "Onetti's Macondo." Silver also quotes Onetti when citing her guiding light in bringing these stories to English-language readers: "A poet is someone who writes things—not necessarily in verse—that arouse in me mysterious sensations, which I call poetic, for lack of a better word."
Archipelago Books' monumental collection of Onetti's stories, A Dream Come True, spans over 54 years of the author's dense and difficult to work. It takes a certain kind of foolishness to follow Onetti, let alone to enjoy him. The pleasure of reading him is often at the sentence level: take one of my favorites from "The Possible Baldi," about a lawyer who invents multiple identities for himself. "Hysterical and literary, Baldi sighed." What the hell does it mean? I care not; I feel designed to love it.
Edmund White has called these sentences "poetically correct but literally false," à la the Modernists of Onetti's lifetime (Joyce comes to mind, and many have cited Faulkner). Onetti is never satisfied with any singular meaning. If anything, his is a language that extends beyond comprehension, probably to the chagrin of his few readers. How fortunate, then, that Onetti has Katherine Silver rendering his absurd theatrics, a translator whose vocabulary and rhythm provide the engine of this collection. Here's a passage from Onetti's earliest story, "Avenida de Mayo – Diagonal – Avendia de Mayo":
Owen rose and threw away his cigarette.

'Ya.'

Suaid started walking, trembling with nervous happiness. Nobody on Calle Florida knew how oddly literary his feeling was. The tall women and the doorman at the Grand were equally oblivious to the polyfurcation Owen's ya took on in his brain. Because ya, or ja, could be either Spanish or German; and from here there arose unforeseen paths, paths where Owen's incomprehensible figure split into a thousand different shapes, many of them antagonistic.
What I love most here is Silver's use of the word "polyfurcation," a cognate of Onetti's polifurcación in the original, a word that in a strictly prescriptionist sense does not exist in English. Silver's solution here is elegant and simple—a mashing together of "poly" and "bifurcate" in lieu of splinter, fork, subdivide, words that fail to fulfill the mathematical complexity of Onetti's polifurcación. "Polyfurcate" here means to atomize, as if with the intent to obscure the meaning of the original thing—just as in the above passage, when Owen's thoughts fragment into "unforeseen paths" and "incomprehensible figures." And like Owen's thoughts, A Dream Come True is a polyfurcating text, a collection at odds with itself, at odds with clarity in the name of aesthetic truths. A complex Onetti sentence may not make sense on the first read, but thanks to Katherine Silver, one can always feel joy in the vibrations of his prose.
Some have compared Onetti to Cortázar and Garcia Marquez. In his stories he pivots from modernist ambitions to playful noir (see the map at the end of "The Tragic End of Alfredo Plumet") to the nightmare logic of David Lynch. The title piece, "A Dream Come True," is a story about a struggling theater impresario, down on his luck after a lousy season, who agrees to stage a nearly impossible play for a mysterious woman. The woman hasn't a word written down, and only has a vague vision of what must occur on stage—a scene, she later reveals, that came to her in a dream, and that she is willing to pay a considerable sum to reproduce. When the play is finally performed to perfection (to an empty theater, of course), the mysterious woman dies instantly, having, the reader assumes, reached some final equilibrium, though of what kind? We are never meant to know. "I understood that this was it, this was what the woman was searching for," the director thinks. "I understood everything as clearly as if it were one of those things one learns forever as a child and words are later useless to explain." Sleep and death are inextricable as Onetti (literally!) dramatizes the act of passing into the void. A line from Anne Carson's Glass, Irony, and God comes to mind: "Who in a nightmare can help himself?"
The collection also includes "A Long Tale" and "The Face of Disgrace," two pieces published sixteen years apart that present two version of the same story, with entire sentences or phrases shared between the two (the latter seems to be an expansion of the former). The narrator, Capurro, is staying at a resort of some kind where he might grieve his brother's suicide. In both stories, Capurro becomes obsessed with a young woman he sees riding a bike along the shore. In "A Long Tale," he is blamed for her murder, and the reader is never completely acquainted with the truth. In the "The Face of Disgrace," Capurro tells a new version of the story, this time from the first person, and in it accounts for his intimate relationship with the woman, as well as an alibi for the time of her death—and in the end he's still arrested for her gruesome death. "Don't worry," he says, "I'll sign whatever you want, without reading it. The funny thing is, you're wrong. But it doesn't matter. Nothing, not even this, really matters at all." Capurro ponders the "deceptive, perhaps deliberate, distortion" of his memories, and the garden of forking paths that—perhaps for the author, but certainly for the reader—allows both versions of the same story to coexist in Onetti's literary universe.
Onetti can be cruel, Onetti can be a slog, but who wouldn't be thrilled by a story like "Montaigne," about a wealthy man who invites six of his closest friends to watch his suicide? "I don't want to ruin your Sunday," he notes in the invitation, "Whoever fails me will be cursed because he won't have the opportunity to make amends. There will be abundant food and drink." The suicide is mostly greeted with disbelief and boredom. Onetti's tone is perfectly deadpan, skewering the malaise of the young and rich, their poverty of thought, and their total indifference to humanity.
Onetti's late work is marked by brief vignettes and unpublished sketches, which give this collection a truly complete feeling. The reader sees the author at all stages of the writing process, and all the stages of his career. How fortunate we are to have this archive of stories preserved in English, in all of their mysterious sensations.