"Drive Your Plow Over the Bones of the Dead" by Olga Tokarczuk [Why This Book Should Win]
Check in daily for new Why This Book Should Win posts covering all thirty-five titles longlisted for the 2020 Best Translated Book Awards. 
Louisa Ermelino is the author of three novels; Joey Dee Gets Wise; The Black Madonna (Simon and Schuster); The Sisters Mallone (St. Martin's Press) and a story collection, Malafemmina (Sarabande). She writes a column, Open Book, for Publishers Weekly, about noteworthy forthcoming books, interviewing authors, editors, and agents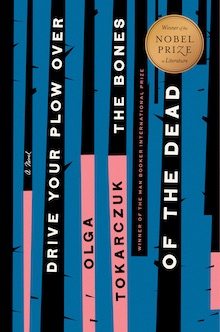 Drive Your Plow Over the Bones of the Dead by Olga Tokarczuk, translated from the Polish by Antonia Lloyd-Jones (Riverhead)
I love a long shot, and underdog, but clearly Olga Tokarczuk is no underdog.
Her novel Flights won the International Man Booker International Prize and was a finalist for the National Book award in translation. She's published in the US by Riverhead/Penguin Random House. You might even call her a literary darling although she's been a serious, international award-winning, controversial feminist writer in her native Poland and Flights was her tenth book.
But enough about Olga Tokarczuk the celebrity. I want to tell you why her novel, 2019's Drive Your Plow Over the Bones of the Dead should win the Best Translated Book Award. To start with, it's pure poetry. I didn't want to mark up the hardback copy I was reading (Catholic schoolgirl that I am . . . I can make a perfect book jacket from a paper bag) so I decided to mark passages with Post-its. I ran out of Post-its by page 50.
It's winter in the isolated Polish village where people from Warsaw summer and Janina is the cranky woman who watches their houses, studies astrology, and translates Blake with her former student Dizzy. She also has an affinity for animals and the first murder that takes place is that of Janina's neighbor, Big Foot, who mistreats his dog and sets cruel snares to trap the deer, hares, badgers and such who live in the forest surrounding the town.
Listen to the opening sentence: "I am already at an age and additionally in a state where I must always wash my feet thoroughly before bed, in the event of having to be removed by an ambulance in the Night."
Do you not want to know this woman? You will not be disappointed. Every declaration sets you thinking. Janina is called upon by her neighbor, Oddball—(she doesn't believe in given names and hates her own so she gives people names that suit them, hence, Big Foot and OddBall—to deal with Big Foot's corpse. In response, she says: "It made me feel sad, horrified, for even someone as foul as he was did not deserve death. Who on earth does?"
The murders continue; Janina is both dismissed and suspected by the local police and the wonderful mystery plot unfolds but it's Janina who steals the show with her observations. Of one of the houses she watches over she says: "The house itself was old, in bad shape, and looked as if it wanted to be left in peace to carry on decomposing."
Lloyd-Jones' translation is pitch perfect, creative and touching. Janina sits in the doctor's office: "Last year the sun had burned me again."
And at the police station: "In law-abiding fashion, we presented ourselves for questioning…"
Tokarczuk's book is original and wise and beautifully written and beautifully translated. It is a quiet wonder. I end with Janina's comment on The Writer, whose house she watches over: "In a way, people like her, those who wield a pen, can be dangerous. At once a suspicion of fakery springs to mind—that such a Person is not him or herself, but an eye that's constantly watching, and whatever it sees it changes into sentences; in the process it strips reality of its most essential quality—its inexpressibility."
Indeed . . .