"The Wind That Lays Waste" by Selva Almada [Why This Book Should Win]
Check in daily for new Why This Book Should Win posts covering all thirty-five titles longlisted for the 2020 Best Translated Book Awards. 
Pierce Alquist has an MA in Publishing and Writing from Emerson College and currently works in publishing in Boston. She is a freelance book critic and writer. She is also the Communications Coordinator for the Transnational Literature Series at Brookline Booksmith, an author events series that focuses on stories of migration, the intersection of politics & literature, and works in translation. She can be found on Twitter @PierceAlquist and on Book Riot.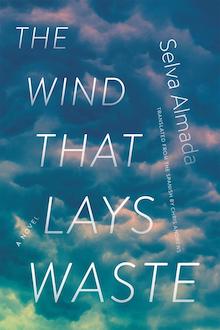 The Wind That Lays Waste by Selva Almada, translated from the Spanish by Chris Andrews (Graywolf)
In Selva Almada's arresting debut, translated by Chris Andrews, four souls are "thrown together on a single day in rural Argentina" as a storm brews overhead. When Reverend Pearson's car breaks down, fate leads him and his teenage daughter Leni to the dusty, out-of-the-way garage of Gringo Bauer and his assistant Tapioca. The traveling Evangelical quickly takes an interest in Tapioca's pure soul, setting up the increasingly tense relationship between the mechanic and the man of god. As the storm breaks and the titular winds lay waste, the lives of these characters will be forever changed.
The Wind That Lays Waste is a profound examination of family and faith, a modern fable really. In comparison to the other books on the longlist, it's one in a trend of rural novels and yet it stands apart in its writing and approach—told in one day and with only four main characters it may seem simple but in reality it's this refreshingly deep and thoughtful novel, a self-contained moment of time and place. A simplicity that I can imagine is one of the most challenging things for an author to write, and then a translator to convey.
And what a translation it is! Perfect sentences abound, "His mother's skirt moved in front of him like a curtain revealing and hiding the landscape as the cloth blew about in the wind." And each character is compelling—to describe them as "fleshed out" seems almost tongue-in-cheek as it doesn't come close to encompassing the depths to which Almada plunges into each character's heart and soul and Andrews masterfully captures it:
But Leni had no lost paradise to revisit. Her childhood was very recent, but her memory of it was empty. Thanks to her father, the Reverend Pearson, and his holy mission, all she could remember was the inside of the same old car, crummy rooms in hundreds of indistinguishable hotels . . . and a mother whose face she could hardly recall. The Reverend completed his circuit and came back to where his daughter was standing, as rigid as Lot's wife, as pitiless as the seven plagues. Leni saw his eyes glistening and quickly turned her back on him.
The Wind That Lays Waste is also set against one of the most powerful and beautifully described atmospheres of a novel I've ever read. It's a novel that tangibly feels like weather. As the plot picks up, the characters swirl around each other and everything thickens like the dense, sticky, humidity that comes before the storm. As the story reaches its peak, tensions erupt like thunder and lightning and then the rains finally come. Whether or not they could have been stopped and the fate of these four characters changed is anyone's guess.
The storm had gathered in the blink of an eye. If they hadn't needed the rain so badly, the Gringo would have stopped it like his mother had taught him, because it wasn't looking pretty. She had passed the secret on to him before she died. Out in the open, facing the storm front, you drive an ax into the ground six times, to make three crosses and after the last blow you leave it stuck there. It's hard to believe if you've never seen it done, but the sky opens and the raging storm turns into a blustery passing wind. The storm slinks off, with its tail between its legs, to someplace where no one knows the secret. But those who know it must use it with care. Every crack in the earth was crying out for rain. This was no time to turn a storm away.

Nature's secret thought the Gringo, kills any secret man can know.