Our Staff

Jessica Guzmán-Rea
Director
Office Location:  305D Douglass Commons
Phone:  (585) 275-5678
Dr. Jessica Guzmán-Rea is the director of the Paul J. Burgett Intercultural Center (BIC) at the University of Rochester. The BIC promotes cultural awareness and engagement, educates on issues of identity, culture, and diversity, and provide avenues for intersection and opportunities for collaboration. In addition, she responds to the bias-related incident reports where she contacts the individuals involved in the report, coordinates a response with an executive team, and communicates with the University community (when appropriate). Dr. Guzmán-Rea also chairs the College Diversity Roundtable (CDR), which is a student-centered task force where campus climate and quality of life issues and/or concerns can be voiced, heard, and acted upon, especially those affecting racial, ethnic and cultural groups on campus. The CDR is also a focal point for diversity discussions, initiatives and best practices. 
Dr. Guzmán-Rea facilitates workshops, trainings, and restorative circles in response to bias-related incidents, but also to educate our campus community. These workshops include topics such as implicit bias, microaggressions, understanding privilege, allyship, creating an inclusive environment, Safe Zone, and practicing cultural humility, just to name a few. Dr. Guzmán-Rea enjoys facilitating these conversations because she gets to watch folks explore how they self-identify and learn new ways to express themselves authentically. She believes that in order to cultivate global citizens, we need to have open and honest dialogue with each other and with folks that differ from us. 
Dr. Guzmán-Rea obtained her Doctorate of Education in Higher Education from the Warner School of Education at the University of Rochester and is a Licensed Master Social Worker. Dr. Guzmán-Rea received her Masters of Science in Social Work from Columbia University and her Bachelors of Arts in Sociology and Spanish from Case Western Reserve University. Dr. Guzmán-Rea has taught undergraduate courses at the University of Rochester and the University of Maryland, Baltimore County. She has also taught graduate courses as an adjunct faculty at the Warner School of Education, Walden University, and the University of Maryland, Baltimore County.
For more information, please visit: www.linkedin.com/in/drjessicaguzmanrea 
To schedule an appointment with Dr. Jessica Guzman-Rea visit: https://calendly.com/drguzmanrea
Pronouns: She/her/hers
---
Col Raimond
LGBTQ Coordinator
Col Raimond is a lifelong Rochesterian who was a practicing trademark attorney before joining the University of Rochester. Col earned their Juris Doctor from the University at Buffalo Law School and their Bachelor's of Science in Criminal Justice from the College at Brockport. As an attorney, Col focused their pro bono practice on assisting transgender and gender expansive folks to obtain name changes. 
Col is also a former President of the Board of Directors at the Out Alliance. They are passionate about educating allies and working to create an environment that allows all people to live their lives safely, happily, and authentically. As part of the team at the Paul J. Burgett Intercultural Center, Col is excited to work with the future members and leaders of the LGBTQ community.
To schedule an appointment with Col Raimond visit: https://calendly.com/col-raimond
Pronouns: he/she/they
---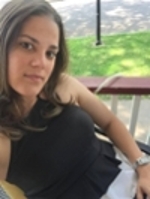 Monica Astacio
Administrative Assistant
Monica Astacio is the Administrative Assistant for the Paul J. Burgett Intercultural Center at the University of Rochester. Monica is a native of Puerto Rico and moved to Rochester at the age of two with her family. Monica graduated in 2004 from Greece Olympia High School with a Regents Diploma with Distinction. Monica then went on to earn a Bachelor of Arts Degree in Humanities and Spanish from Jacksonville University in 2009.
Monica Astacio speaks Spanish fluently and has 10 years of experience as a Litigation Paralegal.
Monica Astacio is excited to be directly involved in assisting staff to effectively create a safe space for students to feel included, respected, feel proud of their self-identity, and celebrated for their diverse/cultural backgrounds.
To schedule an appointment with Monica Astacio visit: https://calendly.com/monica-astacio
Pronouns: She/her/hers
---
Phelan Conheady
Program Assistant
Phelan Conheady is a junior pursuing an interdisciplinary major in Disability Studies. He is a proud native of Rochester,NY and a hardcore fan of Wegmans. Being Deaf himself, Phelan is an active member of the avid Deaf community that resides in Rochester. He hopes that by working at the Paul J. Burgett Intercultural Center, he can serve as an advisor on how to make programing and events more inclusive and accessible to people with disabilities.
In addition to being a new Program Assistant, he is also an First-Year RA and an active member of ASL Club. On the side, Phelan runs his own business doing hand-lettering, calligraphy and design work.
Pronouns: He/Him/His
---
Hannah Witkin
Program Assistant
Hannah Witkin is a first-year from Elkridge, Maryland with plans to major in Political Science and Philosophy. She is especially passionate about supporting and advocating for immigrant communities and LGBTQ+ folks. At the BIC, she hopes to help facilitate a safe and inclusive space where diverse perspectives can shine. Hannah also enjoys being a drummer, journaling, and telling important stories through theatre.
Pronouns: She/Her
---
Elvis Vasquez
Program Assistant
Elvis Vasquez is a sophomore studying Computer Science. He is an Afro-Dominican from The Bronx, NY. Elvis is passionate about advocating for the intersectionalities of the Latinx community. Through the Intercultural Center he hopes to educate campus faculty and students about experiences and privileges they might not be aware of.
Outside of BIC, Elvis is the President of No Disclaimers, the oratory performing arts club at the University, where he hosts open mics and creates safe spaces for self-expression. He is also the Salsita Advisor for Salsa where he promotes leadership amongst first year students interested in spreading Latinx culture around campus. You can catch him in meetings all around campus from SHPE to Womanist to Pride.
Pronouns: He/His/Him
---
Dominique Moody
Program Assistant
Dominique Moody is a sophomore majoring in Spanish, and double minoring in Accounting and Legal Studies. She is from Blytheville, Arkansas and loves being from the South. Being Black and having first-hand experience on the Black experience, Dominique hopes to educate everyone that she can on race relations, being an ally, and making the conversation of race, normal.
In addition to being a Program Assistant, Dominique is also the Web Coordinator for Douglass Leadership House. In her spare time, she enjoys practicing Spanish, traveling, and writing poetry.
---
Kyler Wong
Program Assistant
Kyler Wong is a senior from Phoenix, Arizona studying Public Health with a major in Health, Behavior, and Society. They are unapollogetically queer, disabled, and Chinese-American. Kyler is passionate about advocating for accessibility and LGBTQ+ folks and hopes to help spread awareness and start conversations about disability culture and queer identity through their work at the BIC.
Outside of the BIC, Kyler is involved with UR Disability Awareness and a member of the Title IX Education Assessment Committee. In their spare time, Kyler is an avid knitter and theater fan.
Pronouns: They/Them
---