Overview
Safe Zone
Safe Zone at the University of Rochester is a dynamic, interactive session for students centered on activities and discussion of: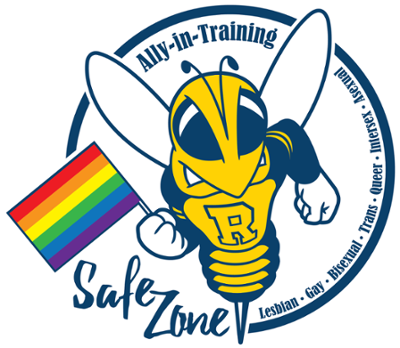 Inclusive and respectful language
The process of coming out
Understanding sexual and gender identity
Taking action on our campuses and in our workplaces
Where to go for help
These trainings are for students, presented by their peers, and give participants the skills they need to provide support and create environments that are safe, welcoming, and inclusive.
You may have seen stickers or signs that indicate a person has been "Safe Zone Trained" or an office is a "Safe Zone." These signs mean a person is open to talking about and being supportive of LGBTQ (lesbian, gay, bisexual, transgender, and queer/questioning +) individuals and identities.
If you are interested in being trained as a Safe Zone facilitator, fill out this online form.
If you are interested in having members of your student organization Safe Zone trained, or you would like more information about an upcoming Safe Zone training, please email BIC@rochester.edu.
Safe Space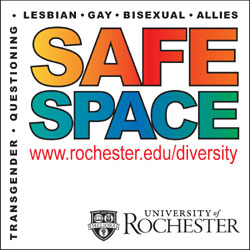 The Burgett Intercultural Center's director and select staff members are Safe Space trained. This means that the center is intended to create a safer and freer environment for all members of the University community regardless of sexual orientation, gender identity, or expression.
The Safe Space program provides training to faculty and staff that qualifies them to display a small "Safe Space" sign in their workspaces. Displaying a sticker or decal also signifies your agreement to actively be an ally for lesbian, gay, bisexual, and transgender people, which includes supporting policies and behaviors that bring equity to otherwise inequitable situations and openly show support for LGBT issues.
Read more about the Safe Space program
Resources
Intersectional Discussion Groups
These discussion groups exist to better support members of our community based on the intersections of their identity. For more information about a specific group, please contact the person listed. If you are interested in forming a new discussion group, email bic@rochester.edu.
Queer Students of Color
Join Queer Students of Color for a discussion about intersectional issues that queer people of color face. Our goal is to create a group where queer students of color feel comfortable and accepted and can talk about issues they face on campus, in the workplace, at home, or anywhere else. This discussion group will meet on a regular basis during the spring semester. Come check us out!
TINT (Transgender, Intersex, Non-Binary, and Two Spirit)
TINT is an informal social group for trans, gender non-conforming, and questioning University of Rochester students. Email rochester.tint@gmail.com for details about weekly meetings.
Additional Resources
For more information see the Unviersity of Rochester's LGBTQ page.