2012 News Archive
December 5, 2012
Mohammad YousefHussien was awarded the Best Student Paper for the SPIE-IS&T International Conference on Visualization and Data Analysis. The award was in recognition for his work titled Three-dimensional analysis of vasculature in engineered tissues. Mohammad is a graduate student in the Center for Imaging Science at the Rochester Institute of Technology (RIT) and is supervised by RCBUMember Professor Maria Helguera. This work is the result of a multidisciplinary collaboration between Professor Helguera and Professor Diane Dalecki (BME) and Professor Denise Hocking (Pharmacology and Physiology).
---
November 1, 2012
Karla Mercado was awarded Third Place in the Best Student Paper in Biomedical Acoustics Competition at the 164th Meeting of the Acoustical Society of America held in Kansas City, MO. Karla presented her work titled Parametric imaging of three-dimensional engineered tissue constructs using high frequency ultrasound. Karla is a Ph.D. student in BME, and student member of the Rochester Center for Biomedical Ultrasound. Karla's Ph.D. research is supervised by Professor Diane Dalecki.
---
September 15, 2012
Eric Comeau has been awarded a Howard Hughes Medical Institute Med-into-Grad Fellowship. Eric is a Ph.D. student co-supervised by Professor Diane Dalecki(BME) and Professor Denise Hocking (Pharmacology and Physiology). This prestigious fellowship is sponsored by the Aab Cardiovascular Research Institute (CVRI) and augments traditional Ph.D. training with clinical rotations, a clinical co-mentor, journal club, seminar series, and translational cardiovascular coursework.
---
August 6, 2012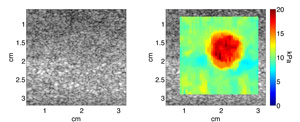 Professor Stephen McAleavey of the Department of Biomedical Engineering has been awarded a new U.S. Patent. The patent, number 8,225,666, is titled Ultrasound Imaging of Tissue Stiffness by Spatially Modulated Acoustic Radiation Force Impulse. The patent details a new ultrasound elastography technique, termed SMURF imaging, that uses acoustic radiation force to quantify tissue stiffness. Tissue stiffness is a known indicator of disease. Thus, this new technology will be useful clinically to noninvasively diagnosis fibrosis, cancerous tumors, vascular diseases, and monitor the progress of ablation therapies. Professor McAleavey is an active member of the Rochester Center for Biomedical Ultrasound (RCBU).
---
May 31, 2012
RCBU student members, Himanshu Shekhar and Karla Mercado, applied to and were selected to attend the Physical Acoustics Summer School (PASS) at the University of Mississippi National Center for Physical Acoustics from May 23-29. The purpose of PASS is to bring intermediate and advanced graduate students, distinguished lecturers, and discussion leaders together to discuss a wide variety of subjects in Physical Acoustics. Participation is limited to 50 attendees and it is a very selective process. Himanshu Shekhar is a Ph.D. candidate in ECEworking with Professor Marvin Doyley in the area of biomedical imaging using targeted ultrasound contrast agents. Karla Mercado is a Ph.D. candidate in BMEworking with Professor Diane Dalecki on a project to develop high-frequency ultrasound techniques to noninvasively characterize the material, structural, and biological properties of engineered tissues.
---
May 30, 2012
Himanshu Shekhar (RCBU Student Member) has been awarded an SPIE (Society of Photo-optical Instrumentation Engineers) Scholarship in Optics, Photonics and Imaging. The title of Himanshu's proposal was High-frequency nonlinear imaging of coronary plaque microvasculature. SPIE student scholarships are awarded annually to outstanding students based on their potential for long-range contributions to optics, photonics, or imaging. Himanshu is a Ph.D. graduate student in the ECE department working with Professor Marvin Doyley in the area of biomedical imaging using targeted ultrasound contrast agents.
---
May 1, 2012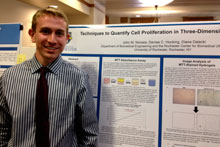 John Nicosia (BME class of 2013) was awarded the Professors' Choice Award for Undergraduate Research in Engineering and Applied Sciences at the University of Rochester Undergraduate Research Expo held on April 20, 2012. John was recognized for the research he presented in his poster titled Techniques to Quantify Cell Proliferation in Three-Dimensional Hydrogels. His mentors for this research and co-authors on the poster are Professor Diane Daleckiand Professor Denise Hocking. John has been involved in research in biomedical ultrasound in the Dalecki Lab since his freshman year. John will be continuing his research to advance new applications of ultrasound in cell and tissue engineering though the summer and senior year as a Xerox Fellow in the Dalecki Lab.
---
April 9, 2012
BME undergraduate students John Nicosia and Laura Hobbs have been awarded UR/Xerox Undergraduate Research Fellowships. Both students will be working in the laboratory of Diane Dalecki, RCBU Director and Associate Professor of Biomedical Engineering. Research projects will focus on developing ultrasound technologies for cell and tissue engineering applications. The SEAS Xerox Fellowship Program is a highly competitive program that provides engineering students with research experience. The program begins during the summer preceding the senior year, and continues as an independent research course in the fall and spring semesters of the senior year.
---
March 27, 2012
RCBU member Dr. Maria Helguera has been promoted to associate professor of Imaging Sciences with tenure at RIT. Dr. Helguera is a Principal Investigator in the Biomedical and Materials Multimodality Imaging Lab in the CFC Center for Imaging Science at RIT. Starting in July 2012, she will become the academic coordinator of the undergraduate program in Imaging Sciences. She teaches numerous courses, including Introduction to Medical Imaging Systems (graduate), Research Practices (undergraduate), Statistical Tools for Imaging (undergraduate), and Imaging Science Freshman Imaging Project (undergraduate).
---
March 27, 2012
Dr. Diane Dalecki (Director, RCBU) has been elected to serve as a member of the AIUM Bioeffects Committee. The official term of service begins at the completion of the 2012 Annual Convention in Phoenix, AZ and expires at the end of the 2015 Annual Convention. Dr. Dalecki has previously served as Chair and member of the AIUM Bioeffects Committee.
---
February 15, 2012
Richard E. Waugh, professor and chair of the Department of Biomedical Engineering, and James M. Farrar, professor of chemistry, have been elected Fellows of the American Association for the Advancement of Science (AAAS). The AAAS is the world's largest general scientific society and the publisher of the journal Science.
---
January 25, 2012
Marvin Doyley (ECE and BME) was invited to write a topical review article by the journal Physics in Medicine and Biology (PMB). This article, titled Model-based elastography: A survey of approached to the inverse elasticity problem, was published online in January and was selected by PMB as their featured article. The review is also featured as Editor's Choice by Medical Physics Web.