Retreats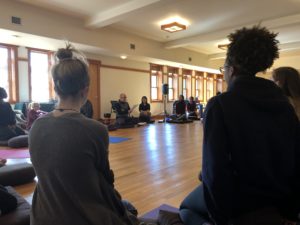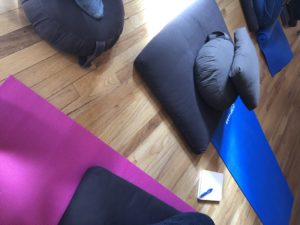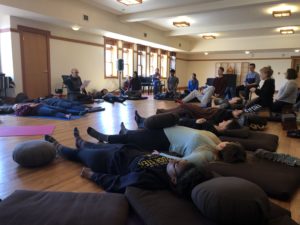 Instagram Day of Mindfulness
A day of meditation, mindfulness & yoga
Join the Mindful University Project for a day of mindfulness filled with inspiring practices on March 30th! This day of programming will provide you with an opportunity to take a break from your studies, allow your busy mind to settle, connect to the feeling of presence, and practice a variety of mindfulness practices that you can use to help you thrive in your studies the rest of the semester.
To join, simply join us on Instagram anytime throughout the day on Tuesday, March 30 @URMindfulUniversityProject.
Review the line-up of presenters below, and click here for full session descriptions.
7:45-8:00 AM
Setting Productive Intentions
with Chloe Jones, U of R '21
8:15-9:00 AM
Holding Grief & Change
with Alyssa Budinock, RYT 200, @alyssabudinock
9:15- 9:45 AM
"Self-Care is not a Luxury, it's a Necessity"
with Laura Gavigan, Certified Koru Mindfulness Teacher
10:00-10:15 AM
Let it RAIN!
with Amy McDonald, MS, CHWP, Certified Koru Mindfulness Teacher
10:30-10:45 AM
Doodle & Chill
with Gwen Owens, Gandhi Institute
11:00-11:30 AM
Celebrate Diversity with Meditation
with Sylvia Lin, U of R '20
11:30-12:15 PM
SoulFlow
with Brandon Stroud, RYT 200 @b.yoself_yoga
12:30-12:45 PM
Mindful Eating Lunch Break
with Rebecca Block, MS, CHES, RYT 200
1:00-1:30 PM
"Heal in, Heal out": Journaling & Meditative Practice
with Leslie Ann-Henry, U of R '21
1:45-2:00 PM
Listening as an Act of Love and Social Change
with Alex Hubbel, Gandhi Institute
2:15-2:45 PM
Forest Bathing
with Gaelen McCormick, Certified Mindful Outdoor Guide
3:15-3:45 PM
Finding Stillness in a Busy World
with Lucinda Snyder, Certified Koru Mindfulness Teacher
4:00-6:00 PM
Singing Bowl/Yin Yoga Class
with Sandra Kurzdorfer, RYT 200
6:00-6:15 PM
Tonight I'm Having a Kale Salad, a Green Smoothie and… Chocolate Cake? Let's Talk about Intuitive Eating, Rejecting Diet Culture, and Self-Love
with Rebecca Lena, U of R '21
6:30-6:45 PM
Mindfulness for Us
with Denise Navarette, U of R '22
7:00-7:30 PM
Setting Your Day in a Productive Way
with Jenny Lee, U of R '23, RYT 200
7:45-8:15 PM
Guided Compassion Focused Meditation
with Felicia Reed-Watt, MS, LCSW-R, Certified Koru Mindfulness Teacher
8:30–9:00 PM
Immersing in Zentangle: Expressing Your Inner Self with Peaceful Drawing with Yuan Shang, U of R '21
9:30–10:00 PM
Sitting and Moving Through Silence
with Kyle Trenshaw, Certified Koru Mindfulness Teacher
10:00 PM
Crystal Singing Bowl Sound Bath
with Dekovas Finley, U of R '22
Relax & Renew Retreats
Relax & Renew Retreats are a half-day, silent meditation retreat for students, faculty, and staff who are interested in a more immersive meditation experience. Held on the River Level of the Interfaith Chapel, participants will experience four hours of noble silence while engaging in a variety of contemplative practices including:
Breath awareness meditation
Gentle yoga
Mindful walking
Mindful eating
Dharma talks (a lesson about the practice of mindfulness in everyday life)
Retreats are co-facilitated by two certified Koru Mindfulness teachers. Prior meditation experience is not necessary to participate. Please bring a yoga mat if you have one, and dress comfortably. Retreats are free of charge and open to any student, faculty, or staff member of the University community.
Check back for scheduling updates in the Fall 2021 semester!