Learn to be Mindful
In order for mindfulness to become ingrained into the culture of our campus community, it is important to offer opportunities for all members to learn about contemplative practices. Whether you are a first year student who has never meditated before, a graduate student who brings meditation as part of your culture, or an employee looking to establish a more regular practice, we offer something for you.

Koru Mindfulness is an evidence-based program specifically designed for college students, teaching mindfulness and meditation as way to manage stress and reduce anxiety. You will learn skills that help calm and focus your mind, including breathing exercises, guided imagery, body scan, and more! Through learning how to be more mindful, you may experience less stress, better sleep and less self-judgment. Join the over 150 University of Rochester undergraduate and graduate students who have already learned how to meditate through this 4-week program.
Koru Basic
An introduction to mindfulness and meditation. This class meets weekly over four weeks, and includes 75-minutes of instruction from a certified Koru Mindfulness teacher. Students will learn 2-3 new meditation techniques each week and will engage in a short daily practice consisting of meditation, mindful moments, and gratitude. TO REGISTER: Click on the class name below. 
Koru 2.0
An "advanced" class for students who have completed Koru Basic or already have an established mindfulness meditation practice. This class meets weekly over four weeks, and includes 75-minutes of instruction from a certified Koru Mindfulness teacher. New meditation techniques will be taught in this course, including loving-kindness and seated yoga.
Thursdays with Amy: November 7th, November 14th, November 21st, December 5th / 3:00 – 4:15 / Douglass Room 407
---
Rave Reviews
"Learning how to meditate and be more mindful was one of the best things I've done as a student here. I've struggled with anxiety for many years, and became really overwhelmed by everything by my sophomore year. My grades started to fall as I slept less and tried to take on more and more. I'm so thankful for the skills I learned in this class. It's not only made me a better student, but it's also made me a happier person!"
"As a graduate student, most of my time is spent in the lab. As I focused more and more on my research, I struggled with a mind that never stopped racing. Because of this class I am better able to manage my day-to-day stresses. My thoughts may still be bouncing all over the place at times, but I'm not as stressed out about it anymore."
Learn More About Koru
How can you be mindful, everyday? Everyday Mindfulness workshops educate participants about living more mindfully and offer practical tips and strategies which can be implemented right away. Taught by campus and community experts in the area of mindful living, these one hour programs are available to all students, faculty and staff.
Sign up for our mailing list to be the first to receive an invitation when registration opens for each of these programs.
Fall Workshops
Mindful Self-Compassion: Making Time for What Matters Most
Friday, November 22nd
2:00 – 3:00
Douglass Commons Community Room: Room 407
Are you kinder to others than you are to yourself? Always looking out for your friends and family, but rarely turn towards your own needs? Being a supportive friend to yourself is something most of us don't make time for. But it really is what matters most. This workshop will explore the concept of mindful self-compassion and provide concrete ways for participants to break free of harsh self-judgments in order to cultivate acceptance, inner-strength and emotional well-being. REGISTER NOW!
Spring Workshops
Mindful Technology Use
Friday, February 28th
2:00 – 3:00
Location TBD
Finding Balance
Friday, March 27th
2:00 – 3:00
Location TBD
Leading Mindfully
Friday, April 24th
2:00 – 3:00
Location TBD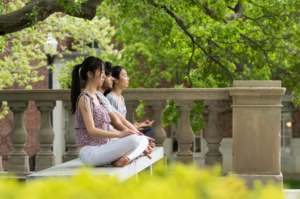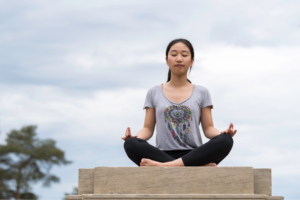 Our drop-in meditation sittings offer the breathing space you need to thrive throughout your day. Simply show up at any of the times listed below, get comfy, and enjoy a peaceful break. Meditations will be led by one of our certified Koru Mindfulness teachers. Prior meditation experience is not necessary. Open to all students, faculty, and staff.
Mindfulness Meditation
Thursdays 9/12 – 12/12
Three sittings offered: 6:30, 7:00, and 7:30 pm
Interfaith Chapel Brennan Room
OUT breath (LBGTQ+ Mindfulness Meditation)
Join us for a mindful meditation session held in a queer-centered space. Meditations will focus on the themes of affirmation, inclusion, and embracing identity while inviting time for reflection.
Tuesdays 9/3 – 12/10
4:00 – 4:30 pm or 4:30 – 5:00 pm (Come to one or stay for the full hour!)
Douglass Commons Community Room (Room 407)
Lovingkindness Walking Meditation
Lovingkindness (metta) meditation is about learning how to pay attention to yourself and others with a sense of interest and care and is a perfect pairing with walking meditation. We will begin with a brief talk, followed by a 20 minute practice and group reflection. Rest assured that you walk at a normal pace so you won't stand out as we wander through campus! Think of it as a experiment in how you pay attention to those around you. Learn more about this practice.
9/20, 10/18, 11/15
3:30 – 4:30 pm
Wilson Commons: Havens Lounge (with some time spent outdoors, weather permitting)
UR Zen Meditation Group
This group meets weekly and practices in a traditional Zen style of sitting. Includes discussion and exploration of meditation's Zen Buddhist origins and traditions. All are welcome! Led by Dr. Kristin Hocker.
Mondays 9/9 – 12/9
6:00 – 7:30 pm
Interfaith Chapel River Room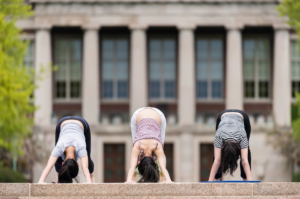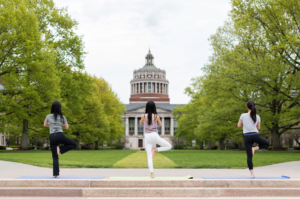 Yoga is a wonderful contemplative practice which can bridge the gap between mind and body. Our drop-in yoga classes are appropriate for all levels, whether you're brand new to the practice or an experienced yogi. Please remember to wear comfortable clothing and bring a yoga mat if you have one. A limited number of mats may be available if needed. Open to all students, faculty, and staff.
Yoga Flow 
This 60 minute yoga practice is truly for all levels because every pose can be modified or intensified. Flow moves one breath at a time, with intentional space for stillness; it's mindfulness meditation in motion which means you will leave class with powerful strategies to help you navigate through daily stressors. Please bring your own yoga mat, towel and water.
Sundays 11/3, 11/10, 11/17, 12/1, 12/15
11:00 am – 12:00 pm
Field House Indoor Turf and Track
Iyengar Yoga
This class focuses on muscular-skeletal alignment in each of the postures. We practice arm balances, standing and supine postures, as well as inversions. We devote about 20 minutes of each class to pranayama (breath control) and meditation. This class is formatted for the beginner as well as intermediate student. Please note: This class is free for all full-time matriculated students and R Club members.
Wednesdays 9/11 – 12/11
6:00 – 7:30 pm
Goergen Athletic Center, Leibner Cooper Room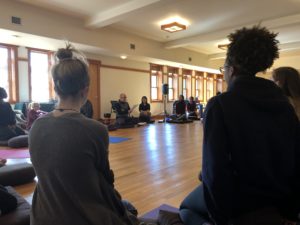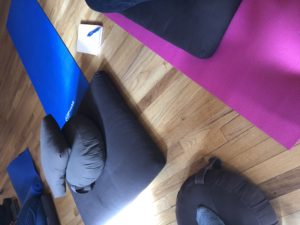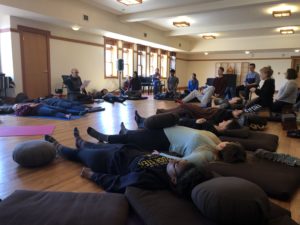 Relax & Renew Retreats are a half-day, silent meditation retreat for students, faculty, and staff who are interested in a more immersive meditation experience. Held on the River Level of the Interfaith Chapel, participants will experience four hours of noble silence while engaging in a variety of contemplative practices including:
Breath awareness meditation
Gentle yoga
Mindful walking
Mindful eating
Dharma talks (a lesson about the practice of mindfulness in everyday life)
Retreats are co-facilitated by two certified Koru Mindfulness teachers. Prior meditation experience is not necessary to participate. Please bring a yoga mat if you have one, and dress comfortably. Retreats are free of charge and open to any student, faculty, or staff member of the University community.
Fall 2019 Retreat
Saturday, October 26th / 12:00 – 4:00
Spring 2020 Retreats
Registration will open on or about January 30th.
Saturday, February 29th / 12:00 – 4:00
Saturday, April 4th / 12:00 – 4:00