"Old Rendering Plant" by Wolfgang Hilbig [Why This Book Should Win]
Now that the new website is up and working, we can start catching up on the Why This Book Should Win series. (And I can go back to writing my unhinged weekly missives about literature in translation.) Today's first post is from Joseph Schreiber, writer, editor at 3:AM Magazine, maintains literary blog, roughghosts.com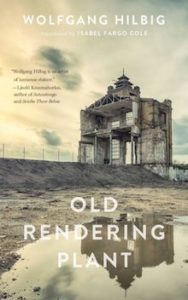 Old Rendering Plant by Wolfgang Hilbig, translated from the Germany by Isabel Fargo Cole (Germany, Two Lines)
Short, mesmerizing, and densely woven with winding strands of longing and loss, Wolfgang Hilbig's Old Rendering Plant is essentially a literary impossible space, opening up a hypnotic, multilayered stream of consciousness narrative that extends far beyond the confines of its pages. Set in the postwar landscape of the GDR, this novella is a meditation on the struggle to assert individuality in an environment that rewards conformity. The narrator looks back from a vaguely defined adult perspective in an effort to revisit his transition from adolescence to maturity, and come to terms with something he senses he has left unresolved.
His narrative is a restless one, following his memories as they lead him to trace and retrace the pathways that run alongside the stream that meanders through the fields on the outskirts of his hometown:
I had grown increasingly uncertain of my paths. Yet more and more often I was drawn to the scenes of old stories that still seemed unclarified, that I remembered—dimly, obscurely—as though they still involved me. It was a sign of age, I thought, to suddenly recall losses that earlier on—in the insouciance, the restlessness of youth—I would have passed over quickly. Now I was groping in search of losses…the signs were clear: all at once I'd begun hastily changing the goals of my forays, since it was impossible to speak of goals. Probably, though, what I sought was one single place…a place from which, back then, I'd felt I was expelled; or I sought it because something of mine was still hidden there—some poignant thing, perhaps willow wands carved into toy sabers, clear signs—or simply because it was a place I couldn't find again or no longer encountered on my way back.
The world the narrator inhabits, mediated by memory, is one where reality shifts, time loops back on itself, and the natural setting, described in thick, sensual detail, contains a complex network of buried secrets. He is a loner. He describes himself as rootless, like the rest of his family, an exile in his own community. As a result, his extended monologue slips between present reflections, remembered experiences that may be real or dreamed, or both, and occasional flights of lyrical Joycean intensity. For readers accustomed to a clearly articulated storyline, the journey is disorienting. It is easy to lose one's bearings. The key is to surrender.
No author is able to create an enveloping and immersive atmosphere quite like Hilbig. The suffocating beauty of the landscape merges with the troubled inscape of the narrator, and is carried along in a stream of stuttering poetic prose. It can be quite addictive. However, for all its circuitous diversions, this is not a narrative that leads nowhere. The monologue slowly builds, gradually taking form and shape, ultimately ending with a spectacular, rousing climax. The sort that will have you turning right back to the beginning to start the pilgrimage again.
Old Rendering Plant, so adeptly translated from the German by Isabel Fargo Cole, who has a special affection and strong sensitivity for Wolfgang Hilbig's prose, is a book that readily lends itself to multiple readings. At this point, having read it many times, I can pick it up and slip into it midstream and instantly feel the same magic I experienced with my first encounter. And yet each reread reveals something new. There is so much to contemplate, and so many layers of history, experience, and humanity in this slender volume. A reading experience quite unlike any other, Old Rendering Plant clearly deserves to win the Best Translated Book Award.