"My Heart Hemmed In" by Marie NDiaye [Why This Book Should Win]
With the May 15th announcement of the finalists just over a week away, these Why This Book Should Win entries are coming fast and furious. This one is by Lori Feathers, BTBA judge and co-owner of Interabang Books.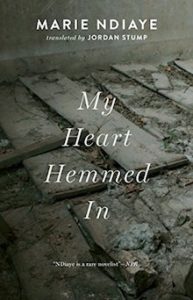 My Heart Hemmed In by Marie NDiaye, translated from the French by Jordan Stump (France, Two Lines)
Marie NDiaye's My Heart Hemmed In is extraordinary: an original and suspenseful novel that exposes all that is monstrous and ugly in the way that we regard those around us—our tendency to harbor suspicions, judgments, and prejudices against people we do not want, or even try, to understand.
NDiaye takes us inside the disturbing mind of her arrogant and unforgettable protagonist, Nadia, a middle-aged school teacher residing in a flat in France with her fellow teacher and husband. Their quiet life slowly unravels when, without apparent warning or explanation, the couple begins to be shunned by everyone they encounter, even colleagues and acquaintances that they've known for years. This abrupt change fills Nadia with shame and foreboding, so much so that she cannot even discuss the situation with her spouse. When the latter is mysteriously injured while at the school one day, a mysterious neighbor insists on coming to the couple's aid despite Nadia's open hostility toward him. Burdened by her pride and suspicions Nadia's life becomes a nightmare; her perceptions of others and her own situation become increasingly unreliable.
NDiaye's writing is arresting; the tension, immediately palpable, builds steadily. The temptation to turn the pages quickly is great but in Jordan Stump's translation the prose is so fine that you will want to savor it. With its unsettling atmosphere reminiscent of Doris Lessing's The Fifth Child, NDiaye's brilliant novel obtains pride of place with the very best literary horror. My Heart Hemmed In is a morality tale for our times and, without question, a work deserving of the Best Translated Book Award.