"Spiral Staircase" by Hirato Renkichi [Why This Book Should Win]
This entry in the Why This Book Should Win series is from poet, translator, and Asymptote editor Aditi Machado.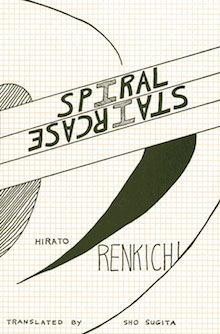 Spiral Staircase: Collected Poems of Hirato Renkichi, translated from the Japanese by Sho Sugita (Japan, Ugly Duckling Presse)
The seventh statement in Hirato Renkichi's "Manifesto of the Japanese Futurist Movement" reads:
Intuition must replace knowledge; the enemy of Futurist anti-art is concept. "Time and space have already died, and we already live in the absolute." We must quickly take risks, advance in defiance of danger, and create. There, within the chaos before our eyes, only humanistic activities remain while trying to intuitively feel the supreme rhythm (God's instinct)."
Renkichi began writing poetry in 1912, roughly around the time Eliot wrote his Prufrock and Gertrude Stein her Tender Buttons. But we shall not compare Renkichi to them. We shall also not call him Japan's Marinetti even though he was, avowedly, influenced by him and indeed quotes him in his "Manifesto."
It is a mistake, I think, to turn non-Western writers into counterparts of Western ones to whom they bear, if slight, if profound, resemblance. Because even as early twentieth-century Japan is flush with jazz clubs and the writers then were reading American and European avant-gardes (as Eric Selland so usefully describes in the afterward to this gorgeous, letterpress-bound book), Renkichi's politics and aesthetics emerge in the context of a distinctly Japanese form of cosmopolitanism in its ultramodern industrialized urban centers.
The image I have of Japanese cities from Renkichi's poems, Selland's afterword, and Japanese films is rather different—
An animal of irritated electricity
—from the American city (or sleepy town with many cars and exorbitant rents) in which I currently live. The image is perhaps best captured by the title of the poem, "Ginza, Color, Light, Reverberation, Stench, Curiosité, Éphémère," from which comes the following excerpt:
On the artery of the underground

applying pressure on the mouth of the iron pipe

Cataract cataract cataract

Cataract of water cataract of gas

Cataract of a transparent amber poison

Reverberation of a great flood

Facing afar
tant tant nombreuse curiosité . . . . . .
tant tant nombreuse curiosité . . . . . .
Go, go
Above the paved road
Inside the crowd
On the elevated railway piercing through the roof
On the spiral staircase of a department store
At the circus
At the run-down bar
At the Russian coffee shop
In front of the power plant at midnight
Go, go
Inside every conceivable clamor
The Spiral Staircase's astonishing catalog of sensations does a weird thing to my brain. It does an even weirder thing to my brain when I think the thoughts that run through them, this fierce and desperate insight into a world in flux to which—aha!—we belong. (From the translator's introduction: "[Renkichi's] vision of Futurism was an all-consuming Deus absconditus of the machines—ready to transform all the -isms into a unified theory he called dōitsu hyōgen ("expression of one-ness" or "amalgamated expression").
Maybe the weird thing being done to my brain is . . . hope?
I want greenness! I want greenness!

The tentacles incessantly raising overhead in all directions—
Many things move me, but this book moves me differently. Its alien philosophies make me see outside of myself and participate in a delicious sort of extroversion that would never otherwise, by nature or nurture, be mine.
For the gift of this translation, we must thank Sho Sugita who has to contend not simply with the very dissimilar workings of Japanese and English, but also Renkichi's extraordinary range of formal techniques, allusions, multilingualisms, and visual poetics that enact his sense of the world, his jouissance, his magnanimity.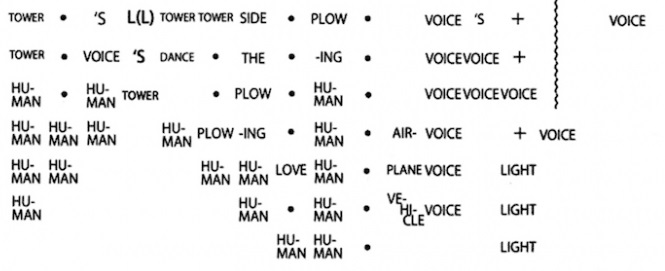 Hirato Renkichi died in 1922, when he was only twenty-nine years old. His Collected Poems are now part of Ugly Duckling Presse's Lost Literature series and they are essential reading.