Flash Sale on Open Letter Preorders!
For a few different reasons—mainly that I wasn't able to get the new excerpt from Sara Mesa's Four by Four online until the WITMonth discount code had expired, but also to celebrate The Dreamed Part being on Kirkus's list of "30 Most Anticipated Fiction Books"—we've decided to have a flash sale on all of our forthcoming titles.
Between now and midnight on Sunday, September 15th, you can get 40% off of all ten forthcoming Open Letter titles by using the code PREORDER at checkout.
(Five of these are written by women, and two of the other five are translated by women, so think of this as a sort of general statement that promoting Women in Translation shouldn't be limited to a single month.)
Here are the titles included in the offer: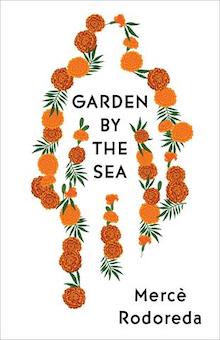 Garden by the Sea by Mercè Rodoreda, translated from the Catalan by Maruxa Relaño and Martha Tennent (Feb 2020)
The novel that defined Mercè Rodoreda's most prolific period is finally available in English for the first time. Set in 1920s Spain, Garden by the Seatakes place over six summers at a villa by the sea inhabited by a young couple and their beautiful, rich, joyous friends. They swim, drink, tease each other, and fully enjoy themselves. All the while, the guests are observed by the villa's gardener, a widow who's been tending the garden for several decades. As the true protagonist of the novel, we get to see the dissolution of these magical summers through his eyes, as a sense of darkness and ending creeps in, precipitated by the construction of a new, larger, more glamorous villa next door. (Read an excerpt.)
Bluebeard's First Wife by Ha Seong-nan, translated from the Korean by Janet Hong (June 2020)
Disasters, accidents, and deaths abound in Bluebeard's First Wife. A woman spends a night with her fiancé and his friends, and overhears a terrible secret that has bound them together since high school. A man grows increasingly agitated by the apartment noise made by a young family living upstairs and arouses the suspicion of his own wife when the neighbors meet a string of unlucky incidents. A couple moves into a picture-perfect country house, but when their new dog is stolen, they become obsessed with finding the thief, and in the process, neglect their child. Ha's paranoia-inducing, heart-quickening stories will have you reconsidering your own neighbors.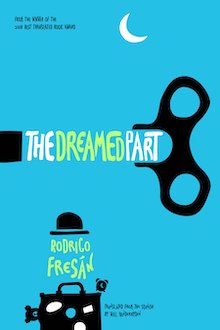 The Dreamed Part by Rodrigo Fresan, translated from the Spanish by Will Vanderhyden (Nov 2019)
Following his failure to break into the Hadron Collider and merge with the so-called "God particle," The Writer from The Invented Part can no longer write or sleep. Instead, he lies awake, imagining and reimagining key moments of his life, spinning out a series of insomniac visions every bit as thought-provoking as they are dreamlike. A mysterious foundation dedicated to preserving dreams, suddenly invaluable in the wake of the dream-eradicating White Plague; a psycho-lyrical-photophobic terrorist; an electric and mercurial lullaby; three lunatic sisters (and an eclipsed brother) who write from the darkest side of the most wuthering lunar heights; a hallucinating prisoner and a hallucinatory family; a genius addicted to butterflies and an FBI agent addicted to that genius; a looney and lysergic uncle and parents who model but are not model parents; a revolutionary staging of Shakespeare for the children of chic guerrillas; a city of sleepless bookshops; and a writer who might be 100 years old. Or not.
Four by Four by Sara Mesa, translated from the Spanish by Katie Whittemore (May 2020)
Set entirely at Wybrany College—a school where the wealthy keep their kids safe from the chaos erupting in the cities—Four by Four is a novel of insinuation and gossip, in which the truth about Wybrany's "program" is always palpable, but never explicit. The mysteries populating the novel open with the disappearance of one of the "special," scholarship students. As the first part unfolds, it becomes clear that all is not well in Wybrany, and that something more sordid lurks beneath the surface.
In the second part—a self-indulgent, wry diary written by an imposter who has infiltrated the school as a substitute teacher—the eerie sense of what's happening in this space removed from society, becomes more acute and potentially sinister.
An exploration of the relationship between the powerful and powerless—and the repetition of these patterns—Mesa's "sophisticated nightmare" calls to mind great works of gothic literature (think Shirley Jackson) and social thrillers to create a unique, unsettling view of freedom and how a fear of the outside world can create monsters. (Read a sample.)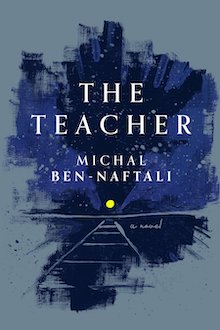 The Teacher by Michal Ben-Naftali, translated from the Hebrew by Daniella Zamir (Jan 2020)
No one knew the story of Elsa Weiss. She was a respected English teacher at a Tel Aviv high school, but she remained aloof and never tried to befriend her students. No one ever encountered her outside of school hours. She was a riddle, and yet the students sensed that they were all she had. When Elsa killed herself by jumping off the roof of her apartment building, she remained as unknown as she had been during her life. Thirty years later, the narrator of the novel, one of her students, decides to solve the riddle of Elsa Weiss. Expertly dovetailing explosive historical material with flights of imagination, the novel explores the impact of survivor's guilt and traces the footprints of a Holocaust survivor who did her utmost to leave no trace. (Read an excerpt.)
Cars on Fire by Mónica Ramón Ríos, translated from the Spanish by Robin Myers (Apr 2020)
"When you live in an adopted country, when you're an exile in your own body, names are simply lists that dull the reality of death."
Cars on Fire, Mónica Ramón Ríos's electric, uncompromising English-language debut, unfolds through a series of characters—the writer, the patient, the immigrant, the professor, the student—whose identities are messy and ever-shifting. A speechwriter is employed writing for would-be dictators, but plays in a rock band as a means of protest. A failed Marxist cuts off her own head as a final poetic act. With incredible formal range, from the linear to the more free-wheeling, the real to the fantastical to the dystopic, Rios offers striking, jarring glimpses into life as a woman and an immigrant. Set in New York City, New Jersey, and Chile's La Zona Central, the stories in Cars on Fire offer powerful remembrances to those lost to violence, and ultimately make the case for the power of art, love, and feminine desire to subvert the oppressive forces—xenophobia, neoliberalism, social hierarchies within the academic world—that shape life in Chile and the United States. (Read an excerpt.)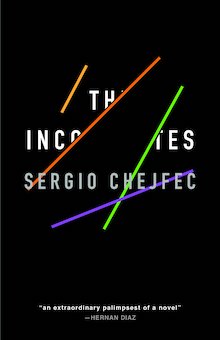 The Incompletes by Sergio Chejfec, translated from the Spanish by Heather Cleary (Sept 2019)
"Now I am going to tell the story of something that happened one night years ago, and the events of the morning and afternoon that followed."
The Incompletes begins with this simple promise. But to try to get at the complete meaning of the day's events, the narrator must first take us on an international tour—from the docks of Buenos Aires, to Barcelona, until we check in at the gloomy Hotel Salgado with the narrator's transient friend Felix in Moscow. From scraps of information left behind on postcards and hotel stationery, the narrator hopes to reconstruct Felix's stay there. With flights of imagination, he conjures up the hotel's labyrinthine hallways, Masha, the captive hotel manager, and the city's public markets, filled with piles of broken televisions.
Each character carries within them a secret that they don't quite understand—a stash of foreign money hidden in the pages of a book, a wasteland at the edge of the city, a mysterious shaft of light in the sky. The Incompletes is a novel disturbed by this half-knowledge, haunted by the fact that any complete version of events is always just outside our reach.
This Could Have Become Ramayan Chamar's Tale: Two Anti-Novels by Subimal Misra, translated from the Bengali by V. Ramaswamy (July 2020)
"The Godard of literature."—Jean-Luc Godard
Subimal Misra—anarchist, activist, anti-establishment, experimental anti-writer—is one of India's greatest living writers. This collection of two "anti-novels" is the first of his works to appear in the U.S. "This Could Have Become Ramayan Chamar's Tale" is a novella about trying to write a novella about a tea-estate worker turned Naxalite named Ramayan Chamar, who gets arrested during a worker's strike and is beaten up and killed in custody. But every time the author attempts to write that story, reality intrudes in various forms to create a picture of a nation and society that is broken down and where systemic inequalities are perpetuated by the middle- and upper-classes which are either indifferent or actively malignant. "When Color Is a Warning Sign" goes even further in its experimentation, abandoning the barest pretense of narrative and composed entirely as a collage of vignettes and snippets of dialogue, reportage, autobiography, etc. Together these two anti-novels are a direct assault on the vast conspiracy of not seeing that makes us look away from the realities of our socio-political order.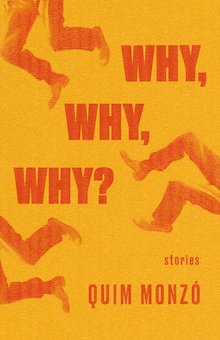 Why, Why, Why? by Quim Monzó, translated from the Catalan by Peter Bush (Oct 2019)
A man tries to teach a stone to speak through sheer force of will. An engaged couple makes a pact to never lie, and their union dissolves immediately. Over the course of a phone call, a man learns that his girlfriend died months ago, and that he's been unknowingly seeing her twin sister. Prince Charming marries Cinderella, but then has an affair with the evil stepsisters. A psychopath's liver explodes after a night of heavy drinking, but instead of killing him, it allows him to be a better drinker.
These, and many more, strange and twisted characters populate the pages of Why, Why, Why?, a delectable brew of dark humor and biting satire on human relationships. In these stories, the characters don't start falling until they know they're off the cliff. By then, rock bottom isn't a long way off.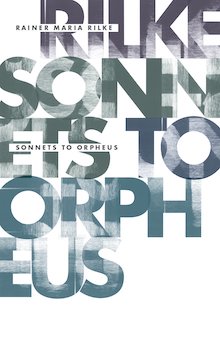 Sonnets to Orpheus by Rainer Maria Rilke, translated from the German by Christiane Marks (Dec 2019)
Rainer Maria Rilke's fifty-five Sonnets to Orpheus were written over a few days in an astonishing burst of inspiration. Described by Rilke himself as "a spontaneous inner dictation," the sequence is among the most famous works of modernist literature, and Christiane Marks's fresh new translations succeed in evoking Rilke's music—often sacrificed in translation—opening a new window on these poems, for old and new Rilke lovers alike. The result of nearly two decades of memorization, research, and fine-tuning, Marks's translations, only the second by a woman and the first by a native German speaker, recapture Rilke's astonishingly contemporary, often colloquial style.