"Mausoleum of Hadrian Rediscovered: Architecture, Function, Symbolism"
Thursday, March 31, 2016
7:30 p.m.–9 p.m.
The Memorial Art Gallery, M&T Bank Ballroom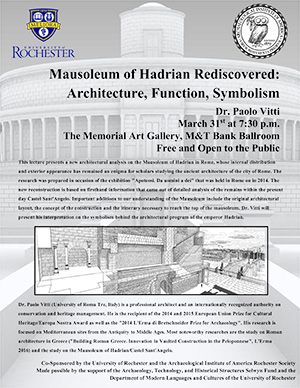 Co-sponsored by the University of Rochester and the Archaeological Institute of America Rochester Society. Made possible by the support of the Program of Archaeology, Technology, and Historical Structures Selwyn Endowment Fund and the Department of Modern Languages and Cultures at the University of Rochester. This event is free and open to the public. 
Lecture By
DR. PAOLO VITTI
University of Roma Tre, Italy