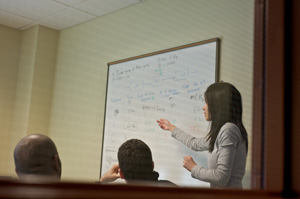 Center for Excellence in Teaching and Learning
Our goal is to promote excellence in both teaching and learning through a range of programs for faculty, graduate students, and undergraduate students.
CETL offers College faculty a series of workshops, a consulting service, a mini-grant program, and a repository of resources about designing, teaching, and evaluating courses.
Our program provides graduate students in the College with resources to support their work as classroom TAs, laboratory TAs, and instructors. Graduate students are also welcome to make use of services that support their own learning.
CETL supports undergraduate students in the College with services that promote academic success, including course-specific collaborative Workshops and study groups, study skills support, a study skills course, and disability support.
News and Events
Symposium explores 'disability' and 'normalcy'
A number of University departments are sponsoring UR's first Disability Studies Cluster Symposium, "Complicating Normalcy: Disability, Technology, and Society in the Twenty-First Century." The day-long event on Friday, Nov. 14, will be organized around the documentary film FIXED—The Science/Fiction of Human Enhancement.

The film explores the meanings of "disability" and "normalcy" in contemporary times through the examination of technological and pharmacological advances designed to "fix or enhance the human body," and the bioethical implications and social tensions that arise from these scientific advances. Register here.
October CIRTL Events
CETL will be hosting viewing parties in Dewey 1-154 for each of the October CIRTL Cross-Network Events, including:
October 7, 12-1 PM: Student-Teacher Interactions: What to Expect
October 14, 12-1 PM: Difficulties and Challenges for International TAs in the United States
October 21, 12-1 PM: Using Your International Background to Your Advantage in the Classroom
October 28, 12-1 PM: Grading and Effective Feedback in the American System
All are welcome to attend, but we ask that you RSVP on the CIRTL page.
NEW: Walk-in Tutoring Hours Now Available
CHM 131 and BIO 110: Sundays, 7-9 PM, Dewey 1-160A & N
All levels of calculus and CHM 203: Sundays, 5-7 PM, Dewey 1-160A & N