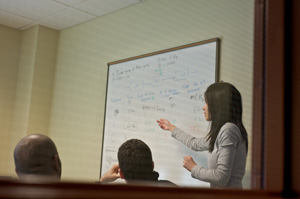 Center for Excellence in Teaching and Learning
Our goal is to promote excellence in both teaching and learning through a range of programs for faculty, graduate students, and undergraduate students.
CETL offers College faculty a series of workshops, a consulting service, a mini-grant program, and a repository of resources about designing, teaching, and evaluating courses.
Our program provides graduate students in the College with resources to support their work as classroom TAs, laboratory TAs, and instructors. Graduate students are also welcome to make use of services that support their own learning.
CETL supports undergraduate students in the College with services that promote academic success, including course-specific collaborative Workshops and study groups, study skills counseling, a study skills course, and disability support.
News and Events
Registration for Spring CIRTL Courses Is Open for Graduate Students and Postdoctoral Fellows
CIRTL is the Center for the Integration of Research, Teaching and Learning. Visit the CIRTL website to learn more and register.
New Services Offer Teaching Support for Faculty
Stuart Jordan, senior lecturer in political science, was recently named faculty director of CETL. He will work with Vicki Roth, executive director, and Jenny Hadingham, assistant director, to augment CETL's efforts to support faculty and their teaching. Read more
New Grant Will Help to Prepare the Next Generation of Science and Engineering Professors
A national collaboration, which includes the University of Rochester, has won a $5 million, three-year grant from the National Science Foundation to continue to develop young scientists into science and engineering professors who will excel in the classroom as well as the lab. Read more
We've moved! CETL's new home is Dewey Hall, Room 1-154.
Learning Library
These resources are now available from our Learning Library
in 2-143 Dewey Hall. ** NEW LOCATION **