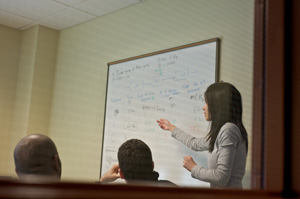 Center for Excellence in Teaching and Learning
Our goal is to promote excellence in both teaching and learning through a range of programs for faculty, graduate students, and undergraduate students.
CETL offers College faculty a series of workshops, a consulting service, a mini-grant program, and a repository of resources about designing, teaching, and evaluating courses.
Our program provides graduate students in the College with resources to support their work as classroom TAs, laboratory TAs, and instructors. Graduate students are also welcome to make use of services that support their own learning.
CETL supports undergraduate students in the College with services that promote academic success, including course-specific collaborative Workshops and study groups, study skills counseling, a study skills course, and disability support.
News and Events
Spring Study Groups and Study Skills Opportunities
The second section of CETL's Methods of Inquiry course starts on March 18. Visit our Study Skills page for more details about the course, along with study skills appointment hours for the Spring term. The Spring Study Group schedule is available on the Study Groups page, and students are welcome to visit Dewey 1-154 to sign up.
Effective Teaching for Summer Courses: A Workshop for Graduate Students
Summer courses are short, highly condensed, and they typically enroll fewer students than academic-year courses (and sometimes too few). These courses consequently present special challenges to instructors, challenges that can be intensified when the instructor has had little or no prior experience designing and implementing his or her own course. The workshop on effective teaching for summer courses will consist of 4 half-day sessions to take place throughout the spring semester. Learn more and sign up
Funding Opportunities for Faculty and Graduate Students

CIRTL Teaching-as-Research Grants
Are you interested in obtaining some teaching experience outside of TA-ing? Are you curious about how to develop your teaching skills while you are still a graduate student or post-doc? Would you like to learn more about the concept of teaching-as-research (TAR)? Would you like to apply for a $1k year-long grant to explore teaching-as-research? Learn more

Student Course Development Projects (SCDP)
SCDP is a grant program through which CETL provides funding to faculty members for the purpose of hiring an undergraduate to assist in the development of new course content. The application deadline for funding for the Summer of 2014 is February 28, 2014. Learn more