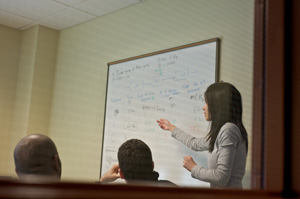 Center for Excellence in Teaching and Learning
Our goal is to promote excellence in both teaching and learning through a range of programs for faculty, graduate students, and undergraduate students.
CETL offers College faculty a series of workshops, a consulting service, a mini-grant program, and a repository of resources about designing, teaching, and evaluating courses.
Our program provides graduate students in the College with resources to support their work as classroom TAs, laboratory TAs, and instructors. Graduate students are also welcome to make use of services that support their own learning.
CETL supports undergraduate students in the College with services that promote academic success, including course-specific collaborative Workshops and study groups, study skills support, a study skills course, and disability support.
News and Events
Walk-in Tutoring Available
CETL offers walk-in tutoring on Sundays:
Calculus: Carlson 102, 2-4 PM
Calculus: Carlson 1A, 4-6 PM
Calculus: Carlson 310, 6-8 PM
CHM 132: Carlson 102, 4-8 PM
CHM 204: Carlson 1A, 2-4 PM
Learn more about the College Tutoring Program.
Class of 2019: Join Us for UR Transition
UR Transition is a pre-orientation program designed to support the needs of students with disabilities beginning their academic journey as members of the College. This program will bring students with disabilities and their families together with College services to cultivate supportive relationships and encourage self-advocacy skills, which in turn will ease the transition from previous educational environments to the UR. Students and parents will attend workshops and tours facilitated by CETL Access Coordinators and Study Skills Consultants, accompanied by CETL Student Mentors. Learn more