Overview
Tutoring is a free service available for any undergraduate of the University of Rochester. Students should already be working with their professors, TAs, workshop leaders and/or academic success coach before they come to tutoring. Wondering if tutoring is right for you? See our what to expect section.
Announcements
Tutoring is now closed for the Spring 2023 semester. 
Please sign and review the Tutee Agreement prior to signing up for your appointments. 
If you are a new tutee, please take our free, short Blackboard course before logging in to make sure you know how to use the system and what to expect from tutors. Instructions for the courses can be found under the schedule an appointment section on the find a tutor page. This will show you how to use the WC Online Scheduling system. Once you complete the course, you will be directed to log into the scheduling system and you can select your desired appointment time.
All tutees will be asked to sign a Learning Center Tutee agreement. Instructions will be provided on the WC Online scheduling system.
If you have any questions or need help, please email us at tutoring@rochester.edu.
What to Expect from Tutoring
It is great you are signing up for a tutoring appointment- getting help from a tutor is a great way to help you work through questions and concerns in a course. The purpose of tutoring is to help you become an active, independent learner. Working with a tutor can enrich your understanding of the course material, feel encouraged, help you focus on what is important in the class, and help you apply better study methods.
Tutors DO
Help clarify assignments
Work with you to understand concepts that the instructor has already presented in class
Provide you with additional examples and practice problems
Work with you to understand the textbook and apply the information
Tutors DO NOT
Solve problems for you without your active contributions
Guarantee an error-free assignment or a better grade, since the completion and quality of the work remains yours
Teach material missed in class; tutoring is not a substitute for classroom instruction
Help with homework/webwork, take-home or make-up tests, problem sets, and other graded assignments
We expect you to bring your full attention to the tutoring appointment and limit your distractions as best you can. For instance, for your Zoom tutoring appointment, we recommend using headphones, setting your extra electronic devices aside, and selecting a low-distraction environment when possible.
Directions to the Tutoring Zone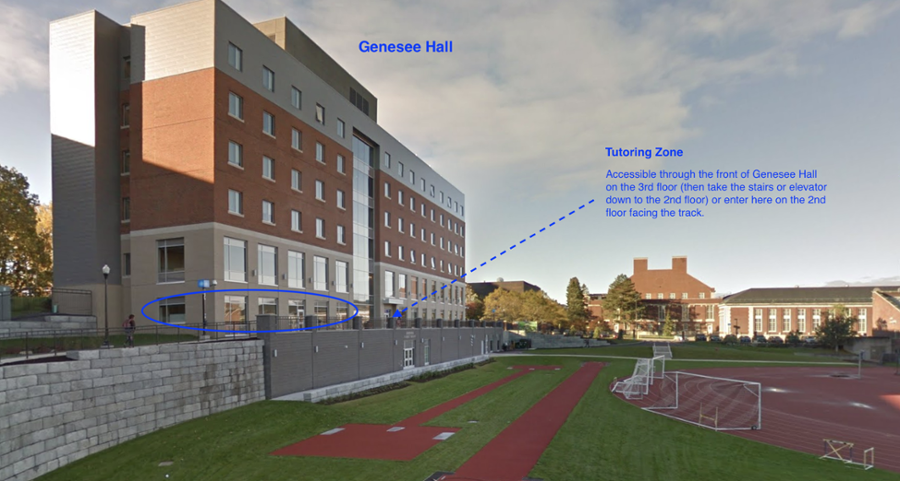 The Tutoring Zone is accessible through the front of Genesee Hall on the third floor, then take the stairs or elevator down to the second floor. You can also enter on the second floor facing the track.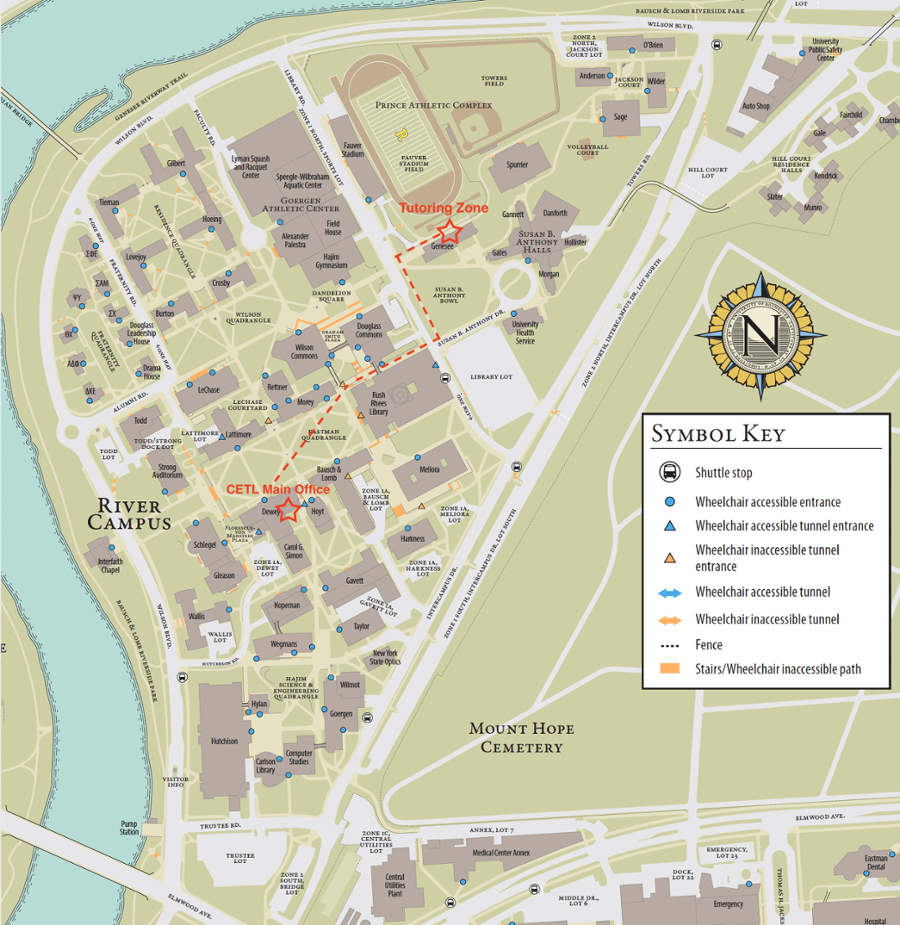 To get to the Tutoring Zone from the Learning Center, cross Eastman Quad heading towards Library Rd. Turn left at Library Rd. heading towards Fauver Stadium. Just before reaching the stadium, turn right towards Genesee Hall. The Tutoring Zone is in Genesee Hall, room 230.